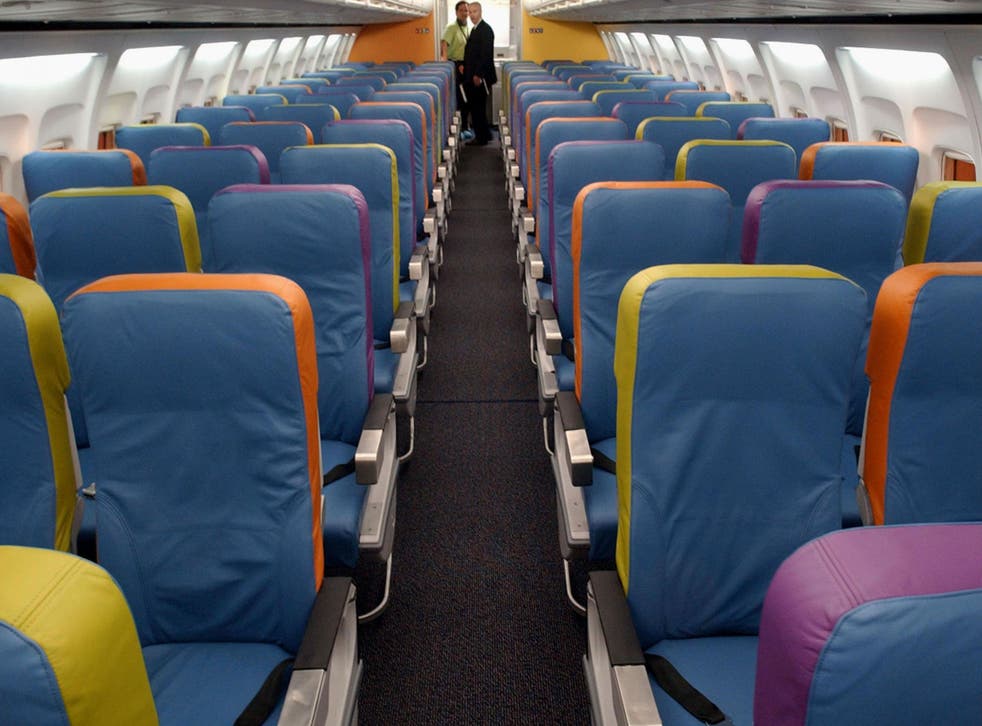 Airlines investigated over claims they intentionally split up groups then charge for allocated seats
Civil Aviation Authority: 'Airlines are within their rights to charge for allocated seats, but if they do so it must be done in a fair, transparent way'
Simon Calder
Travel Correspondent
Sunday 04 February 2018 11:10 Comments
Are you sitting comfortably? You might be but on planes these days you might also be feeling lonely, with your partner, friends or colleagues seated some distance away. The Civil Aviation Authority (CAA) has announced a consultation into airlines' seating policies, following a survey in which 18 per cent of passengers said they had been separated from their travelling companions when they chose not to pay to sit together.
Andrew Haines, chief executive of the CAA, said: "Airline seating practices are clearly causing some confusion for consumers. Airlines are within their rights to charge for allocated seats, but if they do so it must be done in a fair, transparent way.
"Our research shows that some consumers are paying to sit together when, in fact, they might not need to."
The CAA asked more than 4,000 passengers who had chosen not to pay to sit together for their experiences. Of the total, 18 per cent reported that they were sat apart from the rest of their group. But there were strong differences between individual airlines, with Ryanair rated at 35 per cent – almost twice the average.
Ryanair anger passengers by changing cabin-baggage policy
The move raises many questions. Here are the answers.
When did paying for seating become a "thing"?
In 2011 easyJet began a project codenamed BOSS ("bums on selected seats"), investigating the then-revolutionary concept for a low-cost airline of allocated seating.
The following year it introduced a "pay extra to choose your seat" system. It found broad acceptance, and raised revenue. Other airlines soon followed suit.
So what is the CAA investigating?
It is looking at couples, business colleagues or groups of friends flying on the same plane – but not necessarily finding themselves sat in the same row. The investigation doesn't cover families with younger children, for whom there are specific safety rules.
The CAA wants to see if airlines make it clear when you book that you will need to pay to sit together; whether undue pressure is applied to persuade people to pay, when they might not need to; and whether any airlines are deliberately splitting up groups.
Ryanair, which comes bottom in the survey, has been accused of doing just that?
Yes, an accusation that it flatly denies. Until last May it was still fairly likely that passengers who chose not to pay extra would be sat together on Europe's biggest budget airline.
Then there was a sudden change. Couples and larger groups might find themselves scattered the length of the plane, and usually in the middle seats. It's all in the luck of the draw, says Ryanair – there is certainly not an algorithm to send couples to opposite ends of the plane, just a random allocation of seat numbers.
The airline's planes are flying fuller than ever. So, says Ryanair, there are simply fewer options for people who choose not to pay extra while the airline seeks to keep the more popular window and aisle seats free for people who are prepared to pay.
"We are very happy to facilitate any customer who wants a free-of-charge random seat," a spokesperson for Ryanair says, "but we are also going to do our best to facilitate customers who are willing to pay for a reserved seat."
British Airways introduces 'group boarding' system on all its flight
How do the other airlines perform in the survey?
Fifteen per cent of passengers said they had been separated from friends or colleagues on British Airways, easyJet and Thomas Cook Airlines. The biggest UK budget airline, easyJet, says: "Unlike some airlines, if passengers choose not to pay to select their seats, easyJet's seating system is programmed to try and seat families together when they check-in online."
BA says: "Unless you have booked a Basic ticket (economy, hand-baggage only), you can reserve your seat for free when check-in opens, 24 hours before departure.
"With a Basic ticket, you can either pay to reserve your seat from the moment you book until check-in opens, or we'll allocate you a seat for free when check-in opens. You can then pay to change to a different seat, although your choice may be limited."
Landing at St Helena's notorious airport

Show all 12
Among other airlines Flybe and TUI do the best, on 12 per cent; Jet2, at 16 per cent, is also better than average. Virgin Atlantic is average at 18 per cent, which means that on a Jumbo jet perhaps 80 people are feeling isolated. Emirates is on 22 per cent, significantly below average.
What could the CAA do?
The chief executive, Andrew Haines, says: "We will not hesitate to take any necessary enforcement action should it be required at the end of the review."
Action could involve a stipulation about better communication of seating policy, and a default requirement to try to seat groups together.
Just a reminder of the rules on families travelling together?
The CAA says airlines must aim to seat children close by their parents – in the same row if possible, otherwise separated by no more than one seat row from accompanying adults. I've talked to all the big airlines and they say their policies go one step better, and that no child under 12 will be sat apart from a parent.
It is a passenger safety issue: the speed of an emergency evacuation may be affected by adults trying to reach their children. But of course if there's shuffling about to be done, in order to seat parents with children, it could hold up the plane and annoy people who have paid to pre-book their seats.
Register for free to continue reading
Registration is a free and easy way to support our truly independent journalism
By registering, you will also enjoy limited access to Premium articles, exclusive newsletters, commenting, and virtual events with our leading journalists
Already have an account? sign in
Join our new commenting forum
Join thought-provoking conversations, follow other Independent readers and see their replies