Airports cash in on family holidays by doubling car park rates
Ryanair boss describes airports as 'the highway robbers of aviation'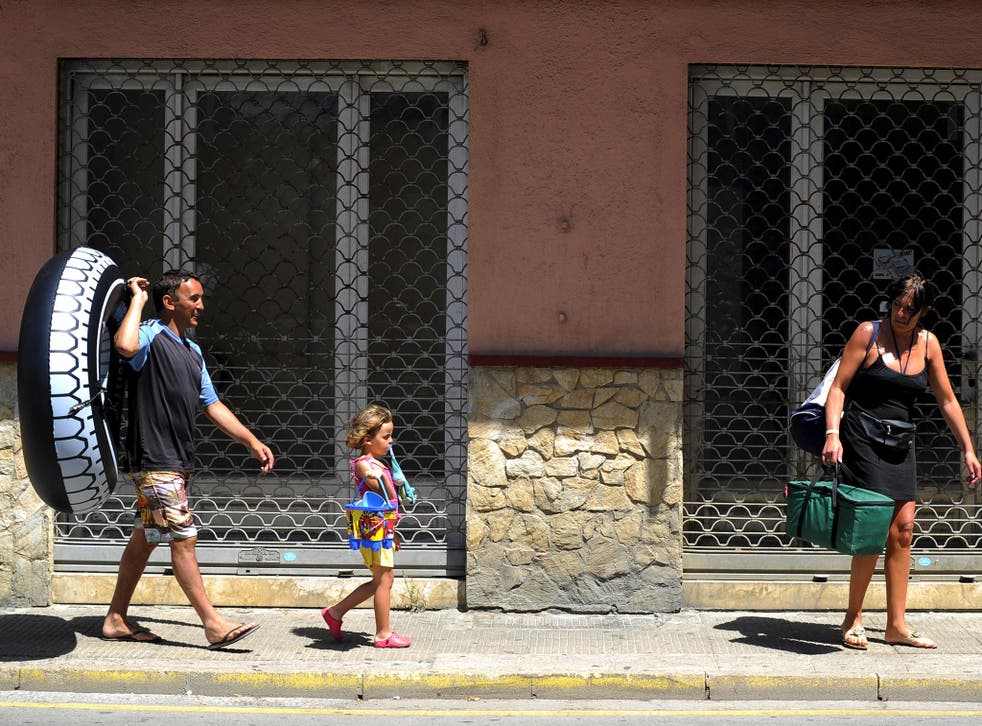 Britain's airports are cashing in on families obliged to travel during school holidays and the summer peak, with some car-park charges more than doubling overnight, The Independent understands.
The revelations come as flight and holiday prices soar for families making a half-term getaway.
The Independent researched rates for a week's parking at Britain's top 10 airports on a range of dates over the coming year.
The UK's two leading holiday airports, Manchester and Gatwick, raise their charges by as much as half. Birmingham airport charges 57 per cent more during April, which includes the Easter holidays, than in March.
But the most extreme case is Edinburgh, where surface parking close to the terminal more than doubles in summer. The standard off-peak £43 price rises at the start of June to £87. On some dates in summer it costs more to park at the Scottish capital's airport than to fly 1,800 miles from Edinburgh to Milan and back.
Edmund King, president of the AA, said: "This really is outrageous profiteering and will be a kick in the teeth for many parents of younger children who need the car to get to the airport and then get stung twice with hiked parking and holiday charges."
A spokesperson for Edinburgh airport said: "Our car parking price fluctuations are driven by demand, particularly for the terminal car park in the summer. We could not accommodate the demand at £43 for a week."
Manchester airport's spokesperson said rates vary across the year to balance demand with the availability of spaces: "In the quieter months there will often be sales, offers and discounts available when demand is lower."
A spokesperson for Gatwick said: "At peak times throughout the year the demand for our car parks varies and, as a result, prices can fluctuate." The Sussex airport gives a 10 per cent discount for passengers who enrol in the myGatwick scheme.
At Birmingham airport, the sharp rise was explained by unprecedented low rates this winter: "As the peak season approaches the airport cannot continue to discount as we need to allow the balance of demand versus available capacity to be maintained," said a spokesperson.
At several airports, no holiday price hike was evident: rates at Stansted, Glasgow and Newcastle remain constant. Heathrow has a weekly rate of £73 for the Terminal 5 long-stay car park almost year-round.
Airports have been attacked for the increasing range of fees they levy. Norwich charges a £10 "Airport Development Fee", which it says is "to help fund further development of the airport's infrastructure and passenger facilities and to maintain and develop the airport's route network". Critics say it is simply a device to make air fares look cheaper than they actually are.
While many airports give away plastic bags to hold liquids for the security check, a £1 charge for four bags is levied at Bristol. The airport, which is the busiest in southern England outside London, also show a 39 per cent rise in car-park prices between April and October. A spokesperson for Bristol airport said: "The advanced pre-book car park product tariff does change, and this reflects the increase in demand and managing the capacity available."
Chris Woodrofe discusses the changes at Gatwick airport
Many airports have also introduced fees for dropping off passengers.
The Ryanair boss, Michael O'Leary, this week called airports "the highway robbers of aviation".
But Tim Jeans, chairman of Cornwall airport, said: "This is the flip side of lower and lower airfares.
"Airports' business models are adapting to a lower proportion of their income coming from aeronautical charges. The Ryanairs and easyJets demand lower charges in return for more passengers, and so those passengers make up the shortfall.
"Drop-off charges, fees for baggage trolleys, fast-track security and sometimes eye-watering car park rates are the price you may pay for getting to Spain for £14.99."
Additional research by Katie Garrett
Park life: how rates for parking a car at an airport can surge during the Easter school holidays and the summer peak
All rates are for official car parks booked online for one week's parking starting at 8am on a Saturday
Birmingham: 18 March, £37; 1 April, £58; increase 57 per cent
Bristol: 18 March, £46; 1 April, £64; increase 39 per cent
Edinburgh: 27 May, £43; 3 June, £87; increase 102 per cent
Gatwick: 18 March, £46; 1 April, £69; increase 50 per cent
Luton: 18 March, £38; 1 April, £53; increase 39 per cent
Manchester: 18 March, £51; 1 July, £76; increase 49 per cent
Register for free to continue reading
Registration is a free and easy way to support our truly independent journalism
By registering, you will also enjoy limited access to Premium articles, exclusive newsletters, commenting, and virtual events with our leading journalists
Already have an account? sign in
Register for free to continue reading
Registration is a free and easy way to support our truly independent journalism
By registering, you will also enjoy limited access to Premium articles, exclusive newsletters, commenting, and virtual events with our leading journalists
Already have an account? sign in
Join our new commenting forum
Join thought-provoking conversations, follow other Independent readers and see their replies