Millionaire anti-vaxxer slammed for 'creepy' $100,000 offer to woman on flight
Tech entrepreneur asked fellow passenger to take off her mask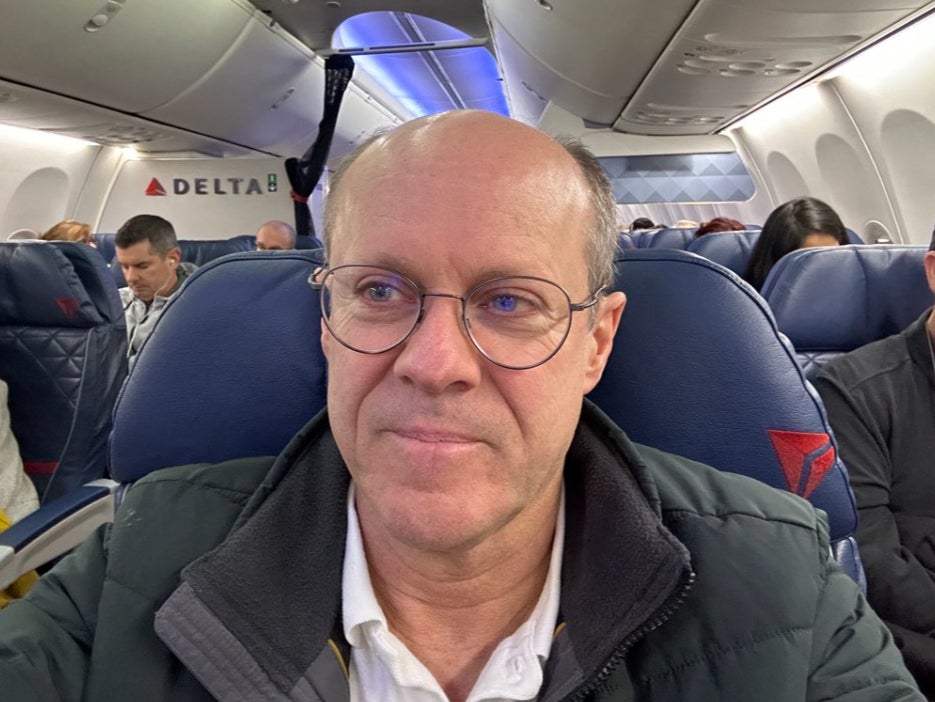 A tech millionaire and anti-vaxxer has received backlash online after making a "creepy" offer to a woman on a flight.
Steve Kirsch, an American entrepreneur who has campaigned against Covid-19 vaccines in the past, claimed that the incident occurred on a Delta Air Lines service.
In a series of tweets, he said that he had offered a fellow passenger money to remove the face mask she was wearing.
Mr Kirsch claimed he "started the bidding at $100" and eventually offered the woman $100,000 to take off the mask.
"I am on board a Delta flight right now," he tweeted, alongside a selfie of him sitting on a plane. "The person sitting next to me in first class refused $100,000 to remove her mask for the entire flight. No joke.
"This was after I explained they don't work. She works for a pharma company."
The self-proclaimed "truth-teller" and "critical thinker" added: "And I pointed out that when she removed the mask for eating and drinking, she could be infected with one breath. So she had full disclosure.
"She took off her mask as soon as the breakfast was served!!!! Because everyone knows you can't get infected while you are eating!!"
He concluded, "Maybe next time I'll sit next to someone who had an account at Silicon Valley Bank," alluding to the fact that SVB failed on 10 March.
Critics on social media were quick to brand Mr Kirsch's remarks unsavoury.
"Ew. Do you make a habit of offering money to random women to remove coverings from their bodies mid-air?" replied former Democrat state representative nominee Jess Piper.
Infectious disease doctor Alastair McAlpine commented: "Stop bugging people who are minding their own business with your creepy nonsense."
Mr Kirsch made his fortune - a net worth listed at $230m in 2007 - in Silicon Valley after having created one of the first versions of the optical mouse in 1980.
He went on to co-found Frame Technology Corp, which was acquired by Adobe in 1995, as well as the search engine Infoseek, which was bought by Disney in 1999.
At the onset of the Covid-19 pandemic, Mr Kirsch put $1m into his own research fund for coronavirus treatments, per the MIT Technology Review.
He later began sharing misinformation about Covid vaccines, the publication claims, and frequently shares articles criticising the shots and masking guidelines on his Twitter.
Face masks became an ideological battle ground during the Covid-19 pandemic, with some people in the US protesting against rules stipulating they had to be worn on public transport.
There were numerous incidents of passengers getting kicked off flights for refusing to wear a face covering; for example, in December 2020, a woman was removed from a flight in the US after declining to wear a mask and calling an airline employee an "a**hole".
The incident occurred on a Frontier Airlines flight from Cincinnati, Ohio to Tampa, Florida.
Video of the exchange shows a member of Frontier staff explaining the rules and asking the woman to comply, before telling her she'll have to deplane.
"Ma'am you need to have a mask on. You need to have the paper mask they provided," the staff member can be heard saying in footage shared on social media.
"You have to wear your mask the whole entire flight. If you're unable to do so you will be removed from the flight."
Join our commenting forum
Join thought-provoking conversations, follow other Independent readers and see their replies