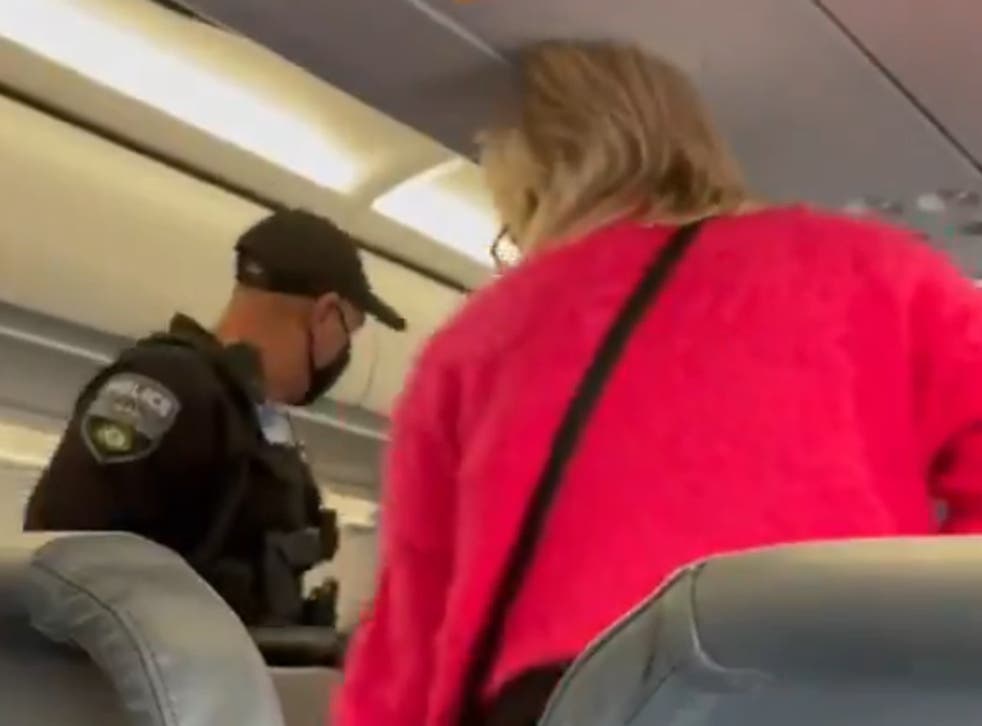 Woman calls airline worker 'a**hole' and is kicked off plane after refusing to wear a mask
Passengers applaud when she finally gets off aircraft
A woman was kicked off a flight in the US after refusing to wear a mask and calling an airline employee an "a**hole".
The incident occurred on a Frontier Airlines flight from Cincinnati, Ohio to Tampa, Florida on 3 December.
Video of the exchange shows a member of Frontier staff explaining the rules and asking the woman to comply, before telling her she'll have to deplane.
"Ma'am you need to have a mask on. You need to have the paper mask they provided," the staff member can be heard saying in footage shared on social media.
"You have to wear your mask the whole entire flight. If you're unable to do so you will be removed from the flight."
The employee waits for a moment before turning away – at which point the passenger can be clearly heard retorting: "Thanks, a**hole".
"OK, you're done. Let's go," replies the Frontier worker. "You're getting off the aircraft. You're done, you're not going to speak to me like that."
She adds: "You agreed to this when you checked into our flight and when you bought your ticket so I need you to get off the aircraft at this time."
The woman clearly initially refused to leave the aircraft, as a later video shared on Twitter shows a male security team member in attendance.
He takes her suitcase off the plane and she follows, still not wearing a mask.
As the woman finally steps off the jet, the other passengers can be heard applauding and cheering.
A Frontier spokesperson told The Independent: "Frontier Airlines' face covering policy is clearly explained during the reservations and check-in process, during boarding and onboard the aircraft. Face coverings are required throughout a traveller's journey when flying with Frontier.
"The passenger will be placed on our Prevent Departure List."
It's just one in a long line of incidents in which passengers have refused to comply with airlines' strict rules on face coverings during the coronavirus pandemic.
Last month, an entire flight was forced to return to the gate and deplane after a woman onboard refused to wear a mask.
The Southwest Airlines service from Nashville to Las Vegas on 3 November was almost ready to depart when the aircraft had to turn around.
A Metro Nashville Airport Authority Department of Public Safety officer had to be dispatched to the gate, an airport spokesperson confirmed to The Tennessean, after a female passenger would not put on a face covering or leave the aircraft when instructed to do so.
"Shortly after pushing back from the gate, Flight 2388 from Nashville to Las Vegas returned after a customer refused to follow our face covering policy," said a Southwest spokesperson.
The woman's refusal to depart the aircraft of her own accord meant the entire planeload of passengers had to get off.
Register for free to continue reading
Registration is a free and easy way to support our truly independent journalism
By registering, you will also enjoy limited access to Premium articles, exclusive newsletters, commenting, and virtual events with our leading journalists
Already have an account? sign in
Register for free to continue reading
Registration is a free and easy way to support our truly independent journalism
By registering, you will also enjoy limited access to Premium articles, exclusive newsletters, commenting, and virtual events with our leading journalists
Already have an account? sign in
Join our new commenting forum
Join thought-provoking conversations, follow other Independent readers and see their replies