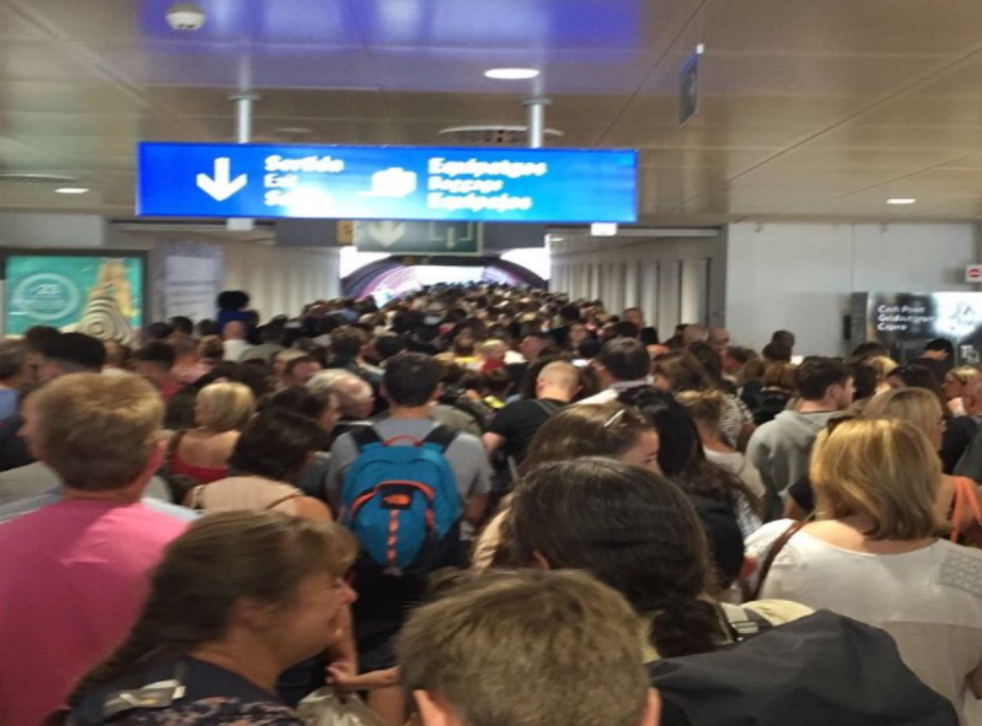 Aviation bursting at seams in busiest-ever summer for airports and airlines
'There is no contingency capacity, be it runway, terminal, airspace, or road and rail access, so any delay or disruption compounds very quickly'
The busiest-ever summer for holidays abroad is putting unprecedented strain on airlines, airports and passengers, research by The Independent has shown.
Thousands of travellers remain stranded after their weekend flights were cancelled, with easyJet alone grounding at least 28 flights.
The budget airline is blaming "congested airspace, particularly in the London area, adverse weather and air traffic control delays."
Chaos at Heathrow as passengers queue for hours to leave airport
Heathrow and Gatwick airports are handling far more passengers than their design capacities. Airspace over France, used by more than 1,000 British flights every day, has too few staff to handle the growth in traffic. And tougher passport checks at European airports mean passengers face queues of up to four hours to pass border controls, with thousands of flights delayed as a result.
Among the first cancellations on Sunday morning was easyJet's flight from Gatwick to Marseille. The airline blamed "lengthy air traffic control delays" meaning that the crew due to operate the previous night's service "were unable to do so after reaching their maximum working hours".
One passenger, Miki Maskell, tweeted: "@easyJet Thanks for cancelling my flight to Marseille with just 7 hours notice, Lost 3 days. Customer Service disgusting, Shame on you."
It follows an incident on Friday night when a worker at Nice airport punched an easyJet passenger in the face. The member of staff is said to have hit the man, who was holding a nine-month old child, after he complained about the lack of care during the 13-hour delay for a flight to Luton.
While a decision is awaited on building another runway in the London area, both Heathrow and Gatwick are handling record numbers of flights and passengers. They are the busiest two-runway and single-runway airports in the world, and have very little slack in the system.
When the runway at Gatwick was temporarily closed following a blown tyre on an Air Canada jet two weeks ago, dozens of flights were diverted, cancelled, or heavily delayed.
The Sussex airport is gearing up for its busiest day in history: on Sunday 13 August, 168,000 passengers are expected to arrive or depart, an average rate of two people per second.
Heathrow forecasts its busiest day in the main summer holiday will be Sunday 6 August, with 257,893 passengers.
A leading aviation analyst said Britain's aviation system is "operating at or near 100 per cent capacity" and has "no resilience". Laurie Price, a former British Airways executive and aviation adviser to the Transport Select Committee, has called for a 20 per cent margin for recovery to be mandatory.
He told The Independent: "There is no contingency capacity built in, be it runway, terminal, airspace, or road and rail access, so any delay or disruption anywhere in the system compounds very quickly.
"It may be good for airport bottom lines to squeeze the last gram of capacity out of their assets, but wholly unacceptable for passengers and the airlines who suffer the financial consequences of over-scheduling."
Airspace capacity across the Channel is also under strain. An easyJet spokesperson said: "This weekend easyJet, like other airlines, saw delays through French air space of up to 100 minutes with two-thirds of easyJet's flights routing through French airspace.
"If alternative routes are required these are often over the Atlantic or through Germany, which are typically longer and don't have the same capacity as French routes."
The SNCTA, the French air-traffic control union, said: "French air traffic controllers are now facing a very high traffic growth, more than 10 per cent in some areas, with insufficient staff."
Airlines are blaming a new EU regulation on passport checks for delaying thousands of flights. The rules, which took effect this summer, require each passenger from outside the Schengen area (covering most EU countries) to have their arrival and departure recorded. Previously British passengers were often waved through with only a cursory inspection.
Thomas Reynaert, managing director of the airlines' association A4E, said: "Queuing for up to four hours has been the top record these days; airports like Madrid, Palma de Mallorca, Lisbon, Lyon, Paris-Orly, Milan or Brussels are producing shameful pictures of devastated passengers in front of immigration booths, in lines stretching hundreds of metres.
"At some airports, flight delays have increased by 300 per cent compared to last year."
British passengers arriving at Palma in Mallorca had to queue for 90 minutes yesterday. On Friday, the Spanish airport had its busiest-ever day, with almost 1,100 flights and more than 180,000 passengers.
The aviation analyst Laurie Price warned flying could get even more stressful after the UK leaves the EU: "If we are experiencing problems now, what is going to happen post-Brexit when more rigorous immigration controls and procedures are brought in?
"They will be grafted into already congested terminals. It can only worsen service standards, increase queues and passenger frustration with more frayed tempers."
Join our new commenting forum
Join thought-provoking conversations, follow other Independent readers and see their replies