Bank holiday travel chaos predicted with rail strikes and busy roads
Saturday walk-out by members of RMT union will add to pressure on roads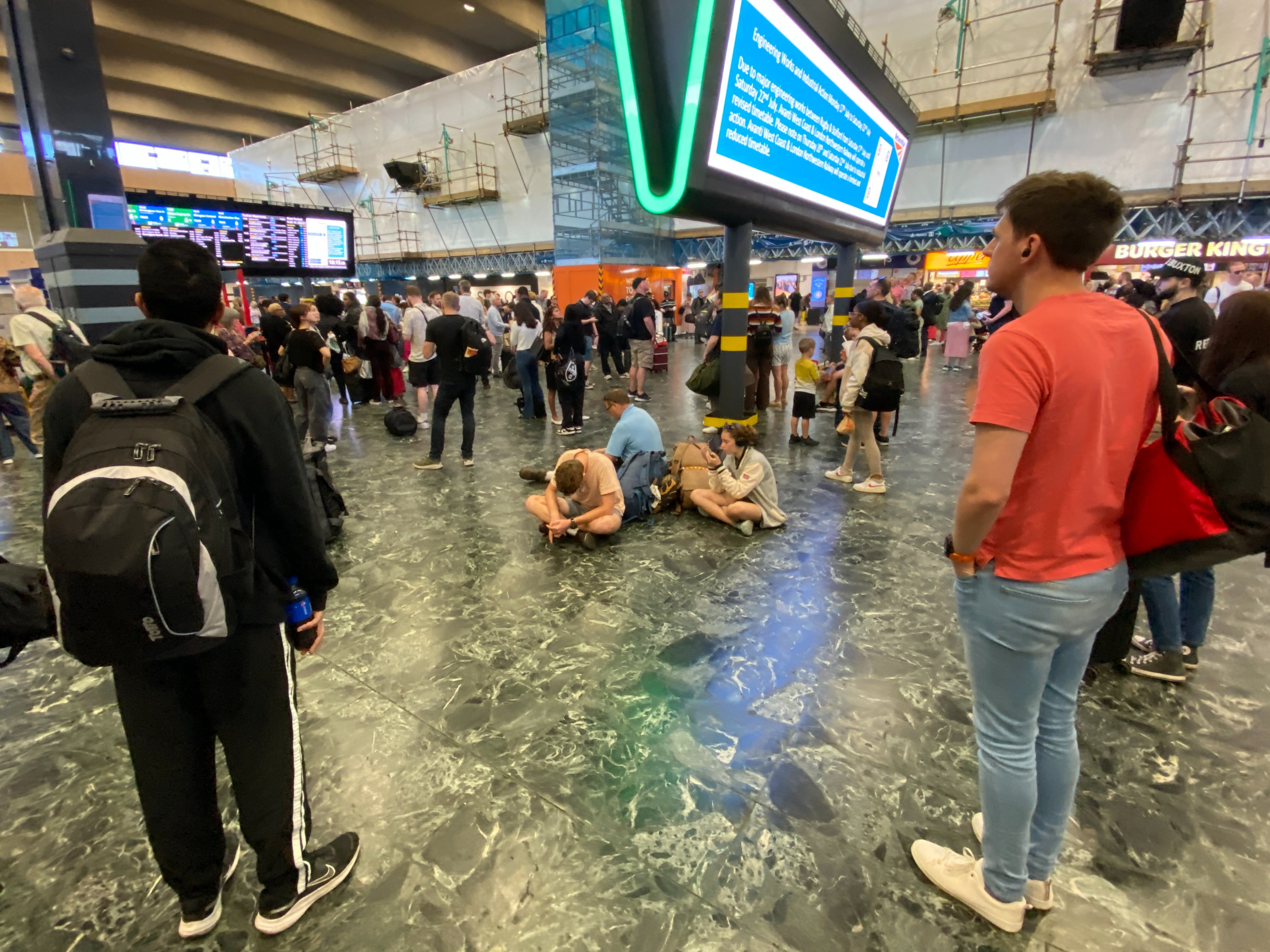 Travellers to, from and within the UK face difficult journeys over the August bank holiday weekend with cancelled trains, gridlocked roads, long delays at French ferry ports and airports at full stretch.
National rail strikes resume on Saturday 26 August, when the RMT union calls out up to 20,000 members. Staff employed by 14 train operators in England, including the leading intercity and commuter firms, will walk out – triggering the cancellation of thousands of trains.
The stoppage is the latest in a long and bitter dispute over pay and working arrangements. The effects will be exacerbated by planned Network Rail engineering work. Thousands of trains have been cancelled. On parts of the rail network, a skeleton service will run during limited hours but many lines and stations will have no trains.
No trains will run to, from or within Cornwall.
South Western Railway, the operator to and from London Waterloo, the UK's busiest station, is warning: "Customers should only travel if their journeys are absolutely necessary."
Transport for Wales and ScotRail are unaffected, though on routes that they share with English train operators services are likely to be busier than normal. Monday 28 August is a working day in Scotland, with no bank holiday. Many trains on Friday and Sunday will be crowded as travellers seek to avoid the latest strike day.
The rail walk-out will add to pressure on roads. Overall the AA expects traffic to be busiest on Friday, while the RAC predicts the highest number of leisure trips on Saturday.
Using data from Inrix, the RAC says more than three million journeys will be made – with peak pressure between 10am and 3pm on Saturday.
Motorists returning from northern France to Dover could encounter long queues at Calais and Dunkirk for French and British frontier formalities.
In the skies, Friday is expected to be extremely busy. With Europe's air-traffic control providers warning of high demand, delays to flights could swiftly build.
The travel association Abta estimates that more than 4.5 million people from the UK will be holidaying overseas over the August bank holiday.
For international travel, it is expected to be the busiest long weekend since 2019.
Figures from Cirium, the aviation analyst, indicate the most popular destinations for departing travellers are Dublin, Amsterdam, Palma, Malaga and Faro. These are also likely to be the leading sources for inbound passengers.
Rail
The latest RMT strike in Saturday will wreck the travel plans of millions of passengers, particularly families returning from holidays. In addition the walk-out will hit music fans attending festivals in Leeds and Reading Festival over the late August bank holiday, rugby supporters attending the England v Fiji match at Twickenham and a full Saturday programme of football matches.
East Midlands Railway warns: "Only travel by rail if absolutely necessary and if you do travel, expect severe disruption."
Some Friday evening and Sunday morning services will also be hit.
Southern, which runs trains in south London, Surrey and Sussex, warns: "We expect first services to be extremely crowded and you may not be able to board your chosen service. You are advised to start your journey later on in the morning."
But Greater Anglia says it will run a near-normal service on Saturday.
Further industrial action will take place on Friday 1 September, when train drivers belonging to Aslef will walk out, and another RMT strike on Saturday 2 September.
Road
The RAC warns of traffic delays on Friday on key motorways:
M1 northbound between junctions 12 and 16 (Bedfordshire to Northampton)
M25 anticlockwise between junctions 4 and 1 (Swanley to Dartford Crossing)
M4 eastbound between junctions 29 and 24 (southeast Wales)
The heaviest traffic is expected between 10am and 7pm.
On Saturday, congestion will be increased by the rail strike, with maximum traffic predicted between 10am and 3pm. The same peak applies on Sunday, with Monday traffic expected to be heaviest from 10am to 4pm.
The AA says Friday will be the busiest day of the weekend, but predicted that some families will cancel plans for short breaks because of predicted poor weather.
Ferries
The biggest problems are expected to be at Calais, as holidaymakers returning to Dover queue for French and British frontier formalities. Since Brexit, French passport officials must check and stamp all UK passports.
Even on Wednesday afternoon, normally an off-peak spell, DFDS Ferries warned: "Freight and tourist traffic have wait times of approx 60 minutes at controls."
Pressure on ferries will be increased by the cancellation of a pair of direct France-Ireland departures. DFDS Ferries said "a technical issue" had led to the Dunkirk-Rosslare sailings being cancelled.
Vehicles are likely to switch to links to Dover.
Air
Friday is the peak day of the week for aviation across Europe, with pressure on key air-traffic control sectors in the southeast of the continent intensified by the closure of Russian and Ukrainian airspace – and increased military aviation activity in eastern Europe.
According to Eurocontrol's Network Operational Performance plan, the most intense air traffic is predicted for southern Britain, the Benelux countries and Germany.
The UK's busiest airports for holiday flights – London Gatwick, London Stansted and Manchester – are expecting very high numbers of arrivals over the weekend.
Manchester airport expects to handle 103,300 passengers on Friday – possibly making it the busiest day of the summer, with an average of 72 passengers passing through every minute.
Travellers arriving at English airports on Saturday who hope to continue their journey by train are likely to be frustrated by the rail strike – especially if they land in the evening.
Strikes planned by some ground-handling staff at London Gatwick have been called off.
At London Heathrow, British Airways has cancelled a number of short-haul services on Thursday, mainly to and from Germany on routes with a high frequency of flights.
Join our commenting forum
Join thought-provoking conversations, follow other Independent readers and see their replies