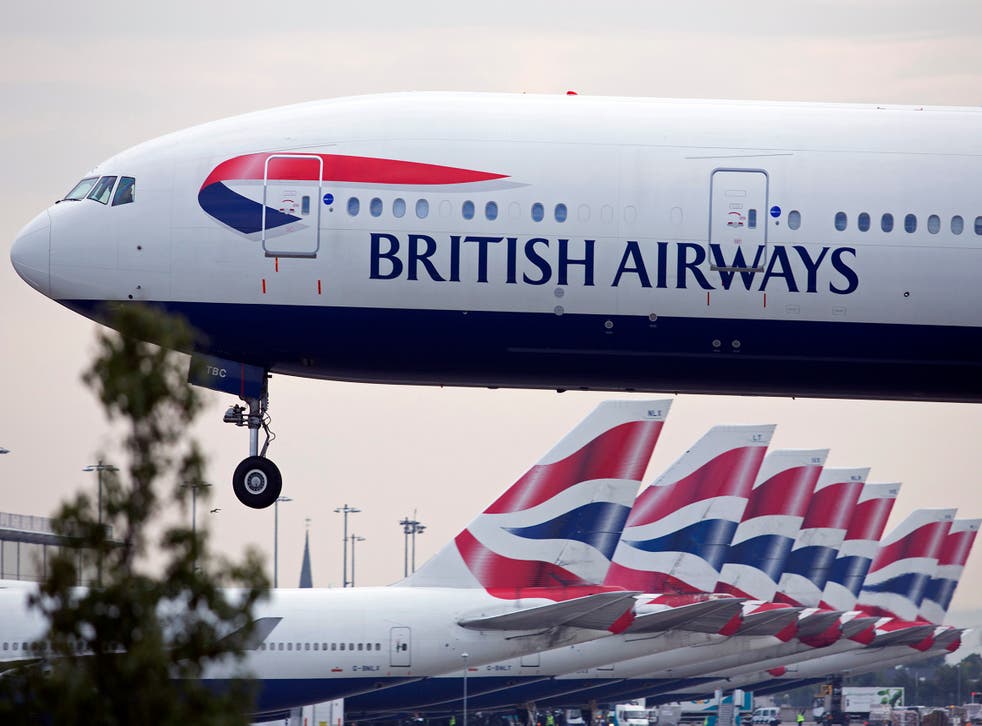 British Airways' long-haul passenger squeeze from Gatwick starts in May
Revealed: the US and Caribbean routes on which BA's 'densified' long-haul planes will pack 52 in more passengers
Passengers flying British Airways to Orlando next summer who value their space should avoid flying on Fridays or the first flight of the day on Saturdays. Those are the services which will feature BA's new "densified" jets, with 52 more seats squeezed into the same planes.
The Independent revealed in November that the airline plans to add an extra seat to each row of economy on Gatwick-based Boeing 777 aircraft. They will be 10 abreast, rather than the current nine across, which will continue on 777s based at Heathrow.
The news first emerged from a Capital Markets Day, where Willie Walsh, chief executive of BA's parent company IAG, told investors the move would allow British Airways to "lower the average cost per seat, charge a lower price and stimulate demand".
At the same event, BA's chief executive and chairman, Alex Cruz, said the densification of the 777 would bring seat costs below Norwegian's 787.
The summer 2018 schedule for the densified fleet is now on sale. The first planned departure using the high-density plane is 7 May, from Gatwick to Kingston.
Through the summer, Monday and Wednesday flights to and from the Jamaican capital will use the densified 777s. For more elbow room, travellers should select the Friday departure.
Starting the following day, all three weekly departures from Gatwick to Punta Cana in the Dominican Republic will be on high-density aircraft – as will all flights to Cancun in Mexico from 20 June 2018.
Travellers to the Florida cities of Fort Lauderdale and Tampa can avoid the densified aircraft by not flying on Thursdays (and, for Tampa, Sundays as well). But from 8 July 2018, every departure from Gatwick to New York will use the new configuration.
A test booking to Orlando made on ba.com revealed no difference in economy fare between a "densified" 777, and the current configuration – even though passengers on the latter will enjoy more space.
A spokesperson for British Airways said: "We are flying more customers than ever before to our expanding network of destinations.
"To meet this demand, we are updating our 777 cabins to bring us into line with many of our competitors and allow us to offer even more low fares."
One consolation for passengers on the high-density planes is that the refit also includes fitting new entertainment systems with bigger screens.
British Airways offers a more generous hand-baggage allowance than its low-cost rivals, as well as complimentary food and drink on long-haul services.
The new seating will be configured 3-4-3, the same as BA's Boeing 747s - which have a wider cabin. On all the airline's current 777s, the arrangement is 3-3-3. Other airlines with a 10-abreast economy class configuration on the Boeing 777 include Air New Zealand and Emirates.
Air France has a special high-density fleet of 777s devoted to Caribbean and Indian Ocean routes from Paris, with 10 seats in each row.
Until 15 years ago, some of British Airways' Gatwick fleet of 777s had 10-abreast seating, but in 2002 they were brought into line with the rest of the BA aircraft.
On Thursday, BA's sister airline, Aer Lingus, announced it would start charging extra for blankets and earphones on its cheapest transatlantic fares from Dublin from 1 October.
Join our new commenting forum
Join thought-provoking conversations, follow other Independent readers and see their replies