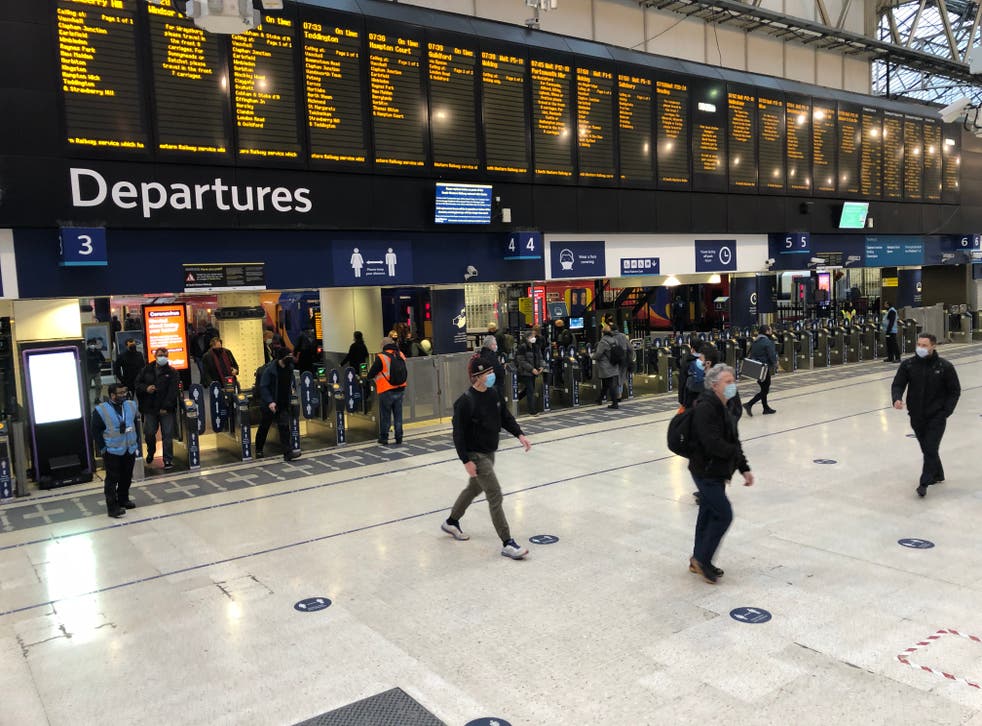 CBI warns against using public transport as rail services rise
Exclusive: 'Those with no alternative to commuting using public transport will face journey times of longer and more unpredictable duration,' warns the employers' organisation
As the rail industry announces a partial restoration of trains, it has emerged that the CBI is urging employers to help staff avoid public transport.
On Monday 12 April, lockdown rules in England will ease significantly.
The government says: "This step will reopen some sections of our indoor economy and more outdoor settings, restoring jobs and livelihoods and enabling people to access some of the activities and services which are most important to them."
In response, train operators will run a higher proportion of pre-pandemic services – rising from 70 to 75 per cent, with 18,000 daily departures from Monday.
The government cautions: "People should continue to work from home where they can." And in preparation for the easing of restrictions, the lobby group CBI has issued a factsheet that warns against using public transport.
Read more: 
The new CBI document, Commuting in a pandemic, is unrelated to the rail industry announcement.
It warns that travellers by rail and bus could experience disruption, saying: "It's clear that those with no alternative to commuting using public transport will face journey times of longer and more unpredictable duration."
The CBI urges employers to "build up a map of their staff's commutes".
"Determine if there are any workers that cannot meet the social distancing guidelines by walking, running, cycling or driving to work," it says.
"Or in other words 'Who cannot avoid public transport?'"
Employers are told to "consider interventions based on the insight" and "consider providing alternative transport if possible".
Research by the Rail Delivery Group (RDG) suggests around 15 per cent of commuters who previously used the train may switch to road.
The CBI does not publish its list of members, but the nationalised train operator Northern is known to belong to the organisation.
A CBI spokesperson said: "The UK's public transport network plays a crucial role in both helping to move people and goods around the country and reducing carbon emissions. Decarbonising the public transport network to get more commuters off the roads and offer a wider range of low and zero carbon options remains an urgent priority.
"Regular engagement with firms, including via our 'Transform the Journey: Better Commutes for All' campaign, has highlighted the potential impact reduced public transport capacity could have on services as more employees return to workplaces.
"The latest update to CBI guidance on commuting makes a series of practical recommendations for firms about how they can adapt to this challenge, by offering more flexible options to staff and avoiding overburdening the public transport network at a time of reduced capacity.
"Suggestions include continued working from home, staggered start/finish times and the use of walking and cycling where possible.
"Service operators are already working hard to scale-up provision through additional services, and will continue to do so as restrictions reduce in line with the government's roadmap to reopening the economy.
"The CBI's own policies around Covid-working closely follow government guidance, with all staff working from home unless in exception circumstances where it is necessary for a member of-staff to be on-site."
The Independent revealed that car usage has increased significantly – from 72 per cent to 78 per cent of pre-pandemic levels – since the last easing of lockdown measures in England on 29 March. But rail use remained flat, at just 25 per cent.
The transport expert Thomas Ableman said: "Decades of research tells us that peoples' habits are hard to break once they are formed.
"The government wants people to return to public transport and has made promises of billions of pounds' worth of investments in improvements. But those improvements will be meaningless without passengers.
"Government Covid guidance treats car use and public transport equally, but it's buried in the small print. The government needs to shout from the rooftops that if a journey can be made by car, it is also safe to make by train or bus."
Later on Thursday the CBI revised its guidelines and added a key message about train use, saying: "Rail companies are increasing services to almost 18,000 each weekday by 12 April, an increase of over 1,000 since February.
"This means there is capacity for approximately 36-45 per cent of pre-pandemic passenger volumes with social distancing.
"With current passenger levels at approximately 25 per cent according to the most recent government data, there is still room on trains, particularly at quieter times."
Simon is hosting a free event on 28 April, where he'll untangle the latest news in the world of travel and let you know when, where and how you can go on holiday this summer. You can book a ticket by signing up to his weekly newsletter here.
Join our new commenting forum
Join thought-provoking conversations, follow other Independent readers and see their replies