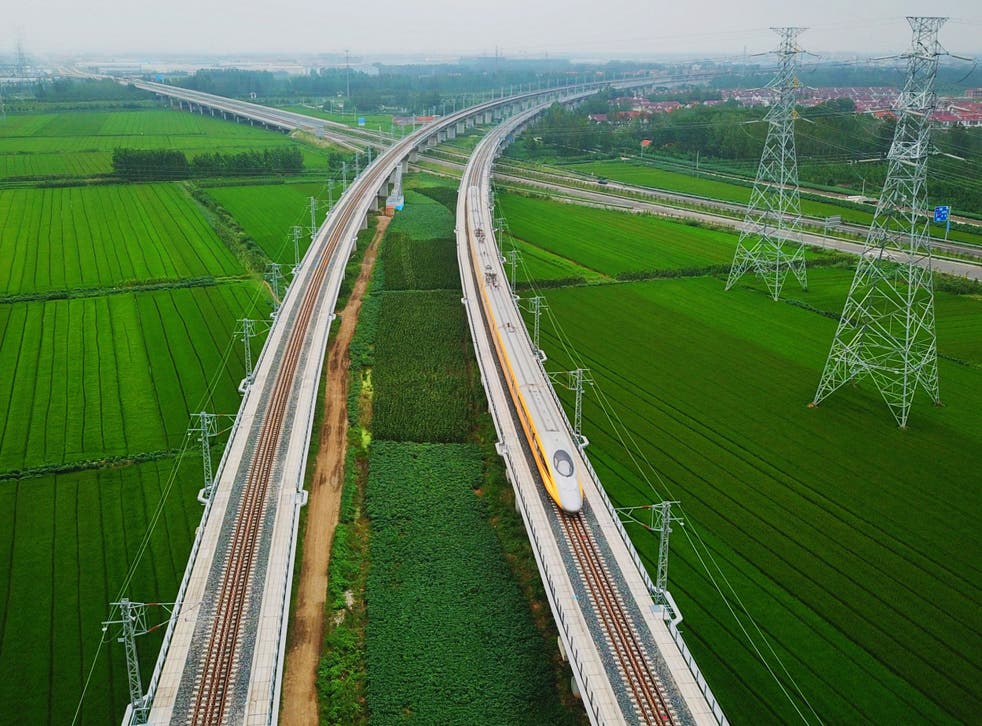 China to launch self-driving bullet trains that will travel at 350km per hour
The high-speed service will run between Beijing and Zhangjiakou in Hebei Province 
Helen Coffey
Thursday 03 January 2019 17:55 Comments
China will introduce the world's first driverless trains to run at speeds of up to 350kph on the Beijing-Zhangjiakou railway line.
The automatic operation bullet trains were trialled on a section of the Beijing-Shenyang line in 2018 by the China Railway Corporation (CRC) and the system passed all safety tests.
"The bullet train can automatically depart, operate between stations and adjust the train's operation to meet its precise timetable after a single button is pressed," a researcher from China Academy of Railway Sciences told the Sciences and Technology Daily.
A driver currently performs these operations on high-speed trains.
It's thought that automatic train operation (ATO) will increasingly replace human drivers in China after it was successfully rolled out on two intercity lines in the Pearl River Delta region. These trains run at a maximum speed of 200kph; the new Fuxing trains, which debuted on the Beijing-Shanghai line in June 2017, can travel at up to 350kph.
For the first 10 years of the high-speed ATO trains, an attendant will still be deployed on board to ensure nothing goes wrong. After that, the trains will be totally driverless.
Experts say this should improve safety long-term.
"An automatic driving system could greatly improve the safety of trains which run on high-speed railways, compared with human drivers who may have sudden health problems or disregard safety precautions during driving," Sun Zhang, a railway expert and professor at Shanghai Tongji University, told the Global Times.
The Beijing-Zhangjiakou line, otherwise known as the Jing-Zhang line, is a new railway currently being constructed for the 2022 Winter Olympic Games, to enable easy travel between Beijing and the Winter Olympic Village in 50 minutes.
Support free-thinking journalism and attend Independent events
The news of the high-speed ATO trains comes after The Independent revealed that Scottish passengers could be the first in the world to experience autonomous buses.
The government said in November that self-driving buses will be shuttling across the Forth Road Bridge in Scotland by 2021, carrying half a million passengers a year.
The Department for Business is pumping £4.35m into a £6m project that will see five single-decker buses, each carrying 42 passengers, running on a 14-mile journey between Fife with Edinburgh Park.
Register for free to continue reading
Registration is a free and easy way to support our truly independent journalism
By registering, you will also enjoy limited access to Premium articles, exclusive newsletters, commenting, and virtual events with our leading journalists
Already have an account? sign in
Join our new commenting forum
Join thought-provoking conversations, follow other Independent readers and see their replies