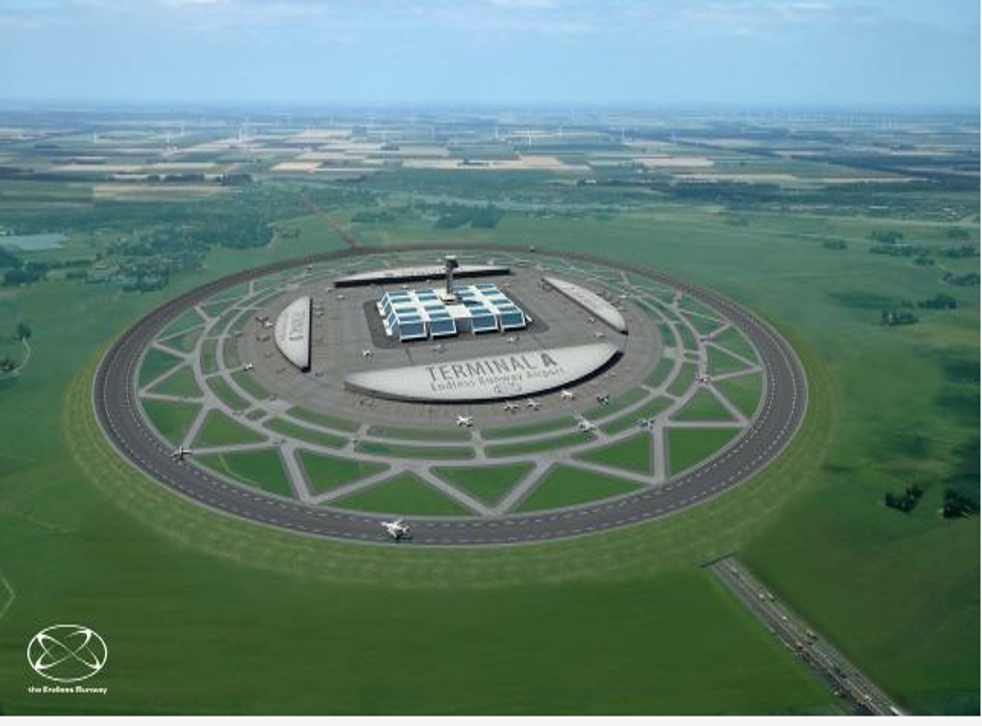 Circular airport runway concept divides expert opinion
The EU has funded research into the revolutionary concept
The solution to the shortage of airport space in the UK and elsewhere? Create an endless runway. The revolutionary concept of a circular runway has been developed by Henk Hesselink at the National Aerospace Laboratory in the Netherlands with EU funding.
Mr Hesselink and his colleagues are looking ahead to 2050 and beyond, by which time air traffic within Europe is predicted to triple.
The researchers say: "Physical constraints on runway operations, like wake-vortex separation minima and cross- and tailwind limits, make it hard to improve performance of conventional airport configurations further."
The runway has a diameter of 3 to 4km, with all the terminal infrastructure located inside the circle. "This makes the airport compact, while allowing current-day aircraft to use the circle without significant structural modifications," says the research document.
In an exclusive interview for The Independent, Mr Hesselink envisaged the possibility of aircraft landing almost simultaneously, dramatically increasing the capacity of a constrained airport.
"In principle the circle is so large that you can have three aircraft [operating] without interfering with each other.
"We took the busiest day of the year at Charles de Gaulle and simulated it for a circular runway. It worked well."
The UK Government is currently consulting on airport expansion plans in South-East England, though a circular runway has never been considered.
Besides squeezing in more planes, a circular runway could also eliminate the problem of crosswinds. At the UK's leading airports — Heathrow, Gatwick, Manchester, Stansted and Edinburgh — there is either a single runway or two parallel strips.
Crosswinds can make landings challenging, slow the "flow rate" of aircraft or even halt operations temporarily, with diversions and delays. But with the "Endless Runway", an aircraft can always operate into the wind.
The idea has already been tested in the 1960s, said Mr Hesselink: "Some flight trials have been conducted, but the air-traffic controllers and the systems were not ready. You need computer support for this." He believes that improvements in aircraft and GPS technology makes operations feasible.
With a curved runway that has a slight incline to tackle the complex forces involved, pilots will need additional training to handle take-offs and landings. But, said Mr Hesselink: "There have been some trials on military airports in the US: it's actually pretty easy to do."
Some pilots in online forums have been vocal about the concept. One wrote: "I can't see how this could result in an increase in traffic or spread the noise around much. The only useable part of the circle is the into wind part, the rest is crosswind or downwind to varying degrees meaning that most movements will inevitably be from the same into wind sector, as will the approaches and departures.
"Then there's tyre wear, stress on the gear, the practical problem of landing in a turn, designing a whole new instrument landing system that can cope with a 360-degree runway…"
Mr Hesselink said: "If you talk to pilots there are some challenges. We have really considered all the nominal situations and taken into account the safety aspects."
A leading air safety expert in the Netherlands said: "His idea is fun, but is not very practical. It would take up a huge amount of space – if the full circle was built. The accuracy required to land without building up high sideloads on the landing gear probably require all landings to be performed by an autoland system. This would have an impact on an airport's capacity."
The project team are undeterred."Our next wish is to see if we can do real flight trials," said Mr Hesselink, adding "You don't have to build the full circle at once."
Join our new commenting forum
Join thought-provoking conversations, follow other Independent readers and see their replies