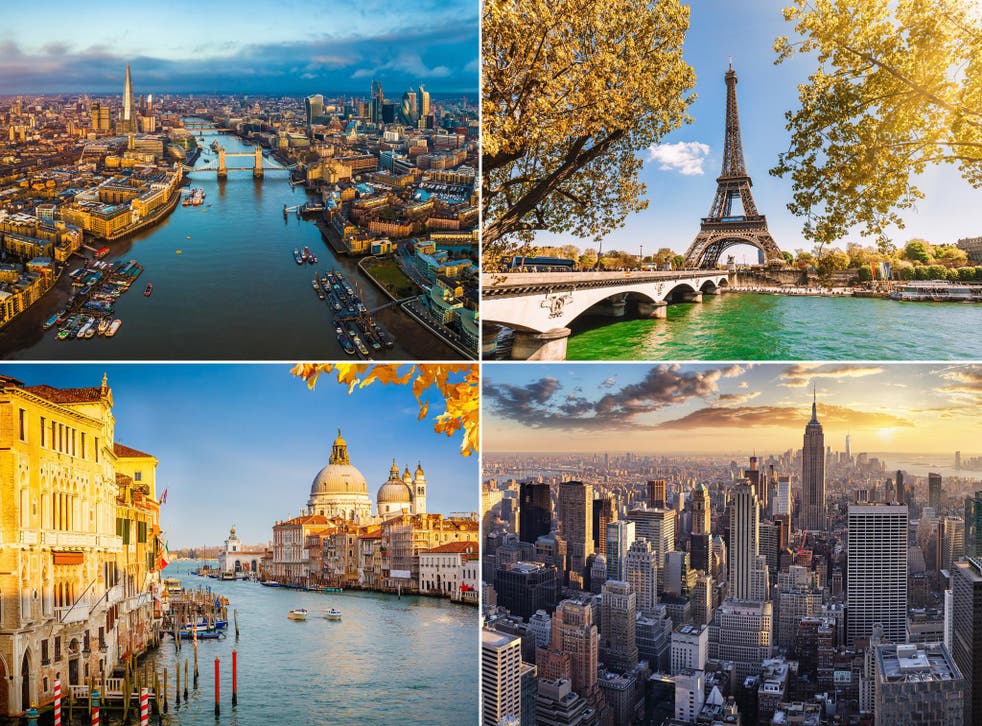 The most beautiful cities in the world revealed
Paris has been voted the most beautiful city in the world in a new ranking.
Travel website Flight Network compiled the list of 50 cities by surveying more than 1,000 travel writers and agencies around the world.
The French capital came top, followed by New York in second place and London in third.
"The Big Apple, the city that never sleeps, the 'concrete jungle where dreams are made', New York is a triumph of engineering and human endeavour. You could visit hundreds of times and still discover new things on every trip. It has it all," said one travel journalist.
Rounding out the top five were Venice and Vancouver.
10 most beautiful cities

Show all 10
The West Coast Canadian city was described by one travel writer: "It's a cliche, but from the soaring snow-capped mountain tops to the rocky Pacific shores, Vancouver is a breathtaking city – and one I'm so thrilled I can call home."
Other cities in the top 10 were Barcelona, Cape Town, San Francisco, Sydney and Rome.
European destinations also dominated the top 20, with Lisbon, Amsterdam, Prague, Budapest, Istanbul and Vienna all appearing.
Also in the top 20 were Singapore, Rio de Janeiro, Tokyo and Buenos Aires.
The top 50 most beautiful cities
1. Paris, France
2. New York, US
3. London, England
4. Venice, Italy
5. Vancouver, Canada
6. Barcelona, Spain
7. Cape Town, South Africa
8. San Francisco, US
9. Sydney, Australia
10. Rome, Italy
11. Singapore, Singapore
12. Lisbon, Portugal
13. Amsterdam, Netherlands
14. Prague, Czech Republic
15. Rio de Janeiro, Brazil
16. Budapest, Hungary
17. Istanbul, Turkey
18. Tokyo, Japan
19. Vienna, Austria
20. Buenos Aires, Argentina
21. Toronto, Canada
22. San Diego, US
23. Quebec City, Canada
24. Hong Kong, China
25. Chicago, US
26. Bruges, Belgium
27. Madrid, Spain
28. Havana, Cuba
29. Dubai, UAE
30. Jerusalem, Israel
31. Edinburgh, Scotland
32. Quito, Ecuador
33. Zurich, Switzerland
34. Cusco, Peru
35. St Petersburg, Russia
36. Berlin, Germany
37. Hanoi, Vietnam
38. Queenstown, New Zealand
39. San Miguel de Allende, Mexico
40. Seoul, South Korea
41. Dubrovnik, Croatia
42. San Sebastian, Spain
43. Bangkok, Thailand
44. Cartagena, Colombia
45. Dublin, Ireland
46. Marrakesh, Morocco
47. Bergen, Norway
48. Jaipur, India
49. Beijing, China
50. Athens, Greece
Register for free to continue reading
Registration is a free and easy way to support our truly independent journalism
By registering, you will also enjoy limited access to Premium articles, exclusive newsletters, commenting, and virtual events with our leading journalists
Already have an account? sign in
Register for free to continue reading
Registration is a free and easy way to support our truly independent journalism
By registering, you will also enjoy limited access to Premium articles, exclusive newsletters, commenting, and virtual events with our leading journalists
Already have an account? sign in
Join our new commenting forum
Join thought-provoking conversations, follow other Independent readers and see their replies