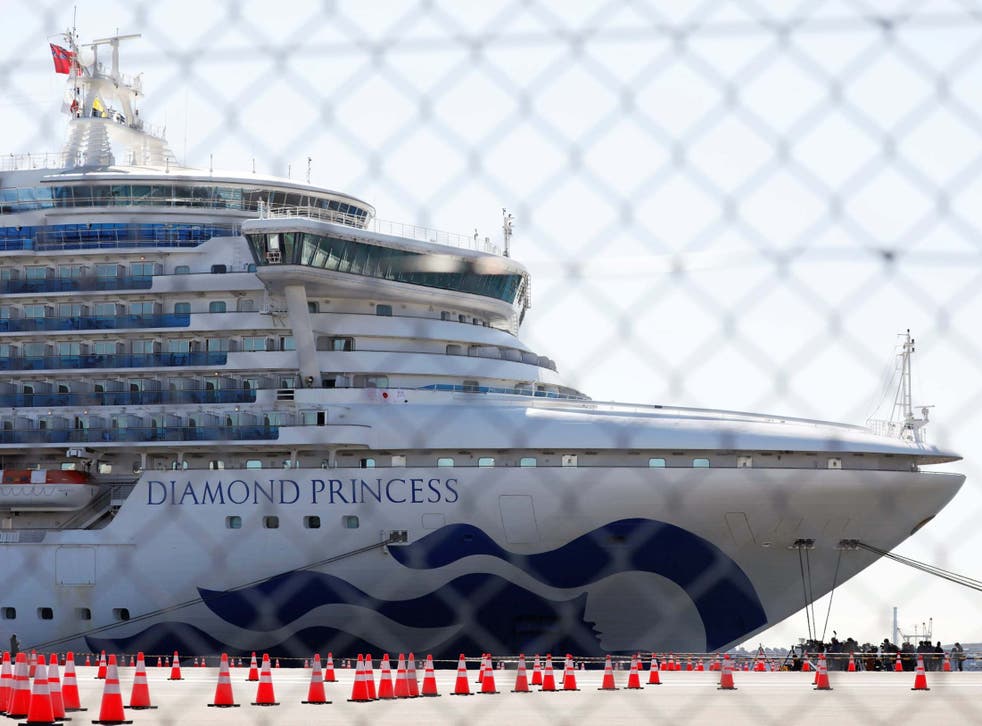 Food service workers helped spread coronavirus to crew onboard Diamond Princess cruise ship
Workers continued to prepare and deliver food to guests during ship's quarantine
Food workers onboard the Diamond Princess cruise ship helped spread coronavirus among the crew, according to a new report.
The Princess Cruises liner had to be quarantined off the coast of Japan in February after a Covid-19 outbreak that ultimately infected more than 700 people.
The first cases of the virus were detected in passengers at the end of January, and a food service worker onboard became the first confirmed case among the crew on 2 February.
Food service workers made up 75 per cent of the first confirmed cases among employees, according to a study published by the Centers for Disease Control (CDC) in its Mortality Weekly Report.
A total of 20 crew members contracted the virus, 15 of whom were food services workers.
Seven crew members displayed symptoms of the illness within three days of the start of quarantine, indicating that transmission likely occurred before the implementation of the lock-down.
While the ship was quarantined off the coast of Yokohama and passengers were forced to spend a fortnight in their rooms, the crew continued regular duties and delivered meals to holidaymakers (although symptomatic crew members were required to remain in their cabins).
"This investigation underscores the need for swift epidemiologic investigation as soon as a Covid-19 case is detected in an area or group where a large number of persons gather in a closed or crowded setting," said the report.
It highlighted the danger posed by confined spaces where people congregate, such as cruise ships, gyms and sports arenas.
Cruise ships are particularly vulnerable to the spread of viruses.
Some are now struggling to dock as countries are increasingly closing their borders to limit contagion.
On 17 March, The Independent reported that more than 2,000 passengers had been stranded in the South Pacific after several countries refused to let their cruise ship dock.
The Norwegian Cruise Line ship was turned away by French Polynesia, Fiji, Australia and New Zealand.
Before and after photos show impact of coronavirus around the world

Show all 20
No one onboard the Norwegian Jewel had displayed symptoms of Covid-19.
NCL told The Independent that the liner is now heading to Hawaii where passengers will hopefully be able to finally disembark.
"Due to the port closure in Fiji, we have been forced to modify Norwegian Jewel's disembarkation plans," a spokesperson said.
"The ship is currently heading to Honolulu, Hawaii, where she will disembark. We continue to communicate with guests regularly and will provide them with the estimated arrival time and further details as they become available."
Join our new commenting forum
Join thought-provoking conversations, follow other Independent readers and see their replies