Coronavirus: Singapore Changi Airport looks to close terminal for 18 months
'We stand ready to ramp up operations quickly once the recovery takes place,' said Tan Lye Teck of Changi airport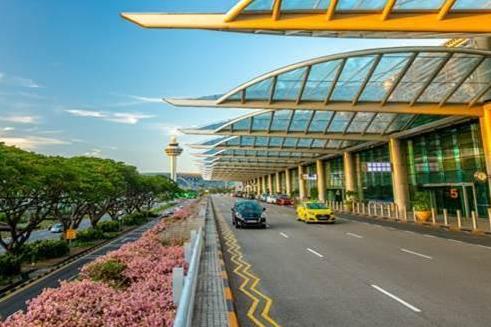 A bleak near future for global aviation: that is the expectation of one of the world's biggest air hubs.
Singapore Airport, known as Changi, has announced it will close one of its terminals for 18 months.
Terminal 2, the second-busiest of the airport's four terminals, will shut on 1 May 2020 and is not expected to re-open until November 2021.
The move will save cash and enable the airport "to better match the low travel demand and airlines' flight operations".
No short-term visitors from anywhere in the world are currently able to enter Singapore, and transit passengers are banned from using Changi Airport at present.
Tan Lye Teck, Changi's executive vice president of airport management, said: "With airlines suspending flights in response to the sharply reduced travel demand, the consolidation efforts seek to help our airport partners during this difficult time.
"While the scale of our operations will be reduced in the near term, Changi airport remains open to serve the air freight and passenger flights that continue to operate.
"We stand ready to ramp up operations quickly once the recovery takes place."
Terminal 2, which opened 30 years ago, is normally busier than many entire airports. It has an airside hotel, three gardens and five executive lounges – including one exclusively for first-class passengers on Singapore Airlines.
Carriers including Etihad, Malaysia Airlines and the Singapore Airlines subsidiaries SilkAir and Scoot will be re-located. They are expected to move to Terminal 1.
The suspension of operations means current expansion work for Terminal 2, scheduled for completion in 2024, can be brought forward, possibly by up to one year.
The airport added that it will also consider suspending operations at Terminal 4.
Changi Airport said it will identify "retraining and redeployment opportunities for airport staff to protect as many as jobs as possible during this downturn".
Passenger numbers at Changi fell by one-third, year on year, in February 2020, and the figures for March are expected to see a slump of around 80 per cent.
Europe's busiest hub, London Heathrow Airport, has announced that two of its four terminals will be closed in the coming weeks.
Airlines currently based in Terminals 3 and 4 will be moved into 2 and 5.
The UK's second-busiest airport, Gatwick, has temporarily closed its North Terminal and is operating flights only between 2pm and 10pm daily.
Join our commenting forum
Join thought-provoking conversations, follow other Independent readers and see their replies