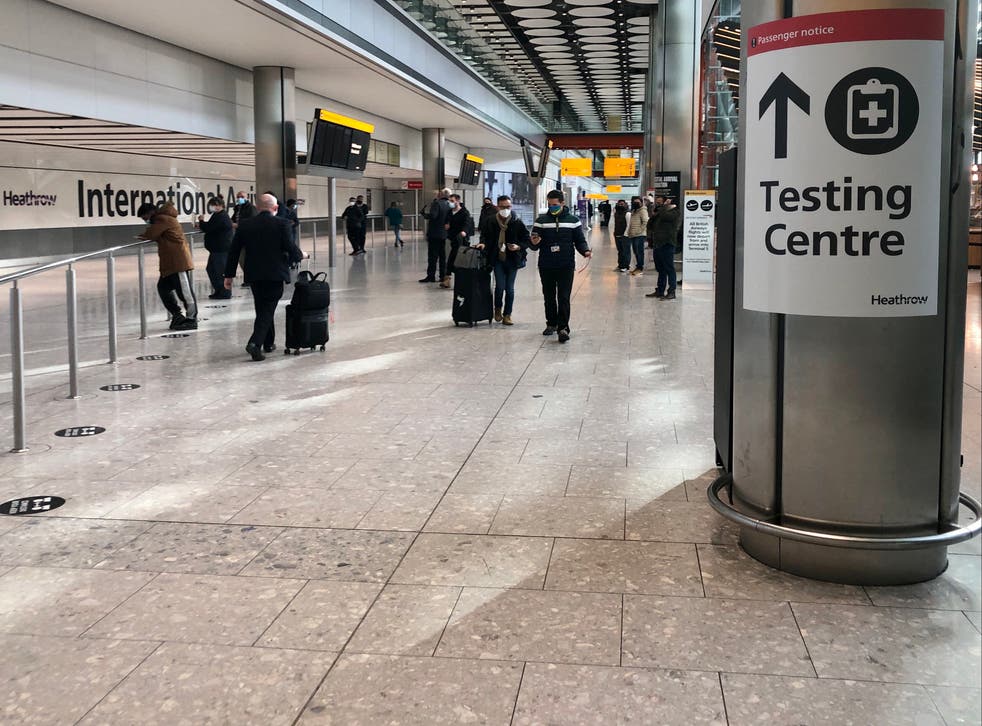 A quarter of Covid tests 'fail to record' which country travellers are arriving from
'How can the government claim to make informed decisions about what countries are high risk?' asked one critic
Lucy Thackray
Tuesday 24 August 2021 11:09 Comments
Around a quarter of Covid tests carried out on travellers arriving in the UK have no record of which country they've arrived from, according to new figures.
Of 742,650 tests booked by UK arrivals, the point of departure was only recorded for 558,640 tests, found analysis of NHS Test and Trace figures by the Daily Mail.
On the remaining 184,000 swabs, the words 'unknown' or 'multiple-unknown' appear in place of a departure point.
The research also showed that the number of these 'destination unknown' tests has more than doubled over recent months.
The news follows increasing calls from holidaymakers and the travel industry to scrap costly post-travel testing.
"How can the government claim to make informed decisions about what countries are high risk when they don't know where a quarter of travellers taking Covid tests have flown in from?" asked Sarah Olney MP, the Liberal Democrats' transport spokesperson.
"These figures show that testing has become little more than an expensive disincentive for international travel and has only succeeded in holding back the recovery of our aviation sector as well as leaving many travellers feeling that they have shelled out for costly tests for little or no reason," said Conservative MP Henry Smith.
The average cost of a government-approved PCR test is £93, a sum that Home Secretary Sajid Javid has vowed to reduce in the coming weeks.
On 5 August, Transport Secretary Grant Shapps defended the continuing need for even vaccinated travellers to take PCR tests on arrival to the UK, saying that they are needed to track new variants.
"PCR tests are helpful because they will help clinicians and scientists work together to keep a very close eye on variants," he told Sky News after the last travel review update.
"We're just reminding people that it helps our scientists sequence the [Covid-19] genome."
However, it recently emerged that just 6 per cent of positive test swabs are being sent off for further analysis.
Research by the Liberal Democrats found that only 293 of the 4,998 samples that came back positive during the period of 1-21 July went on to be analysed further for possible mutations of the virus, a process known as sequencing.
In a statement from the Department of Health, a spokesperson said: "Our top priority is protecting the health of the public and our enhanced borders regime is helping minimise the risk of new variants being imported into the UK.
"The country/territory the passenger returned from is self-reported. In cases where a travel destination has not been reported or requires additional validation, this is classified as 'Unknown'. In cases where multiple travel destinations are reported, this is categorised as 'Multiple unknown'.
"We are working with providers to improve the accuracy of data reporting."
Register for free to continue reading
Registration is a free and easy way to support our truly independent journalism
By registering, you will also enjoy limited access to Premium articles, exclusive newsletters, commenting, and virtual events with our leading journalists
Already have an account? sign in
Join our new commenting forum
Join thought-provoking conversations, follow other Independent readers and see their replies