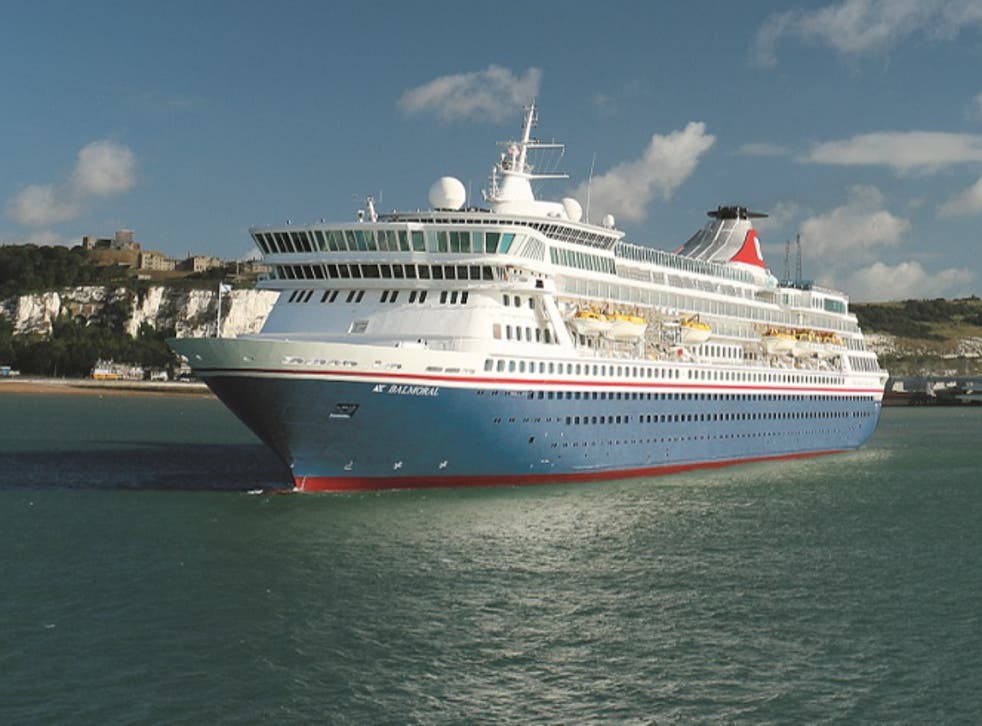 UK cruises: everything you need to know about summer sailings from voyages to vaccines
Cruise lines must have a series of ports on standby to allow for emergency evacuation of any Covid cases from a ship
Leading cruise lines have announced the resumption of UK-only voyages in early summer – but on some extremely unusual itineraries.
What's happening?
Most cruises ceased a year ago, as the coronavirus pandemic took hold. Since then the vast majority of the world's 270 ocean-going cruise ships have been moored, unable to operate.
For a year, the Foreign Office has warned against cruising anywhere abroad. Among the most significant of the many other obstacles to a successful restart of cruising is the choice of destinations. As was shown last spring with some cruise ships desperately seeking somewhere to offload, many locations were unwilling to take vessels and their passengers.
Fred Olsen Line describes the problem when reporting that "Braemar will unfortunately not be operating until Spring 2022." The ship operates in the Mediterranean and Caribbean. "We believe that initially it may be more complex for us to operate the planned fly cruise programme and we will therefore instead focus on our extensive ex-UK itineraries during 2021," the company says.
Other ships will be operating what Fred Olsen calls "scenic-only" or "no port" cruises.
Along with P&O Cruises, it will be sailing from UK ports on itineraries that, in many cases, are "voyages to nowhere" – typically cruising along the British coast, with some venturing into the Atlantic before returning to port. 
On these voyages, you can check in any time you like (up to the specified deadline) but you can leave the ship only when it returns to port.
Read more:
Will I need to be vaccinated?
Yes, at least if you are planning to travel on Saga or P&O Cruises. Both have a "no jab, no voyage" policy.
Saga Cruises says: "It is a mandatory requirement for travel on our cruises with departures in 2021 and 2022 that all passengers must have been vaccinated against Covid-19 using a Covid-19 vaccine approved by the UK's Medical and Healthcare Regulatory Authority." The full course must have been completed at least two weeks before boarding.
P&O says that its initial sailing are for UK residents only, who have had both doses and waited a week.
Fred Olsen is waiting to see. Peter Deer, the managing director, said: "By the time we resume sailing in July, we know that a large proportion of UK adults will have received their vaccinations.
"The vaccine is a big advancement for the travel industry, but it must be considered as part of a multi-layered approach.
"The government's Global Travel Taskforce is expected to deliver an update on 12 April, and we are awaiting further guidance from that before we confirm any final requirements with our guests."
What proof will I need of vaccination?
That is unclear. 
Saga says: "You will be required to provide evidence to our reasonable satisfaction that you and each member of your party has received the full course of such vaccination."
P&O says: "Approved forms of evidence will be confirmed closer to time of departure." The company's president, Paul Ludlow, hopes a UK government certification scheme will be available by early summer – but if not, he has said that a letter from your GP will be sufficient.
Will the crew be vaccinated?
Some of them may be, but unlike for passengers it is not a requirement. The crew undergo a strict testing and quarantine regime as well as regular testing during their time onboard.
Will masks and social distancing also be required?
Perhaps surprisingly, given that all passengers will be vaccinated and all crew will be regularly tested, that is the case on P&O. The company will mandate "appropriate social distancing and the wearing of masks in certain areas of the ship".
Will I need to take a test before boarding?
The Independent understands that is the case with all cruise lines from UK ports – including those where vaccination is mandatory.
If the passenger tests positive, they (and others in their party) are likely to be allowed to postpone the voyage rather than lose their cash.
Viking Cruises, which does not make vaccination mandatory, will be conducting daily saliva tests on all passengers.
The firm says: "Quick and easy PCR tests will be conducted prior to embarkation and on an ongoing, regular basis throughout an itinerary, dependent on prevalence levels from both our guests' country of origin and the destinations to which we will sail.
"At least initially, we expect to conduct daily testing."
"The quick and easy PCR test will be conducted by simple saliva sample in a small plastic tube, delivered to guests in their stateroom. After guests provide the saliva sample in the tube, they will package the tube in a provided plastic pouch, and a crew member will collect the sample for processing."
Cruise virus risks: when to travel to minimise them
What happens if someone tests positive?
That is the nightmare scenario for cruise lines. They all stress that their testing protocols should minimise the risk.
If it does occur, then the ship will make an unscheduled call at a pre-planned port to offload the passenger or crew member.
Cruise lines must have a series of ports on standby to allow for emergency evacuation of any Covid cases from a ship.
The UK Chamber of Shipping says: "Voyage planning will require the identification of key ports which will play an important role in case of an outbreak onboard a cruise ship.
"These key ports are strategically located along the voyage, and operators will have arrangements in place with the ports to allow them to disembark passengers or seafarers with suspected or confirmed Covid-19 and for them to either receive medical assistance or be repatriated home."
Where can I sail?
P&O Cruises is deploying Britannia on three- and four-night voyages from Southampton from 27 June. The Independent understands that the three-night cruises will stay close to the shore of Dorset, Devon and Cornwall, with four-night sailings venturing around Land's End to the north Cornish coast and perhaps as far up the Bristol Channel as Lundy Island.
The new P&O vessel, Iona, will operate a series of week-long cruises starting on 7 August. The first two will sail around Land's End and north through the Irish Sea to western Scotland, where the islands of Iona, Mull and Arran will be viewed.
The third is a "voyage to the sun" that will include the prospect of sailing past the Channel Islands, around the coast of Brittany and south along the western shore of France.
The first Fred Olsen sailing is on the line's new ship, Borealis, which sails from Liverpool to Liverpool on 5 July for three nights. Three days later, she makes a "Scenic British Isles and Summer Wildlife" no port cruise from Liverpool lasting four nights, sailing past Fingal's Cave in western Scotland. And on 17 July, Borealis will be venturing to the Faroe Islands from Liverpool. 
Her sister ship, Bolette, will make her maiden voyage with a three-night round-trip from Dover on 16 August – taking in the Isles of Scilly and the Channel Islands, at least from a distance.
Stop the ship, I want to get off!
That will be possible on Viking Cruises, which intends to begin sailing from Portsmouth on 22 May, the first of a series of three eight-day journeys called "Scenic Shores" – taking in only English ports, including Liverpool, Tresco in the Isles of Scilly, Falmouth and Portland.
Viking passengers won't need vaccinations but they will need to arrive around four hours early for a Covid PCR test.
Later in the summer, some Fred Olsen cruises are planned to call at various UK ports, if conditions allow. On 12 July Borealis will sail from Liverpool to Invergordon in northeast Scotland (for Loch Ness) and to Kirkwall in Orkney, with full days in each.
Belfast and Falmouth feature on the itinerary of Fred Olsen's Borealis, from Liverpool on 23 August. And on 24 August, Bolette will sail from the Kent port to Scotland's northern islands, with calls in Orkney and Shetland.
I'd just like a taster...
Fred Olsen has a one-night voyage from Rosyth in Fife to Newcastle on 10 August, price £179.
How much will I pay?
Reckon on about £150 per person per night on P&O and Fred Olsen. Saga and Viking tend to be more expensive.
In addition, you are likely to be required to take out travel insurance – even though you are not sailing to any foreign ports. For a healthy 65-year-old traveller, P&O's travel insurance costs £77 for a week.
How long will this be going on?
The hope among the cruise lines is that their initial experiences and the gradual roll-out of vaccines will enable them to take a more relaxed attitude in the months and years ahead.
Register for free to continue reading
Registration is a free and easy way to support our truly independent journalism
By registering, you will also enjoy limited access to Premium articles, exclusive newsletters, commenting, and virtual events with our leading journalists
Already have an account? sign in
Register for free to continue reading
Registration is a free and easy way to support our truly independent journalism
By registering, you will also enjoy limited access to Premium articles, exclusive newsletters, commenting, and virtual events with our leading journalists
Already have an account? sign in
Join our new commenting forum
Join thought-provoking conversations, follow other Independent readers and see their replies