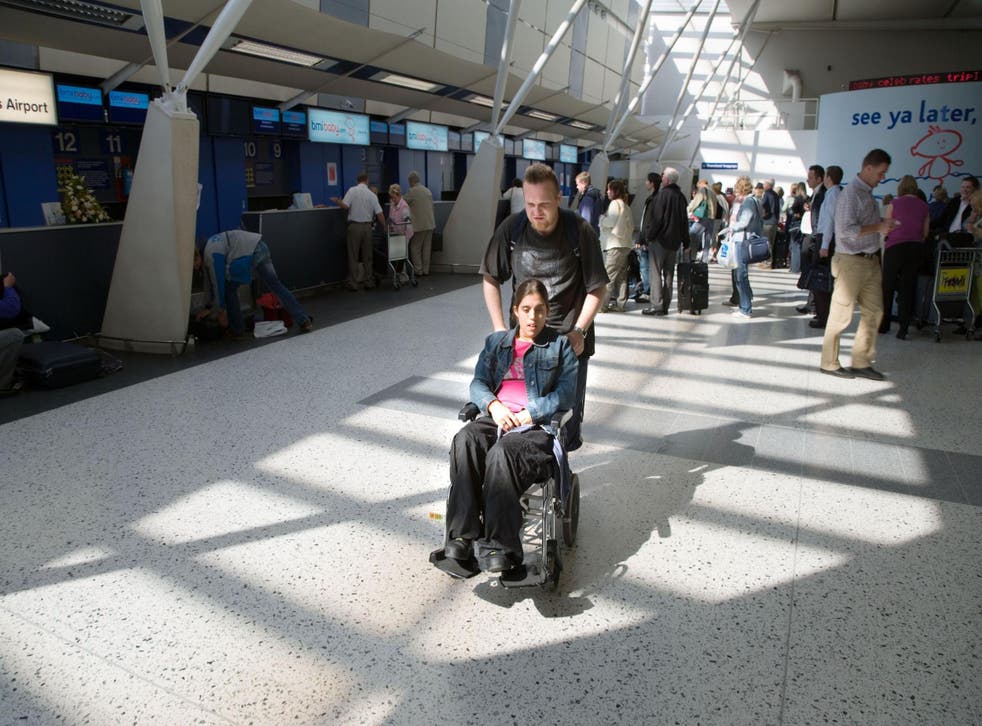 Disabled travellers need improved plane access according to new government initiative
After BBC man's fury, Heathrow Airport has promised to improve handling of wheelchairs by the summer
Disabled airline passengers have welcomed Government plans to make aviation more accessible. But the industry has questioned the feasibility of one of the proposals: to remove seats to allow space for a wheelchair, which the traveller could occupy throughout the flight.
The Department for Transport (DfT) is considering a raft of new measures to make flying a more enjoyable experience for disabled passengers and those with reduced mobility.
One key target is to improve and enforce standards on the time taken for a passenger to receive assistance boarding and leaving aircraft.
Last week the BBC security correspondent Frank Gardner launched a furious attack on Heathrow Airport after his wheelchair went missing following a flight from Addis Ababa. The journalist, who has depended on a wheelchair since he was shot in an Al Qaeda gun attack in Saudi Arabia in 2004, waited 100 minutes to disembark from an Ethiopian Airlines flight.
He tweeted from on board: "Odd that I can travel round the Middle East and elsewhere without a hitch. Yet time and again @HeathrowAirport loses my wheelchair on arrival. Now been on an empty plane 1.5 hours after landing.
"Just when is the UK's premier airport going to stop treating disabled passengers this way?"
Heathrow's chief executive, John Holland-Kaye, later met Mr Gardner to discuss improvements.
Speaking on Radio 4's Today programme, Mr Gardner said: "Heathrow have reacted commendably swiftly on this. They have undertaken that by the summer they will bring wheelchairs up the door of the plane as a matter of policy."
He described the DfT's initiative as "a step in the right direction" but "years later than it should have been".
The aviation minister, Baroness Sugg, said: "As part of our Aviation Strategy, we will be working to understand more about the barriers that currently exist for passengers with reduced mobility and disabilities, and working with the industry to remove these obstacles."
The DfT is also looking at changing aircraft design to create a flexible space where it is possible to tether down a wheelchair.
But aviation insiders have questioned whether it is realistic that safety officials would ever allow passengers to bring their own wheelchairs on board.
Existing seating on aircraft must meet rigorous standards on withstanding a survivable crash. "However strong the restraints are, the idea that any wheelchair could ever provide the same protection as a properly certified aircraft seat is far-fetched," said one airline executive.
The Government is also hoping to improve care for passengers needing special assistance with an accredited nationwide accessibility training scheme.
Tim Alderslade, chief executive of Airlines UK, said: "UK airlines are committed to further improving aviation accessibility and are always considering innovative measures to provide the best possible service for passengers with reduced mobility."
Join our new commenting forum
Join thought-provoking conversations, follow other Independent readers and see their replies