Dubai travel ban: Latest restrictions as UAE flights scrapped
The United Arab Emirates has been placed on the UK's 'red list' of countries.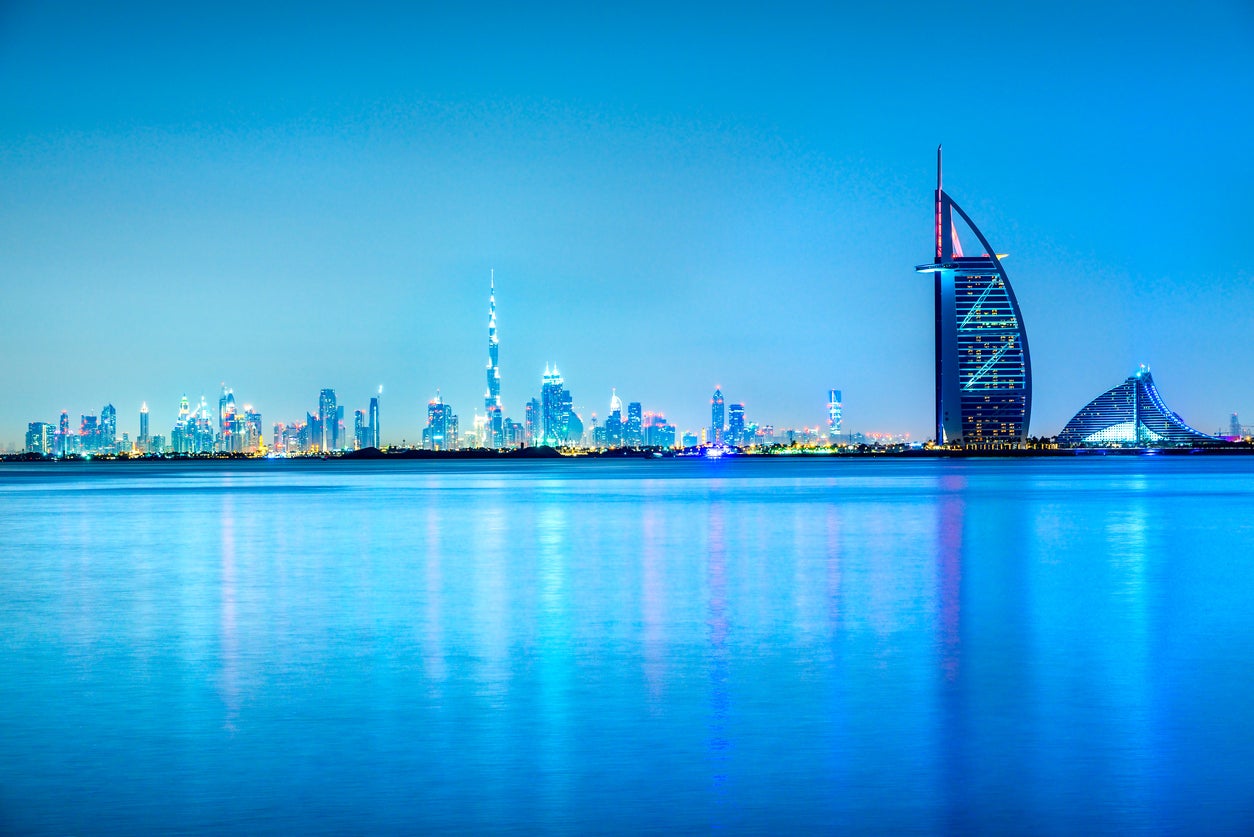 With year-round sunshine and just a few days of annual rainfall, it's no wonder Dubai is such a hit with British holidaymakers – 1.2 million Britons visited in 2019.
After ending lockdown in 2020, Dubai reopened its borders to visitors with tourist visas being issued again as of July last year.
The United Arab Emirates (UAE) briefly became one of the few destinations on the UK government's travel corridors list, meaning British visitors would not need to self-isolate on their return, in November last year.
But its quarantine-free status was lost from 4am on 12 January, in response to what British government sources called "a significant acceleration" in infections being imported to the UK from Dubai.
At the end of January 2021, the UAE was placed on the UK's "red list" of countries, meaning flights are banned from the country after 1pm on 29 January.
Here's what you need to know.
Am I allowed to travel to Dubai from the UK?
In short, no. After 1pm on 29 January, there are no direct flights between England, Scotland and Wales and the UAE after the Gulf nation was placed on the UK's "red list" of countries.
From 4am on 30 January, all flights between Northern Ireland and the UAE are banned.
Anybody wishing to travel to the UAE will have to go via a third country.
Regardless, Dubai, and the rest of the UAE, is currently on the Foreign Office's (FCDO) no-go list. The government warns against "all but essential travel to the UAE, based on the current assessment of Covid-19 risks".
Anyone going there with a standard travel insurance policy will find it is invalidated.
International travel for all but the most essential purposes is currently banned under UK law.
England entered a national lockdown on 5 January, which is expected to last until at least March. An end date has not been confirmed yet, but will be reviewed on 19 February and will be partly based on how well the vaccine roll out has progressed. During this time, international travel should only be for essential reasons such as work.
Scotland also entered lockdown on 5 January with restrictions, applicable to areas that were previously in level 4, expected to last until the end of January. International travel is illegal unless for an essential reason.
Wales has been in lockdown with level 4 restrictions in place since 20 December 2020. This is currently scheduled to end on 31 January 2021. Travel of any kind, including abroad, should only be for essential reasons.
Northern Ireland entered lockdown on Boxing Day. It has been extended to 6 March. Travel, international or otherwise, should only be for essential reasons during this time.
How can I get to Dubai?
In normal times, British Airways and Emirates operate direct flights from the UK to Dubai. BA serves Heathrow airport. This is the main gateway for Emirates, which also serves Birmingham, Manchester and Glasgow from Dubai.
Right now, direct flights from the UK to the UAE are banned.
The only way to get there is to fly via a third hub, such as Doha in Qatar, Paris, Amsterdam or Istanbul.
Will they let me in when I arrive?
Different emirates in the UAE have different entry requirements so make sure you double check if you're flying into another emirate to reach Dubai.
Dubai's borders are open.
From 31 January, visitors will be required to present a negative PCR test certificate on arrival, taken no longer than 72 hours before departure. The option of a free Covid-19 test on arrival is no longer available.
In addition, visitors must have international health insurance before travelling.
Your passport should also be valid for a minimum period of six months from the date of entry into the UAE.
PM hints third national lockdown may be needed after Christmas
Do I need to take a PCR swab test for Covid?
Yes. From 31 January, visitors from the UK and most other European countries must present a negative PCR test certificate on arrival. It must be a PCR swab test and other tests, including antibody test, are not accepted. The test must have been taken 72 hours before departure.
Those taking a test before they travel are required to show printed negative results on their arrival.
Additional testing may be required at Dubai airport and those who test positive in Dubai will be required to self-isolate in a government-mandated facility on their own expense.
All visitors to Dubai must adhere to public health measures issued by the Dubai authorities, including any requirements to quarantine.
Further details of the restrictions can be found here.
Other emirates have different rules and restrictions, so make sure you double check if you're planning to go elsewhere.
Will I have to quarantine when I arrive?
Not if you present a negative PCR test certificate on arrival. However, you may be required to quarantine if you test positive in an additional test at Dubai airport.
Dubai's national carriers, Emirates and FlyDubai, both include coronavirus cover as part of the ticket prices. In this case, your quarantine expenses will be covered by the airline.
Otherwise no.
Will I have to quarantine when I come home?
Yes. The UAE is currently on the UK's "red list" of countries, for which the government is expected to introduce mandatory hotel quarantine.
However, hotel quarantine for Brits returning from these destinations has not come into effect yet.
Transport Secretary Grant Shapps tweeted: "This means people who have been in or transited through these countries will be denied entry, except British, Irish and third country nationals with residence rights who must self-isolate for 10 days at HOME."
It is unclear when hotel quarantines will be implemented for arrivals from these countries.
What about the rest of the UAE?
There are additional restrictions in place.
Abu Dhabi, for example, is requiring all visitors to quarantine for 10 days on arrival, wearing a government wristband. They also need to show a negative PCR test taken within 72 hours of departure, and take another test on arrival. Further tests may be required based on the length of their stay. The emirate started to issue tourist visas on 24 December 2020. 
Are hotels open?
Yes, hotels opened in Dubai in May 2020 with social distancing regulations in place, such as socially distanced sunbeds.
Are restaurants, shops and attractions open?
Most shops, restaurants and attractions have now reopened. Major shopping malls, such as the Dubai Mall, Mall of the Emirates and the Dubai Outlet Mall reopened in April 2020.
Public and private hotel beaches, major parks, cinemas, museums and top attractions such as Atlantis Aquaventure and The Green Planet are all open.
If you're travelling for an event, the FCDO has advised that you should check with the organisers whether it's still happening – some events have restarted, however.
Since 2021, some live entertainment has been cancelled to limit the spread of Covid-19.
What rules are in place?
Face masks are mandatory everywhere outside your hotel room, even on the beach. You can however take off your mask for eating, drinking, swimming and exercising.
Failure to wear a face mask carries a AED3,000 (£650) fine, with the same amount applicable for anyone not adhering to social distancing guidelines of two metres.
There may also be temperature checks in place at restaurants and other indoor venues.
Join our commenting forum
Join thought-provoking conversations, follow other Independent readers and see their replies