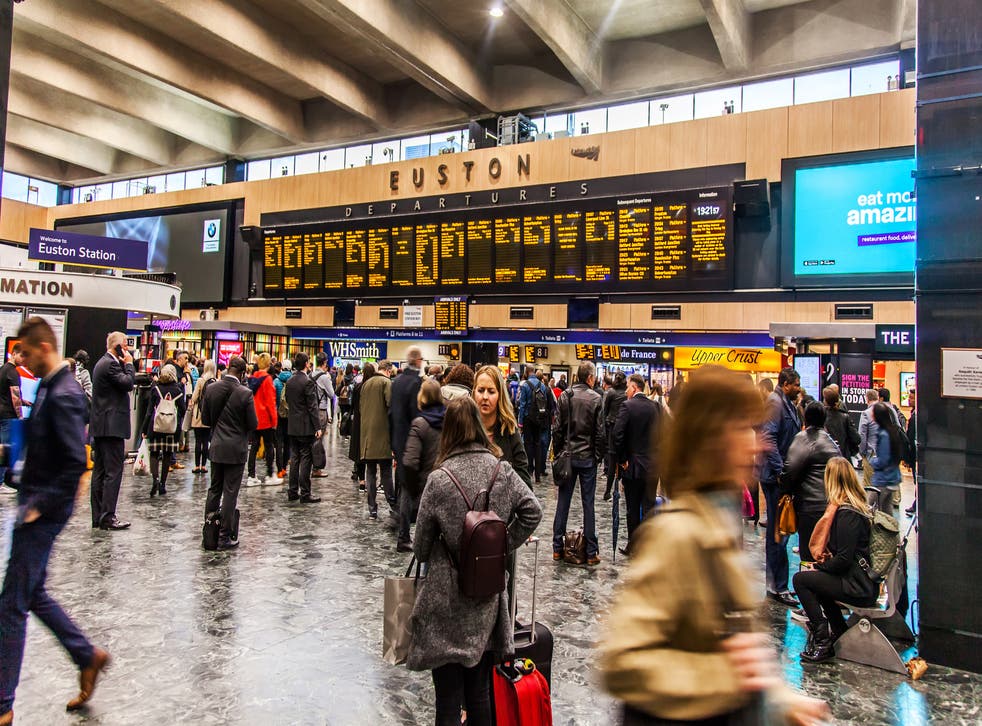 UK travel news: Roads and trains face disruption on Easter weekend
Travellers should plan ahead, according to experts
The great Easter getaway began on Thursday 18 April, with disruption on the roads and rail lines.
Stations and routes were closed for the weekend, while 12 million road journeys were taken over the Easter period.
Extinction Rebellion protestors threatened to shut down Heathrow on Good Friday.
1555573752
Around 12 million car journeys will be taken during bank holiday weekend, figures from RAC show. 
There are expected to be around 4.4 million journeys today, and traffic jams will peak between 11am and 4.30pm.
According to traffic analysis firm Inrix, the worst delays are expected on the M5 southbound. Delays of an hour are expected, so drivers should plan ahead.
Cathy Adams
18 April 2019 08:49
1555573864
National Express is warning that the "Extinction Rebellion" protest that is blocking key junctions in London means serious disruption on at least nine routes connecting the capital with airports and destinations in the Midlands and north of England.
The Oxford Tube shuttle is disrupted and missing out central London calling points. These services, as well as Megabus links to and from the capital, are experiencing significant delays due to congestion caused by the blockages.
Cathy Adams
18 April 2019 08:51
1555575466
Due to extensive engineering works on the West Coast route, London Euston will be closed with no services to or from the station for the entire Easter weekend, from Friday 19 to Monday 22 April 2019.
Those using this line are advised by Virgin Trains to avoid travelling on these dates unless absolutely necessary.
Tickets will be valid on the Bakerloo Line between Harrow & Wealdstone and Paddington - passengers are advised to allow up to 45 minutes for this journey. 
helen.coffey
18 April 2019 09:17
1555576731
Three million British travellers are expected to fly from UK airports during the Easter period, according to the UK Travel Retail Forum.
The retail group is reminding them to fly responsibly to continue the decline of disruptive behaviour in airports and on planes.
In 2018, the Civil Aviation Authority recorded 413 incidents of disruptive behaviour, which remained broadly stable from previous years despite a hike in passenger numbers.
Last year, 14 UK airports participated in the One Too Many (OTM) campaign, which educated travellers about excessive drinking before a flight.
Cathy Adams
18 April 2019 09:38
1555577774
According to the RAC, the afternoon and early evening on Thursday; the middle of the day on Friday; and for the few hours around lunchtime on Saturday, Sunday and Monday are going to experience the biggest disruption on the roads.
The M25 is predicted to be the most congested route on Thursday, Sunday and Monday.
On Friday, the M6 in Lancashire and western parts of the M62 will be busiest.
And on Saturday it's the A303 through Wiltshire heading for Devon and Cornwall, and the M4 west between the Severn crossing and Cardiff.
Cathy Adams
18 April 2019 09:56
1555580026
If your train is delayed or cancelled this Easter, here is how to claim compensation.
Cathy Adams
18 April 2019 10:33
1555581044
The Independent's travel correspondent Simon Calder has put together an explainer on everything you need to know about road and rail disruption this Easter.
Cathy Adams
18 April 2019 10:50
1555582657
There are no Gatwick Express train services on Friday or Saturday, due to planned engineering works. Passengers should use Southern and Thameslink services from London Bridge instead.
On Easter Sunday there is a reduced service every 30 minutes between Gatwick airport and London Victoria.
On Monday, the service is running a revised timetable with four trains an hour between Victoria and Gatwick/Brighton.
Customers should check National Rail Enquiries for more information.
Cathy Adams
18 April 2019 11:17
1555582776
The Severn Tunnel connecting London Paddington, Swindon and Bristol Parkway with Newport, Cardiff and Swansea is closed for electrification work from Friday to Monday, and the link from Newport via Chepstow to Gloucester is also closed. Passengers between South Wales and stations to London will spend 45 minutes on a bus between Bristol Parkway and Newport, adding an hour to journey times overall.
Cathy Adams
18 April 2019 11:19
1555583001
In London, Oxford Circus and Waterloo Bridge remain closed due to the climate change protests. Traffic is slow-moving around both areas, says TfL. Delays are expected all day.
Cathy Adams
18 April 2019 11:23
Join our new commenting forum
Join thought-provoking conversations, follow other Independent readers and see their replies