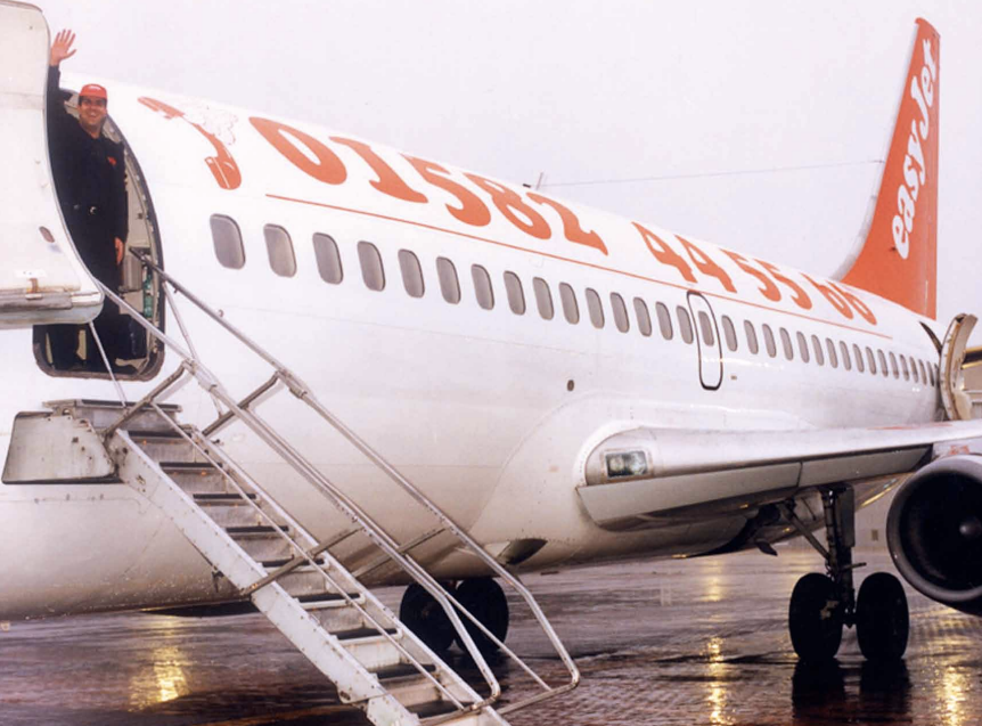 EasyJet turns 25 – but with fewer flights to Glasgow than it had in 1995
Exclusive: 'People will always want to travel and explore, and since its inception easyJet has democratised travel,' says Johan Lundgren, CEO of easyJet
On 10 November 1995, the Boeing 737 parked on the apron at Luton – at that time a small and little-used airport – looked weird. Its fuselage was painted with a telephone number, 01582 44 55 66, and a garish orange tail.
The plane departed to Glasgow. And an aviation revolution began.
Stelios Haji-Ioannou, the founder of easyJet, recalled later that it was a "wet, miserable, lousy day in Luton". But the passengers could not care less. They had paid £29 each to travel on a plane chartered from, and crewed by, GB Airways – at the time, a significant airline that operated a range of flights on behalf of British Airways.
A quarter-century on, that fare looks fairly normal; a month today, you can grab the same seat for the same 75-minute, 322-mile hop for just £25.
But there are two huge differences: in 1995, the price for a one-way flight on British Airways and British Midland from London to Glasgow was typically £100; budget travellers went by rail or road. And in 2020, easyJet has no flights between its home base of Luton and Scotland's largest city in the next three weeks.
With the government imposing a travel ban in England, the airline has temporarily closed down almost all its UK operations.
"Today marks 25 years since easyJet started flying customers for the cost of a pair of jeans," chief executive Johan Lundgren told The Independent.
"This year, which would have seen us fly more than 100 million customers for the first time, has been the hardest the industry has known and yet I remain optimistic about our future."
Sir Stelios, as he is now known, was born in Cyprus on Valentine's Day 1967 – the son of a shipping billionaire. At the age of 28, he set about transforming aviation, with energy and vision.
"Stelios had none of the airs and graces you would perhaps assume from someone born with a silver spoon (more like a platinum ladle) in their mouth," said Tony Anderson – easyJet's first marketing director, who was aboard the flight that morning.
"How many multimillionaires would give up the opportunity for a playboy lifestyle to work in a tin shack in Luton often into the early hours?"
The founder later told me what happened when the plane arrived in Glasgow.
"I took the microphone and made a short speech – the first to my customers. I don't remember exactly, but I probably said, `This is a very important day for me, thank you for being on board, bye, have a nice day.'
"I got a round of applause and I thought, 'Hey, they appreciate it! It doesn't matter that I've cut back on frills, on legroom, and the business class - they love it'."
Within days, Edinburgh was connected with Luton. In January 1996, Aberdeen joined the network. And in April that year, easyJet acquired the first plane of its own and launched international flights to Amsterdam, Barcelona and Nice – still key destinations for the airline.
Incumbent carriers, accustomed to a cosy arrangement of high fares and limited competition, did not take easyJet seriously – nor a curious little Irish airline called Ryanair, which took advantage of "open skies" to launch flights between Prestwick airport in southwest Scotland and a near-moribund airport called Stansted north of London.
By the time of easyJet's 24th birthday in 2019, the two upstarts were dominant in European aviation, with bases and planes across the UK and the Continent.
Brexit has cost easyJet cash and introduced complexity, with a separate Austrian-based operation set up to cope with the UK's likely loss of open-skies opportunities.
When the coronavirus pandemic struck, easyJet – and Ryanair – were massive targets.
BA urges government to scrap quarantine for international arrivals
The Luton-based carrier has lost thousands of staff, as repeated government restrictions stifled every attempt at restarting aviation at scale.
But Monday's optimism about a vaccine saw the share price rise by one-third. And Mr Lundgren believes the future is bright.
"People will always want to travel and explore, and since its inception easyJet has democratised travel – making it so much easier and affordable for everyone."
Twenty-five years ago, objections to domestic flying were on the grounds of financial, rather than environmental, cost. Today aviation is under intense scrutiny for the harm it creates locally and globally.
"We plan to continue to change the industry for the better," says the easyJet chief executive, "by tackling our emissions now and stimulating carbon innovations for the future so we can see zero emission flying in the next 25".
Meanwhile his biggest UK rival, British Airways, offered warm congratulations, saying: "Happy Birthday easyJet! We've enjoyed sharing the skies with you for the last 25 years.
"We hope 2021 brings a brighter year for us all. From the red, white and blue team."
A quarter-century in aviation: the easyJet timeline
1995 (10 November): The first easyJet flight takes off from Luton to Glasgow. The flat fare is £29. Refreshments are sold to passengers, not given away.
Routes to Edinburgh and Aberdeen follow shortly afterwards.
1996 (April): easyJet opens routes to Amsterdam, Nice and Barcelona.
1997 (April): The first easyJet.com website is launched. Initially it simply directs prospective passengers to a unique phone number, so the airline can track bookings. Soon, easyJet drives passengers to book online by making it impossible to book a flight more than a month ahead by phone.
"The web's favourite airline," was the next slogan to be painted on the side of the aircraft.
1997 (October): A second base is opened, at the then-moribund Liverpool airport. The first route is to Amsterdam. A link between Luton and Liverpool is tried but then abandoned.
1998 (March): easyJet buys a struggling Swiss airline, TEA of Basel, and establishes easyJet Switzerland. Initially, aviation rules means it can sell flights from Switzerland to Spain only in conjunction with accommodation. The airline buys a tent and erects it on a Pyrenean hillside to meet the obligation.
1998 (May): British Airways sets up its own low-cost subsidiary, Go, based at Stansted airport. Stelios and other easyJet staff travel on the first flight and hand out vouchers for free easyJet flights.
2000 (November): In the month it celebrates its fifth birthday, easyJet floats on the London Stock Exchange. Its initial market capitalisation is £777m. Today, it is £3.4bn.
2001 (June): easyJet establishes a base at Gatwick, now its largest.
2002 (May): Go, which by this stage is owned by venture capitalists, is sold to easyJet. The former BA subsidiary is assimilated into easyJet. By autumn 2020, its bases at Stansted and Newcastle are closed because of the coronavirus pandemic.
2002 (June): British Airways sells its loss-making German subsidiary, Deutsche BA, to easyJet. The then-chief executive, Ray Webster, said: "The great thing about the German market is that they have the same problem as us: bad weather."
2003 (October): easyJet, previously a Boeing 737-only airline, buys its first Airbus – the smaller A319 version, seating 156 people. The airline is now all-Airbus, but mainly A320s with some larger A321s.
2006 (February): Speedy Boarding introduced. In the same month, Flybe becomes the first airline to introduce baggage charges; easyJet says it has no plans to follow suit, but soon does.
2007 (October): easyJet buys GB Airways and becomes the biggest airline at Gatwick.
2013 (March): easyJet launches flights from Gatwick and Manchester to Moscow. They prove a financial failure and are withdrawn within two years.
2017 (July): a new airline, easyJet Europe, is set up in Vienna to allow it to continue flying within the EU after Brexit.
2017 (October): after the demise of Air Berlin, easyJet acquires aircraft and slots from the defunct German carrier and establishes a presence at Berlin's Tegel airport.
2018 (19 November): easyJet becomes the first airline to offset all its carbon emissions, saying: "We'll offset the carbon from the fuel used, by investing in projects that include the planting of trees or protecting against deforestation and renewable energies."
2020 (31 October): easyJet is the first airline to land with passengers at Berlin's much-delayed new airport – touching down just ahead of Lufthansa.
2020 (1 November): the first passenger departure from BER is an easyJet plane to Gatwick.
Register for free to continue reading
Registration is a free and easy way to support our truly independent journalism
By registering, you will also enjoy limited access to Premium articles, exclusive newsletters, commenting, and virtual events with our leading journalists
Already have an account? sign in
Register for free to continue reading
Registration is a free and easy way to support our truly independent journalism
By registering, you will also enjoy limited access to Premium articles, exclusive newsletters, commenting, and virtual events with our leading journalists
Already have an account? sign in
Join our new commenting forum
Join thought-provoking conversations, follow other Independent readers and see their replies