Baby born on EgyptAir flight given free air travel for life
Pilot forced to perform an emergency landing in Munich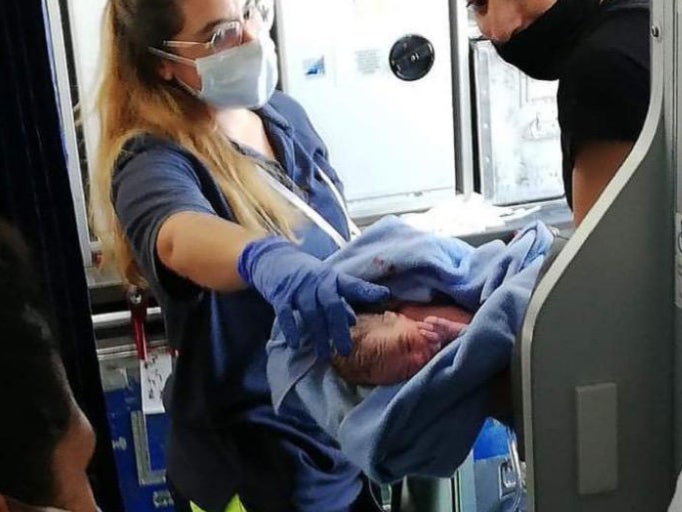 A baby has been given free flights for life after her mother gave birth while still airborne.
EgyptAir flight MS777 from Cairo to London had to do an emergency landing when Yemeni passenger Hiyam Nasr Naji Daaban realised she was going into labour.
The pilot diverted the service to Munich, Germany, in hopes that Daaban could reach a hospital in time.
However, the prospective mother delivered a baby girl before the plane could land, with the help of a doctor who happened to be on board.
In response, the airline has said the child will receive free EgyptAir flights for life – though the offer seemingly only extends to Munich, where the aircraft was diverted to.
"Rushdi Zakaria, Chairman of the Holding Company for Egypt, congratulated the passenger Hiyam Nasr Naji Daaban, a Yemeni national, for her safety and granting her newborn a free lifetime travel ticket, which she gave birth on board the plane during the EgyptAir flight yesterday from Cairo to London," tweeted the airline.
"Pilot Amr Abu Al-Nayin, Chairman of the Board of Directors of Misr Aviation Company, stated that it is our pleasure to receive a new customer to Egypt to fly to the world on board our plane and we are also pleased to present her with a souvenir to celebrate with her family and to give her a free ticket for life on Munich flights."
It's not the first time a baby has been born mid-flight.
In May 2019, a woman went into labour on a flight to Manila, prompting an emergency landing in Hyderabad.
The unnamed passenger started giving birth on the flight from Riyadh, Saudi Arabia, before the Philippine Airlines pilot made the decision to divert to Rajiv Gandhi International Airport while flying over India.
The plane was met by a team of gynaecologists and paediatricians as soon as it landed, who helped deliver the baby onboard the aircraft.
And in 2017, a newborn baby was awarded free flights for life from Jet Airways after it was born prematurely mid-flight.
The baby boy was delivered while onboard the service from Dammam in Saudi Arabia to Kochi, India. The flight was diverted to Mumbai after his mother went into labour.
However, the baby didn't have long to enjoy free travel - Jet Airways went bust and ceased trading in 2019.
Join our commenting forum
Join thought-provoking conversations, follow other Independent readers and see their replies