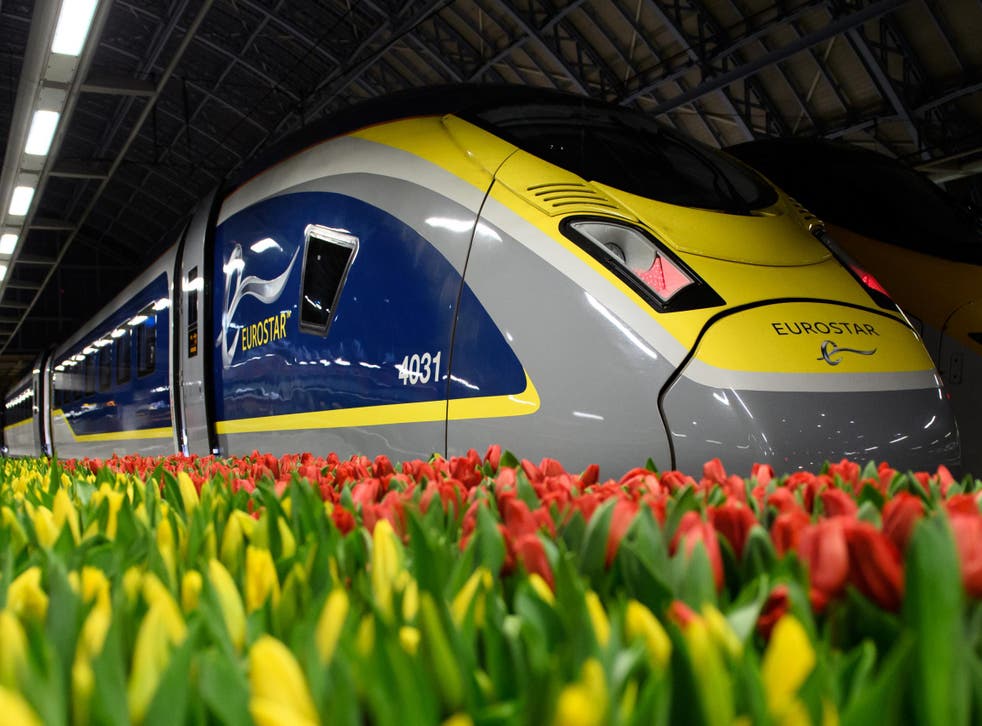 Amsterdam to London Eurostar - LIVE: What it's like onboard the first direct Netherlands-UK train service
Passengers no longer have to change at Brussels
Helen Coffey
Tuesday 04 February 2020 08:40 Comments
After launching its first direct London-Amsterdam service in 2018, Eurostar is finally ready to offer a direct return train from the Dutch capital back to the UK.
The initial roll-out was pushed back several times due to red tape at the border – passengers were previously required to board a Thalys train on the return journey and change at Brussels to go through passport control.
Today marks the first preview train, which is expected to take 4hr and 9m, arriving at London St Pancras at 11.57am after departing Amsterdam at 7.48am (local time) – and The Independent has bagged a seat onboard.
Eurostar has said direct tickets between the two cities will go on sale on 11 February, with the first Amsterdam-London services starting on 30 April, and the Rotterdam-London train launching on 18 May.
Follow all the latest from the inaugural train service below.
1580798993
I'm finally onboard the first ever direct Amsterdam-London Eurostar service! First up was a trip to the brand new Eurostar lounge on platform 15 (right at the far end - don't do as I did and get slightly lost and almost miss the check-in window).
Once there, it was a slightly lengthy queue through security and passport control, but then a decent coffee and pain au chocolat in the lounge made everything better.
helen.coffey
4 February 2020 06:49
1580799032
And we're off! Almost exactly on time: a 6.49am departure (two minutes late, but I'll forgive it).
helen.coffey
4 February 2020 06:50
1580799352
The train will call at Rotterdam, Brussels and London and should take about four hours. I'm sure the time will fly by, what with the complimentary breakfast and watching the sun rise over the Netherlands.
"This is a milestone in rail travel," the train manager just said. You're damn right it is.
helen.coffey
4 February 2020 06:55
1580799999
It takes me back to March 2018, when I was lucky enough to be onboard the first London-Amsterdam preview train. We had a decadent half hour in the Dutch capital - just enough time to buy a cone of chips slathered in mayo - before we had to turn around and come back. Don't ever let anyone tell you travel journalism isn't glamorous.
helen.coffey
4 February 2020 07:06
1580800406
According to Eurostar, tickets for the new direct service will go on sale on 11 February 2020, with the first non-stop train from Amsterdam launching on 30 April, and Rotterdam following on 18 May. Tickets will start from £35 one way.
helen.coffey
4 February 2020 07:13
1580801186
Well, that was fast - we're about to pull into Rotterdam Central Station - about 35 minutes after leaving Amsterdam.
helen.coffey
4 February 2020 07:26
1580801705
And we're off again! Farewell Rotterdam. Next stop: Brussels.
helen.coffey
4 February 2020 07:35
1580801858
Eurostar are really emphasising the environmental benefits of training rather than planing between the Netherlands and the UK, and are hoping this direct return service will mean they can properly take on the airlines the way they did with London-Paris.
Mike Cooper, Chief Executive of Eurostar, said: 
Our services from the UK to the Netherlands have proved very popular with over half a million travellers since launch. Our fully direct service marks an exciting advance for high-speed rail and provides consumers with a comfortable, environmentally friendly alternative to the airlines on one of Europe's busiest leisure and business routes.
helen.coffey
4 February 2020 07:37
1580803489
Still working my way through breakfast - we've crossed the border into Belgium and are just going through Antwerp now.
helen.coffey
4 February 2020 08:04
1580804746
We're not far from our next stop now - Brussels. At the moment, this is normally where you would have to change trains, getting the Thalys to here and then alighting to go through passport control and security before boarding a Eurostar to London. But today we'll skip all that and carry straight on - and paying customers can do the same from 30 April 2020.
helen.coffey
4 February 2020 08:25
Register for free to continue reading
Registration is a free and easy way to support our truly independent journalism
By registering, you will also enjoy limited access to Premium articles, exclusive newsletters, commenting, and virtual events with our leading journalists
Already have an account? sign in
Join our new commenting forum
Join thought-provoking conversations, follow other Independent readers and see their replies