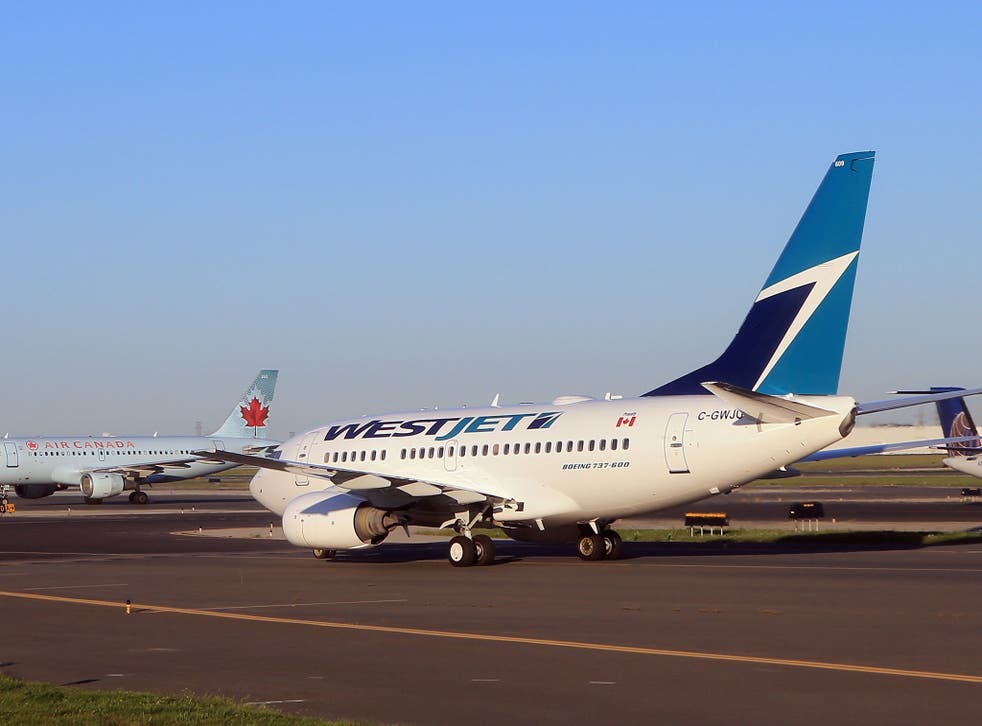 Canadian airline WestJet sparks air fares war across the Atlantic
Calgary-based WestJet extends domestic network to Dublin, treading on toes of Ryanair
Simon Calder
Thursday 21 November 2013 19:15 Comments
A Canadian airline is "thrilled" with the travelling public's appetite for the first short-haul, no-frills route between Europe and North America - the opening move in what could become a transatlantic air war.
Fares between Europe and North America are set to plummet with the new service. WestJet, based in Calgary, is extending its domestic network across the Atlantic to Ireland, where it is treading on the toes of Europe's biggest budget carrier, Ryanair.
The new link connects Ryanair's home base of Dublin airport with St John's in Newfoundland. It will be the fastest way across the Atlantic, with a flying time of five hours or less. The same plane will continue to Toronto, taking 10 hours to reach Canada's largest city from the Irish capital.
The summer-only link is likely to offer the cheapest route between Europe and North America. Test bookings made by The Independent suggest the link will help travellers undercut existing scheduled services by 40 per cent or more - though anyone starting in the UK will face a protracted journey.
A surge in demand means that some dates are already sold out of the cheapest tickets. A peak summer Saturday fare from Dublin to St Johns will cost £550 return.
Douglas McNeill, aviation analyst for Charles Stanley Securities, said: "Low-cost transatlantic services have an inglorious history, but WestJet is a canny operator. If it can make them work, there are far-reaching implications for the rest of the airline industry."
The original no-frills transatlantic flights took off in 1977, in the shape of Freddie Laker's Skytrain. The airline went bust four years later amid accusations of collusion between rival airlines to put Laker out of business. Subsequent attempts by Zoom and Flyglobespan also failed. The Scandinavian low-cost airline, Norwegian, will connect Gatwick with New York, Florida and Los Angeles next summer. But what makes the WestJet move different is that, for the first time, a low-cost airline will be offering a daily service using cheap and efficient short-haul jets.
Brie Ogle, a spokeswoman for WestJet, said: "Our introductory fares sold out almost immediately and we are thrilled with the popularity of the route. More than one-in-five Atlantic Canadians claim Irish ancestry, and we believe that the visiting friends and relatives market, tourism and even business markets will embrace WestJet."
Low-cost airlines that have challenged Ryanair on its home turf in Ireland have not fared well. The British Airways offshoot, Go, precipitated a fares war when it launched links between Scotland and Dublin. And easyJet's plans for an Irish network were abandoned after a fierce battle with Ryanair. But Michael O'Leary, chief executive of Ryanair, ruled out any immediate retaliation against WestJet.
"Canada isn't really part of our business strategy," he told The Independent.
Ryanair has announced three more destinations from Stansted that the average traveller can neither pronounce nor place on a map, "I think you'll find that there are far more people wanting to fly from Stansted to Osijek in Croatia and Podgorica in Montenegro than to St John's in Newfoundland," said Mr O'Leary. He is also launching a link from the Essex airport to Skelleftea in north-east Sweden, as well as new services to more familiar destinations such as Lisbon and Prague.
Mr O'Leary has long held out the prospect of transatlantic services, but said they would use new wide-bodied aircraft configured for long-haul flights rather than the existing short-haul fleet.
The short-haul jets that WestJet will use are Boeing 737s - the same aircraft that Ryanair uses. There is no issue with range connecting the easternmost city in Canada with Ireland - existing low-cost services, such as Manchester-Sharm el Sheikh and Edinburgh-Tenerife cover longer distances. But while those routes have a large number of diversionary airports available, the options on an oceanic crossing are few.
WestJet is making the necessary modifications that are required before a twin-engined aircraft is allowed to make extended range operations over water, including installing sophisticated radio systems.
The aviation consultant, John Strickland, said "This is an interesting move by West Jet tapping into the large and quite seasonal VFR [visiting friends and relatives] market. Ryanair and easyJet remain focussed on plentiful opportunities for growth in European markets."
But WestJet's spokeswoman said: "We expect to stimulate air travel demand significantly. We believe there are many UK/Irish markets with the potential to support this type of service" - raising the prospect of direct links from Britain to Canada's easternmost city.
Register for free to continue reading
Registration is a free and easy way to support our truly independent journalism
By registering, you will also enjoy limited access to Premium articles, exclusive newsletters, commenting, and virtual events with our leading journalists
Already have an account? sign in
Join our new commenting forum
Join thought-provoking conversations, follow other Independent readers and see their replies