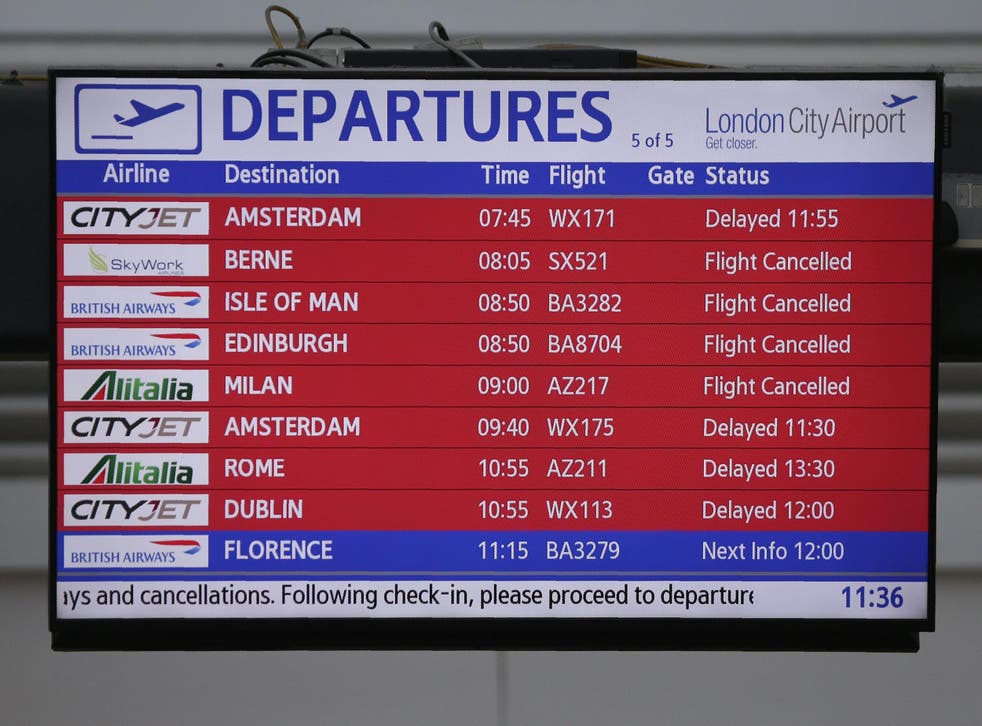 The 8 most bizarre reasons for flight delays, from a Donald Trump speech to a loose screw
This week, a British Airways flight was delayed by five hours due to lack of toilet roll. Here, Independent writers recall their most bizarre delays
Friday 10 March 2017 14:06 Comments
A mouse on the loose. Missing toilet paper. If you thought those excuses for flight delays were bad, you've come off lightly in your flying life. Following the five-hour-plus delay on a Gatwick-Barbados flight due to a shortage of loo roll, which left British Airways open to compensation claims of over £200,000, Independent writers recall their most bizarre delays.
The wrong airport: Simon Calder, travel correspondent
Dubai-Heathrow. Well, that was the plan. Any July afternoon in Dubai is going to be ridiculously hot, but this particular summer's day was so intense that the captain of the Emirates 777 ordered the removal of a ton of freight in order to remain within safety criteria for taking off in extreme heat.
By the time the hard-pressed ramp staff had extracted the offending cargo and removed it, the 4pm departure of flight EK5 had slipped an hour. A perfectly normal flight ended with touchdown at around 10pm at Heathrow. We were annoyed to be an hour late, especially on a Sunday evening, but everyone was getting ready for a race to passport control and baggage reclaim.
So why were we taxiing to a remote corner of the airfield rather than the gate at Terminal 3? The captain explained with an announcement that they probably don't prepare you for at pilot school.
The Emirates duty room at Dubai had noted our delayed departure, and had calculated that there would not be time for the aircraft to arrive, offload passengers, bags and the surviving freight, reload and still get out of Heathrow before the departure curfew kicked in at 11.30pm. So they had ordered ground staff to take all the passengers around the M25 to Gatwick — a simple manoeuvre on a quiet evening. Sadly, the plane never got the message — until it landed and the pilots were asked, approximately, what are you doing here?
"There isn't time to let you out here, so we are going to refuel and fly to Gatwick."
Shortly after 11pm we took off for what was promised to be a 15-minute flight to Gatwick. Forty-five minutes later, we were still circling over Sussex, because a Thomas Cook plane had landed with a hydraulic fault, and was blocking the runway. I later learned that we were two minutes away from diverting to Manchester when the stranded aircraft moved away. So having arrived an hour late at the right airport, we were now three hours late at the wrong airport.
I'd like to say that the airline responded brilliantly, laying on coaches to get everyone home in the early hours of Monday morning. But it didn't. I struggled home on a night train, and hope that everyone else made it back, too.
Iced-over doors: Julia Buckley, acting head of travel
One almost emergency landing aside (we were told to brace for an impact that didn't happen), I've been pretty lucky in my flying life, with delays for only the most mundane reasons: passengers going AWOL, technical issues and weather. The only out of the ordinary delay I've had was a delay in the air in 2012, flying BA from Heathrow to Newark. Going by the flight map, I thought our progress seemed interminable – headwinds were exceptionally strong, it turned out, so our flight took almost nine hours. By the time we reached Newark, it was late at night and there were, if I remember right, just three border force staff to greet us; we queued for around an hour, and emerged to find our luggage was still stuck in the plane, because the doors had iced over. I think I reached my hotel around midnight, instead of dinnertime. I've avoided Newark ever since.
Too many massages: Mars El Brogy, head of video production
In April 2013, my flight was delayed because two men fell asleep at the airport massage kiosk. It was a Philippine Airlines internal flight from Ninoy Aquino International Airport to Bohol. The staff decided to shame them by waiting for them to arrive, then extract their bags and kick them off the flight. Half an hour in, they were found and they were let on the flight with a mixture of applause and boos from other passengers.
A loose screw: Danielle Oteri, historian and tour guide
Five years ago my flight from New York to LA was delayed for two hours because it had a screw loose. Not only that, but they needed to get a very special screw from a similar plane that was due to land, but elsewhere at the airport. As we sat waiting to board, they gave us very detailed and frequent updates about the whereabouts of the screw: when the other flight landed, how it was being unscrewed from that plane, now it was in the hands of a mechanic who was travelling via golf cart between terminals, now the screw was being installed. Forget knowing how the sausage is made, I really don't want to think about my air safety being compromised by a loose screw.
Missing pilots: Alyssa Haak, travel journalist
Flying from Fort Lauderdale to NYC a few years ago my flight was delayed because they "couldn't find the pilots". They even made that announcement. I can't actually remember how it was resolved – I think they found other pilots to take us home – but I won't forget the surprise.
Pilot's heart attack: Jacqueline Kehoe, travel writer
My flight from Des Moines to Orange County was cancelled mid-air when the pilot had a heart attack. Did you know "Does anyone know how to fly a plane?" is something they actually say? An air force pilot responded (the co-pilot was fine, but by law you need two pilots at any given time). Meanwhile, they had to pull the pilot out into the aisle and a nurse gave first aid. We flew around a bit until we landed at Omaha. The pilot survived but the airline was so apologetic that we got free hotels and first class flights the next day – I think they were afraid someone would sue for trauma.
Flying Saigon to Siem Reap on Vietnam Airlines we were delayed two hours because of a collision with the toilet truck, which was right below the aircraft. Luckily there was no evidence of a leak as we boarded, but presumably it was messy. On another flight from Vancouver to Arkansas with United, we were 22 hours late arriving. My flight was cancelled due to mechanical problems and the second was delayed. It only took 40 minutes to fix the problem, but they couldn't find anyone to sign the paperwork for another two-and-a-half hours.
Donald Trump: Rose Maura Lorre, travel writer
I was flying from Montego Bay to Montreal last month and our flight was delayed 3 hours – I think because of Donald Trump. Take-off was delayed – as soon as we got through security in Montego Bay the departure boards were noting the delay. Once we were in the air and almost to Montreal, the pilot told us the delay was due to "air space being closed over parts of Florida." He never specified it was Trump, but he said other stuff that made it perfectly clear it was because of him. This was same weekend he held a rally in a Florida airport hangar.
Register for free to continue reading
Registration is a free and easy way to support our truly independent journalism
By registering, you will also enjoy limited access to Premium articles, exclusive newsletters, commenting, and virtual events with our leading journalists
Already have an account? sign in
Register for free to continue reading
Registration is a free and easy way to support our truly independent journalism
By registering, you will also enjoy limited access to Premium articles, exclusive newsletters, commenting, and virtual events with our leading journalists
Already have an account? sign in
Join our new commenting forum
Join thought-provoking conversations, follow other Independent readers and see their replies