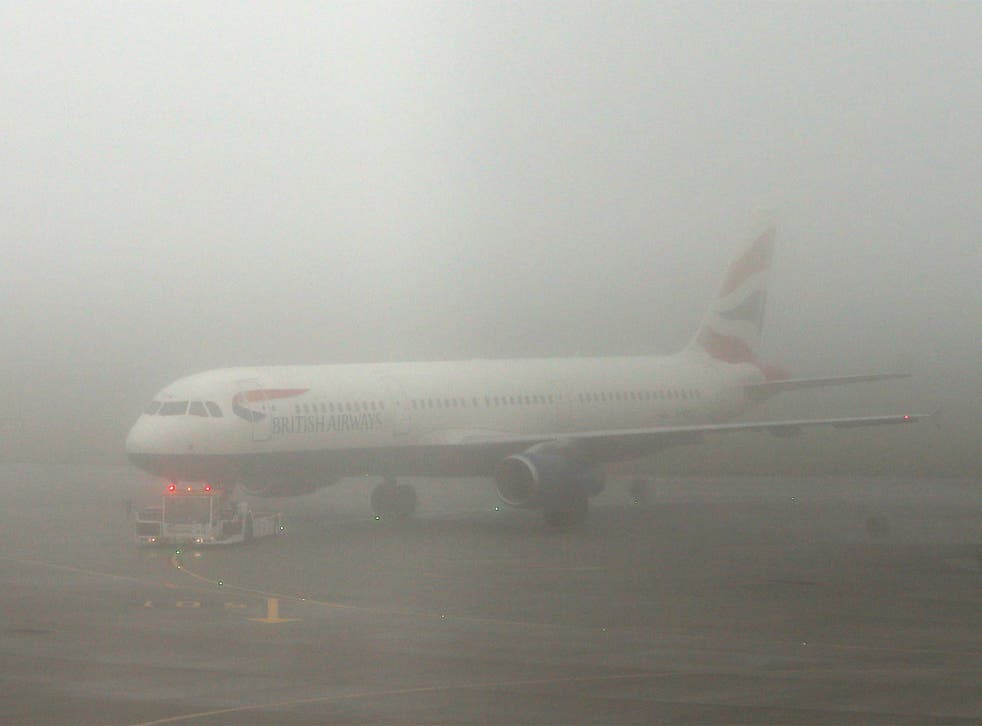 Fog causes more flight delays and cancellations at Heathrow, Manchester and Gatwick airports
BA has cancelled 10 short-haul flights to and from Heathrow as well as its long-haul service to Dubai
Thousands of airline passengers arrived back in Britain in the early hours of this morning, due to delays caused by heavy fog. The poor weather is continuing to disrupt airline schedules and wreck travel plans.
A spokesperson for Manchester Airport said: "It does look like the foggy conditions could remain throughout the morning, and we would ask customers to check with their airline about the status of their individual flight." The first wave of flights from Manchester to the key Continental hubs of Amsterdam and Paris Charles de Gaulle were respectively cancelled and delayed, jeopardising connecting flights.
Two days of fog in London
Flybe, whose services were heavily affected by poor weather across the UK yesterday, is making more cancellations today, including six from Manchester.
Ten British Airways flights inbound to Heathrow this morning have been cancelled because the outbound services last night did not operate.
BA has cancelled 10 short-haul flights to and from Heathrow from today's schedule, as well as a long-haul service to Dubai.Its Irish partner, Aer Lingus, cut Dublin-Heathrow-Dublin flights.
In pictures: Fog hits the UK

Show all 10
Air Canada has cancelled a flight from Heathrow to Toronto. Lufthansa will not operate its early services between Frankfurt and Heathrow, and its subsidiary Germanwings cancelled the Cologne-Heathrow rotation.
At Gatwick, thousands of easyJet passenger continued to face heavy delays.
Last night's inbound flight from Paphos arrived at 6am, five hours late.
British Airways passengers from Sharm el Sheikh were four hours late at Gatwick: a delayed outbound departure yesterday that meant a relief crew had to meet the inbound flight at Venice. BA has also cancelled today's service from Gatwick to Larnaca in Cyprus.

Join our new commenting forum
Join thought-provoking conversations, follow other Independent readers and see their replies