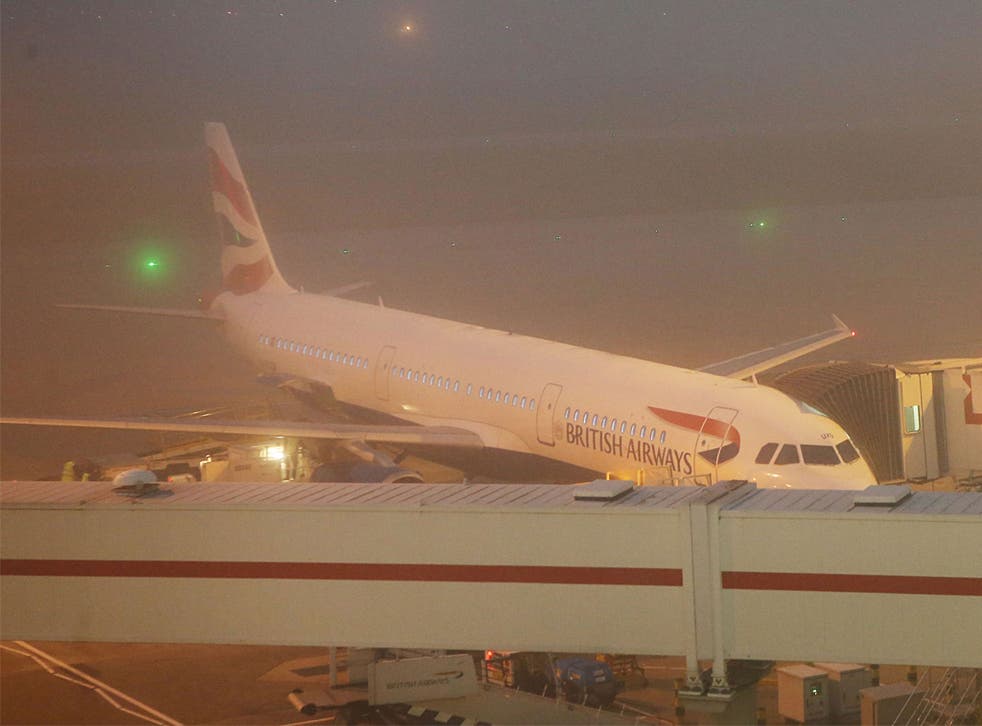 Fog hits UK travel: BA cancels more than 100 flights and London City Airport 'closes'
BA is warning passengers not to travel to the airline unless they have confirmation that their flight is operating
As fog blankets south-east England, airline travellers face a frustrating start to the working week. More than 100 of today's flights have been cancelled by British Airways - mostly to and from its main base, London Heathrow, and the Docklands airport, London City.
BA is asking passengers: "Please do not come to the airport unless you have a confirmed booking on a flight that is operating."
Many other airlines have cancelled flights to and from Heathrow, which is the busiest in Europe. KLM, the Polish airline Lot and Brussels Airlines have cancelled their first departures of the day from Heathrow, jeopardising dozens of connections for thousands of passengers.
Most of the cancellations are of domestic and short-haul European flights, but some intercontinental services have been affected - including a United Airlines flight to Chicago.
The disruption highlights inconsistencies in EU rules on passengers rights on delayed and cancelled flights. European airlines are obliged to provide disrupted passengers with meals and, if necessary, accommodation. The same applies to airlines from other countries, but only when they are flying from EU airports. So passengers on the cancelled United flight from Heathrow to Chicago are entitled to care, but those flying in the opposite direction are not.
In cases of extreme weather travellers are not entitled to cash compensation from airlines for delayed or cancelled flights, though some travel-insurance policies offer payments for serious disruption.
London City is effectively closed, with visibility down to around 50 metres. Flybe, CityJet and Swiss have cancelled multiple operations to and from the Docklands airport. BA's business-class only flight from New York to London City was diverted to Gatwick.
In pictures: Fog hits the UK

Show all 10
At Gatwick, easyJet cancelled many flights yesterday, with even more are expected today. The low-cost airline has by far the largest number of services at the Sussex airport. It is telling passengers: "We continue to suffer from major network disruption today due to poor weather conditions throughout Europe causing low visibility. This has resulted in a large number of aircraft and crew out of place for flights today. In addition we are seeing a lot of Air Traffic Control restrictions which has resulted in some delays, diversions and cancellations."
Some passengers delayed at Heathrow overnight by cancellations of flights complained that their airlines failed to provide accommodation, as EU rules demand. Following the massive disruption at Heathrow because of snow at Christmas 2010, airlines were told to have plans in place. But Peter Webster, booked to fly on Air India to Delhi, said he had to fix his own hotel room and pay £40 for a taxi to reach it. He told The Independent that the airline staff seemed unable to cope with the cancellation: "There was no attempt to communicate what they were doing."
Among arrivals at Heathrow, arrivals from Malaga and Pisa due in on Sunday are delayed by 17 and 19 hours respectively. The Kenya Airways flight from Nairobi has been diverted, though the airline has not revealed where it has landed.
Outside the capital, morning flights from Bristol to the key hubs of Amsterdam, Brussels and Frankfurt have been cancelled.
Passengers at Birmingham airport also faced problems when KLM's first departure to Amsterdam, normally full of passengers planning to connect to other destinations, was delayed by at least three hours.
Join our new commenting forum
Join thought-provoking conversations, follow other Independent readers and see their replies