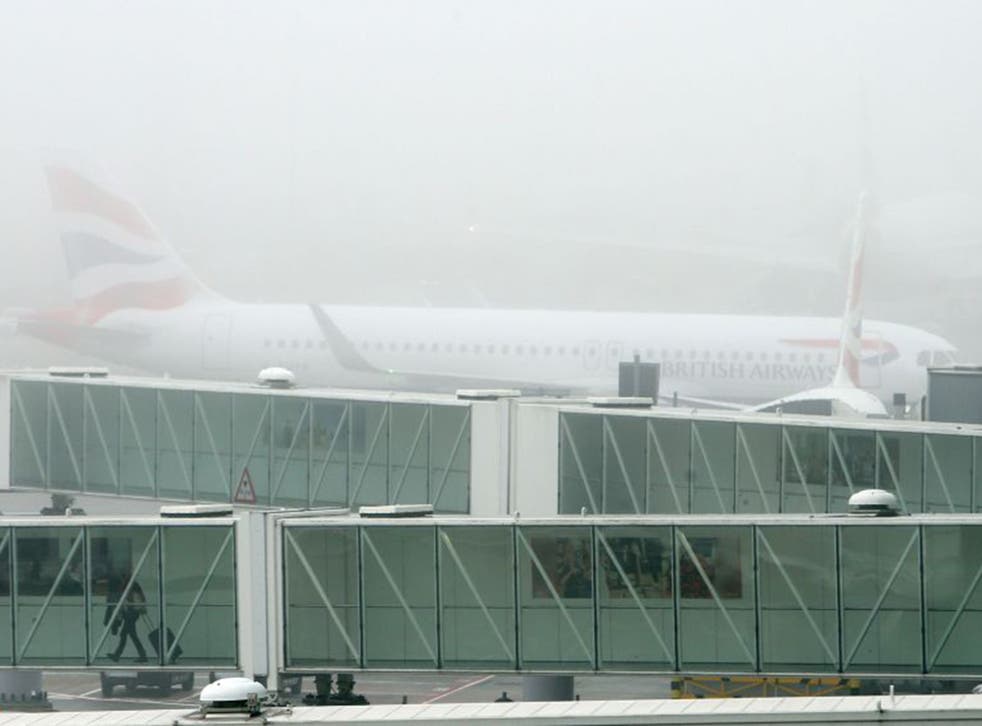 Fog hits UK travel: London airports face third day of disruptions
British Airways is offering short-haul passengers the chance to postpone their journeys free of charge
For the third day in a row, passengers using airports in the London area will face disruption on Tuesday because of heavy fog. At Heathrow, the "flow rate" of landings and take-offs will be reduced tomorrow morning, forcing airlines to cancel flights.
British Airways is offering short-haul passengers the chance to postpone their journeys free of charge, and is telling them: "Please do not come to the airport unless you have a confirmed booking on a flight that is operating."
On the day when the planet's travel industry was due to converge on London for the annual World Travel Market, hundreds of delegates were unable to reach the capital. Thick fog lingered over London throughout Monday morning, leading to hundreds of flight cancellations that affected tens of thousands of travellers.
Among the airlines at Gatwick, easyJet was the worst affected. After dozens of the budget airline's flights were delayed or cancelled on Sunday, many more were hit today.
British Airways cancelled more than 50 flights to and from Heathrow, and over 60 to and from London City airport. The Docklands airport was closed all morning, with visibility down to around 50 metres.
Flybe, CityJet and Swiss cancelled multiple operations from London City, and BA's business-class only arrival from New York to London City was diverted to Gatwick.
Most of the other affected flights were short-haul, but intercontinental services on Air India to Delhi and United to Chicago were respectively severely delayed and cancelled.
The problems highlighted the lack of resilience in the London airport system; Heathrow and Gatwick are respectively the busiest dual-runway and single-runway airports in the world.
Outside the capital, many of the cancellations were flights to and from the London airports. But morning flights from Bristol to the key hubs of Amsterdam, Brussels and Frankfurt were cancelled, a pattern repeated at several other regional airports
Join our new commenting forum
Join thought-provoking conversations, follow other Independent readers and see their replies