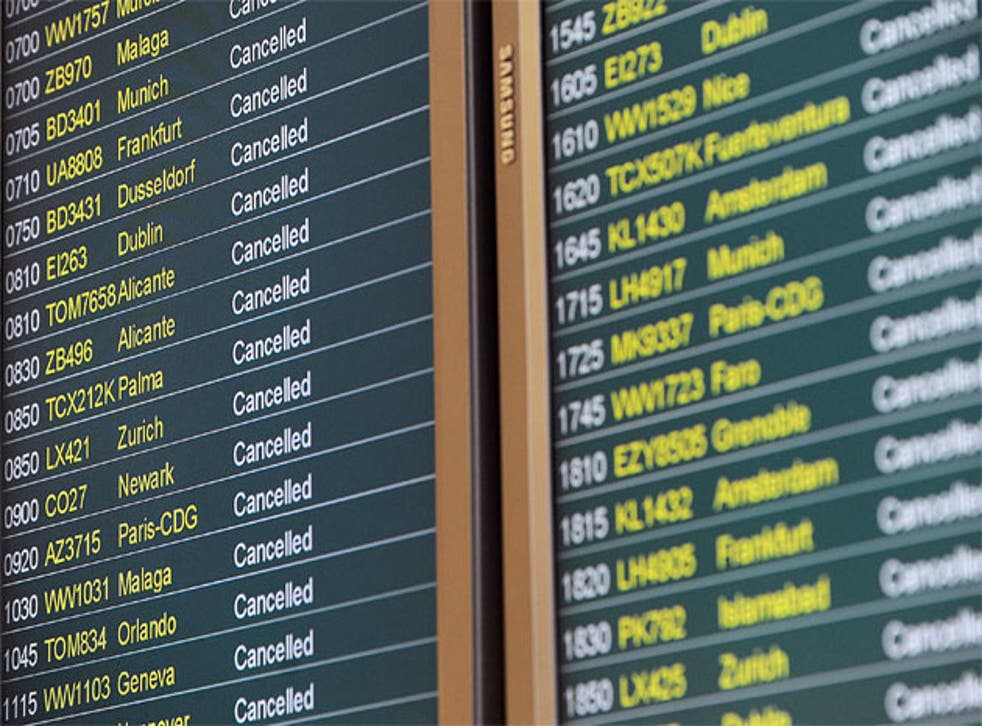 French air-traffic controllers strike: Air travel chaos to worsen
Members of the SNCTA union are stopping work in a dispute over restructuring and retirement arrangements
Simon Calder
Wednesday 08 April 2015 20:34 Comments
One thousand flights cancelled, 150,000 travellers grounded and many more facing long delays: the first day of a strike by French air-traffic controllers is causing massive problems for airlines and their passengers. And after the French government ordered even more cancellations, 9 April will be even worse.
Members of the SNCTA union are staging a 48-hour stoppage in a dispute over restructuring and retirement arrangements. The airlines were ordered to cut the number of flights to, from and over France by 40 per cent; on 9 April, they must cancel 50 per cent.
Thousands of British holidaymakers hoping to return from Easter trips are stranded in North Africa and the Canary Islands, from Tunisia to Tenerife, as a result of the strike. While passengers in France can find routes home by bus or rail, many travellers have no feasible alternative to flying.
Many flights encountered long delays. Aircraft were due to arrive at Heathrow long after the normal 11.30pm night curfew. A BA flight from Larnaca in Cyprus is expected to touch down at 3.10am, five hours behind schedule. Another flight with the same airline, from Marrakech to Gatwick, faces the same delay with a 4am arrival.
Ryanair, which operates more flights in Europe than any other, has already cancelled 250 departures for 9 April, and the airline warns that other short-notice cancellations may arise. The cancellation of 500 flights at a busy time of year amounts to 90,000 passengers on Ryanair alone - the capacity of Wembley stadium.
Air France said it expects to maintain its entire long-haul schedule to and from Paris tomorrow. But tens of thousands of passengers booked to fly via the main hub, Charles de Gaulle airport, will find the performance of long-haul flights is irrelevant since links to Paris from UK airports from Exeter to Edinburgh have already been cancelled.
In France, the airports at Montpellier and Metz were closed completely.
Some destinations have enjoyed normal service from France. The government insisted that flights to Corsica and French overseas territories and departments - such as Martinique and Reunion - operated normally.
Air France is urging travellers to re-book for flights from Friday onwards - but only as far as 15 April, because a three-day strike is due to start then.
France's second-largest airline, easyJet, cancelled 118 flights, and suffered knock-on delays for much of the rest of its programme. Passengers between its main based, Gatwick, and Palma de Mallorca face delays of four to five hours.
Laura Caldwell from Leicester was part of group planning to fly from Luton to Paris for a 21st-birthday celebration. She told The Independent: "The flight has been cancelled, and we are now planning on going from Glasgow with easyJet tomorrow."
European airlines are furious about the current strike, which is likely to cost them £50m. The strike counts as "extraordinary circumstances," which means airlines do not have to pay passengers the stipulated compensation for delayed and cancelled flights, but they are obliged to pay for meals and accommodation until passengers can reach home.
They will also lose ticket revenue from people who opt not to travel, at a time of year that is normally highly lucrative for airlines.
The Association of European Airlines tweeted: "Since 2010 European aviation suffered from no less than 39 ATC strike days in France. Unacceptable."
In an unrelated issue, hundreds of passengers spent 36 extra hours in Las Vegas after their Virgin Atlantic flight was grounded. It was due to leave the Nevada city on Monday afternoon, but a mechanical problem meant it finally departed in the early hours of 8 April.
Register for free to continue reading
Registration is a free and easy way to support our truly independent journalism
By registering, you will also enjoy limited access to Premium articles, exclusive newsletters, commenting, and virtual events with our leading journalists
Already have an account? sign in
Join our new commenting forum
Join thought-provoking conversations, follow other Independent readers and see their replies