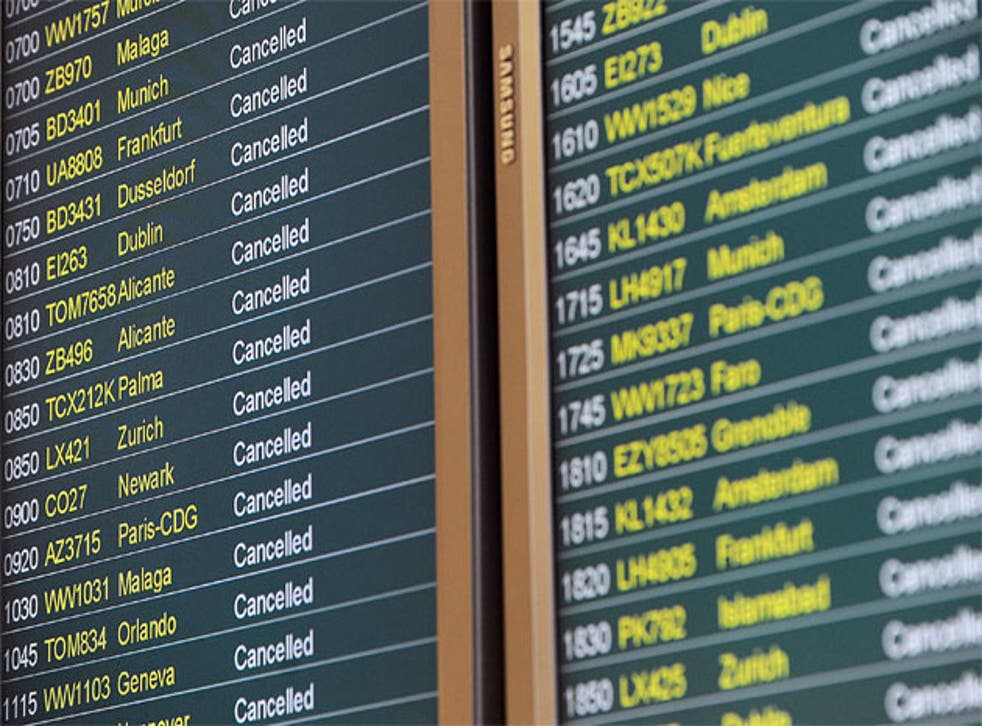 French air-traffic controllers strike Q&A: When is the strike and which travellers will be affected?
British travellers potentially face delays and disruptions while returning home from Easter holidays this week
French air-traffic controllers have called nine days of strikes between 8 April and 2 May. Simon Calder, travel correspondent of The Independent, evaluates the likely effects.
Q What is the dispute about - and when are the strikes?
The largest air-traffic control union, the SNCTA, is in a long-running dispute with the French government about everything from retirement age and pensions to restructuring plans aimed at simplifying European skies.
A strike had been called for late last month, but it was called off as a mark of respect to the victims of the Germanwings crash in the French Alps.
Talks continued last week, but on Friday the union accused the French government and the Directorate General of Civil Aviation of intransigence, and called a series of strikes.
In a statement, the union said "Air traffic controllers fear the consequences of a traffic overload that may interfere with their ability to handle flights safely."
There will be a 48-hour strike on 8 and 9 April; a second set to run from 16 to 18 April, at the end of the Easter holidays for many British schools; and a third strike, lasting four days, from 29 April to 2 May.
Q Which airline, and travellers, will be hardest hit?
Air France and its passengers will bear the brunt, since the airline dominates French aviation. It has a busy hub at Paris CDG, and will try to keep its long-haul flights to schedule - these are the most profitable and carry the highest number of passengers.
A problem for some travellers could be that their inbound flight from Africa or Asia arrives in Paris but the onward connection to Birmingham, Manchester or Edinburgh is cancelled.
Q What about other airlines?
The second-largest airline in France is easyJet, which says "We expect significant impact to our flights during this period, including cancellations. We will advise all affected passengers of any flight changes via e-mail."
British Airways hopes to operate as many flights as possible. The airline may also deploy larger aircraft; 11 flights from Heathrow to Paris are scheduled for Wednesday, all using narrow-bodied jets with a total of about 1,800 seats. That same number of passengers could be carried in just six flights using BA's bigger Boeing 777 aircraft.
Q Will flights over France also be restricted?
Yes. From UK airports, the vast majority of flights to and from southern Europe travel through French airspace if they are taking the most direct track. From London alone, anywhere from Athens and Dubrovnik in the east to Madeira and the Canaries in the west normally goes through French airspace. Some of those flights can relatively easily be diverted to avoid France, but that adds to pressure on nearby countries' airspace. And for many destinations in Spain - the most popular holiday destination for British travellers - flying around France can add an hour or more to journey times, with resulting knock-on delays.
Q I'm booked to travel on the affected days. Can I cancel or reschedule?
Not without penalty, although this may change. From past experience, once the strike is confirmed airlines may offer passengers whose flights could be affected to transfer to a non-strike day without penalty.
Q Do I get compensation?
Under EU rules, travellers have no entitlement to cash compensation, because the strike counts as "extraordinary circumstances" beyond the airlines' control. But European airlines have a duty of care to passengers whose flights are cancelled or heavily delayed - providing meals and, if necessary, accommodation, until alternative transport can be arranged. This applies at the start and end of journeys, and also at intermediate points such as Paris CDG.
Join our new commenting forum
Join thought-provoking conversations, follow other Independent readers and see their replies