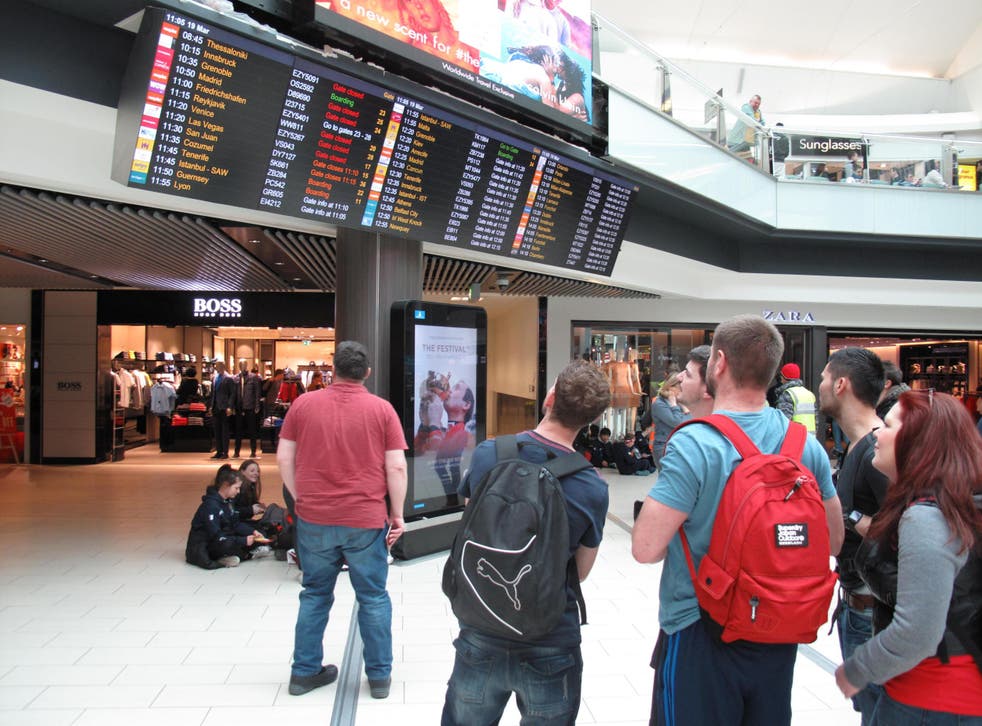 Gatwick airport: More than a third of flights don't leave on time
Gatwick and Heathrow airports both failed to get a one-star rating in a new survey on airport punctuality
Simon Calder
Travel Correspondent
Thursday 20 April 2017 15:55 Comments
Just three out of five flights arriving and departing from Gatwick kept within 15 minutes of their scheduled time, according to a wide-reaching survey by the travel intelligence specialist OAG.
OAG surveyed hundreds of airports over the course of the year for its On-Time Performance Star Ratings, and awarded many of them between one and five stars for punctuality.
To qualify for one star, as the Isle of Man, Exeter and Belfast International did, the airport needed to score 75 per cent or better on the standard industry measure of arriving or departing no more than 15 minutes late.
Both the UK's busiest airports, Heathrow and Gatwick, failed to make even one star. Heathrow scored 73.6 per cent, while Gatwick was well down the field at 60 per cent.
A spokesperson for the Sussex airport said: "Gatwick recognises the inconvenience that delays cause to our passengers and we will continue to do everything possible to prevent them from occurring.
"Despite implementing a wide range of measures to improve on-time performance in recent years, improvements to punctuality have been overwhelmed by the scale of wider airspace issues outside our control, including repeated strike action on the continent and heavily congested airspace above parts of Europe and London.
"Gatwick also has more flights to Europe than any UK airport and is impacted disproportionately by events on the Continent.
"We will continue to make improvements and invest in new infrastructure to help support punctuality but we also call on UK and European authorities to take urgent steps to limit the impact of industrial disputes on UK passengers, and to accelerate plans to increase the efficiency of UK and European airspace."
Chris Woodrofe discusses the changes at Gatwick airport
Three UK airports scored the maximum five stars. Best performing was Newcastle, at 91.4 per cent — just ahead of Birmingham at 90.7 and Cardiff at 90.4 per cent. The UK was the only country with three airports in the top grade. France, Germany, Indonesia, the US and Belarus each have one, while Japan has two.
The most punctual airport worldwide was a former Luftwaffe base in northern France, from which German bombers launched attacks in the Battle of Britain. Tillé airport, which is walking distance from the small city of Beauvais, had a 96 per cent punctuality score over the past year.
Ryanair is the leading airline at the airport, which officially calls itself Paris-Beauvais — even though it is more than 50 miles north of the French capital.
The OAG survey also looked at the most punctual British airlines. In third place was Jet2 at 84.8 per cent; second was Flybe at 86.2; and Monarch was top, with a punctuality rate of 86.6 per cent. It took first place despite a busy operation at Gatwick, where it accounts for one in 25 flights.
Register for free to continue reading
Registration is a free and easy way to support our truly independent journalism
By registering, you will also enjoy limited access to Premium articles, exclusive newsletters, commenting, and virtual events with our leading journalists
Already have an account? sign in
Register for free to continue reading
Registration is a free and easy way to support our truly independent journalism
By registering, you will also enjoy limited access to Premium articles, exclusive newsletters, commenting, and virtual events with our leading journalists
Already have an account? sign in
Join our new commenting forum
Join thought-provoking conversations, follow other Independent readers and see their replies