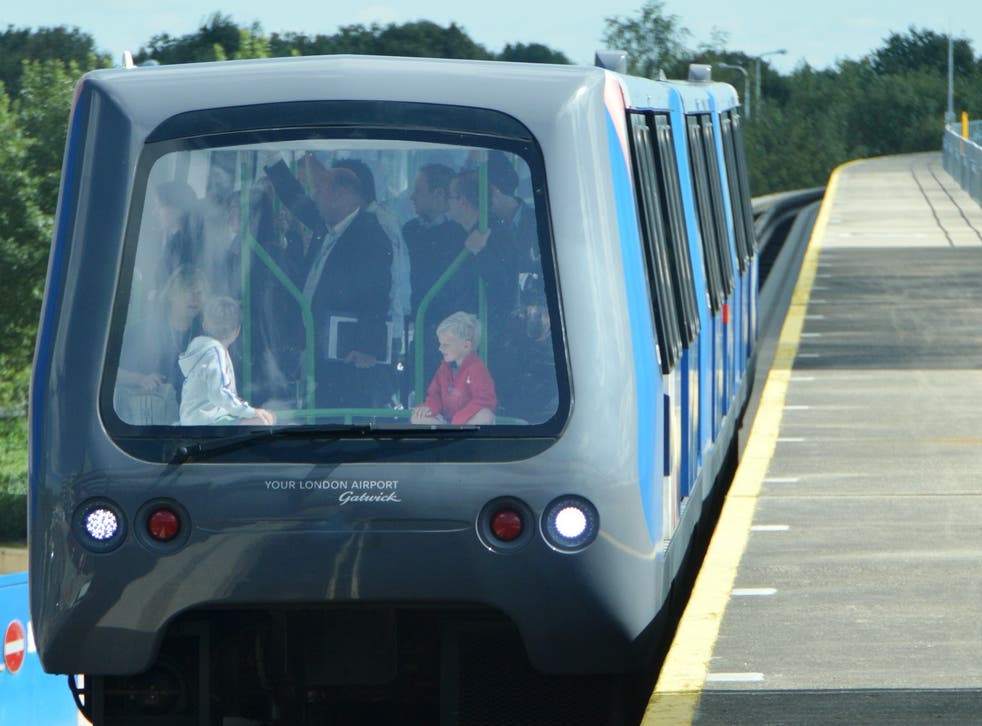 Why are airport shuttle services between terminals sometimes terrible?
Plane talk: A link between the busiest airports? Get the basics right first 
Should you find me at an airport or other transport terminal, do say hello. That is what a gentleman did at Leeds station on Friday morning.
He sought my opinion not on the state of the railways, but on the state of the airports – and in particular the debate over expansion at Heathrow.
Surely, he said, a high-speed rail connection between Gatwick and Heathrow would help to add capacity without building a new runway?
The suggestion was considered by Sir Howard Davies's Airports Commission for, I imagine, about five seconds.
Heathrow and Gatwick are, respectively, the busiest two-runway and single-runway airports in the world. Even if a fast rail line were built at vast expense between the two, it would not add to the available slots at either airport.
Heathrow expansion plans revealed: In pictures

Show all 6
As London is by far the biggest city in Europe, it can readily support several full-size airports. While in a perfect world I would love to see a high-speed link running from Gatwick to Heathrow and then continuing onwards to Stansted via Luton, I imagine there are many other calls on the £25bn or so that it would cost.
Besides, the experience of even simple pieces of intra-airport transport technology suggests that anything more ambitious could be a serious mistake.
At Heathrow Terminal 5, a subterranean shuttle connects the main building with satellites B and C, from which most British Airways long-haul flights depart. When I have tried to use the driverless underground train, it has proved so unreliable that I now build in extra time to walk (descend one level further to find the walkway).
At Gatwick, though, there is no easy way to avoid the inter-terminal shuttle, which runs between the railway station and the North Terminal. And Jenny N from Eastbourne writes to say that she finds it maddeningly unpredictable.
She arrived back in Gatwick on an evening easyJet flight, with what she thought was plenty of time before the last train of the night to Eastbourne at 11.20pm: two hours between touchdown and the train's departure. But the flight was late taking off, then the queues for passport control at Gatwick were long because the Emirates flight from Dubai had just arrived, also late.
"I still thought I had time to make it but then the wait for the shuttle from the North Terminal was about 10 minutes, and completely packed, meaning I arrived on the platform just as the doors closed.
"I had to take a train to Brighton and then a taxi, which I managed to share, but it still cost me £30.
"I blame the shuttle – only one of the two trains was working, with the excuse that 'planned maintenance' was taking place. Can you please ask Gatwick why they don't plan maintenance for the middle of the night?
"Anyone would think they were trying to save money by running fewer trains when they think it will be quiet."
Planning a journey to an airport is relatively straightforward: you decide what time you want to get there (in my case, usually an hour ahead of departure), and allow a bit of slack.
Heading home, though, is a lottery, as Jenny discovered. When I find myself on a flight to Gatwick that is destined for the North Terminal, and specifically Pier 6 (the gates on the other side of an enormous arch) I know it will be a battle: by the time you emerge from Arrivals you can feel as though you have travelled halfway across Sussex.
For those of us who plan to continue by train, the next hurdle is the shuttle. The journey on the driverless train itself takes only two minutes. But, like Jenny, I sometimes end up waiting what feels, in an airport context, an age.
Support free-thinking journalism and attend Independent events
An airport spokesperson told me: "To minimise the impact on passengers, essential maintenance to our inter-terminal shuttles takes place during periods when the flow of passengers travelling through the airport is at its lowest, typically late evening."
Were maintenance to be carried out in the middle of the night, it would adversely affect the first wave of passengers: flights start up at around 6am, and some travellers choose to arrive four hours early.
The spokesperson adds: "During planned maintenance, one of our shuttles always continues to run, and the maximum waiting time for this shuttle is six minutes."
Reports to confirm or refute this are most welcome. Meanwhile, if you see me standing with a stopwatch at the shuttle station, do say hello.
Join our new commenting forum
Join thought-provoking conversations, follow other Independent readers and see their replies