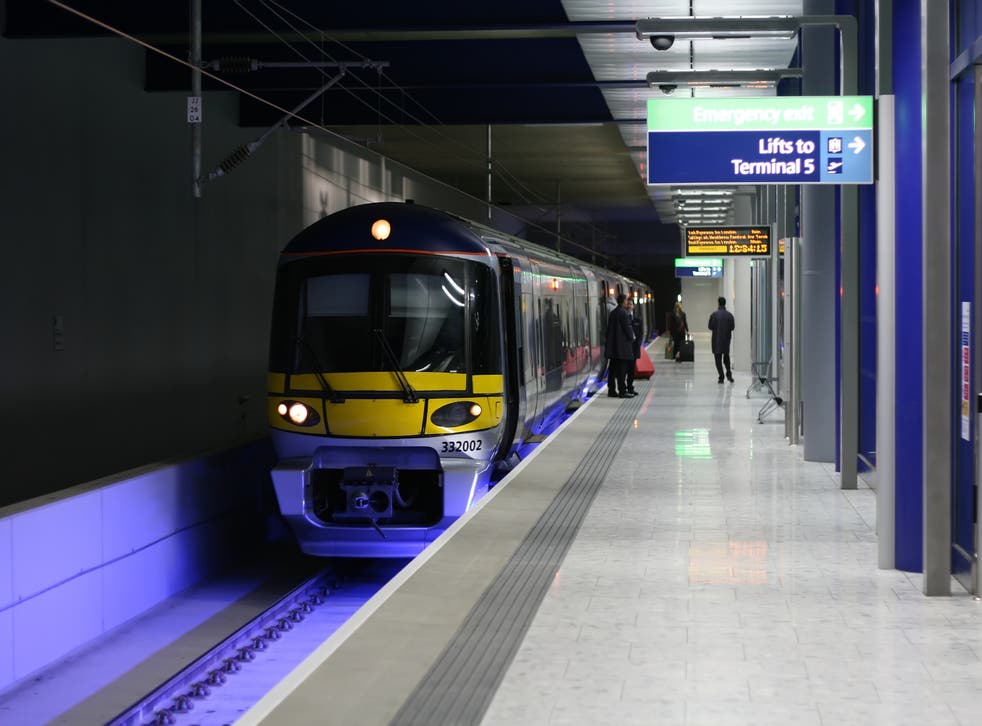 Simon Calder: Could this be Britain's most expensive airport link?
The man who pays his way: Fare's fair for Heathrow airport's fast track
Outrage: that has been a typical response to the Heathrow Express raising "walk-up" rush-hour fares by 9 per cent. From Monday, the fast train between London Paddington and Europe's busiest airport will cost £24 one way during the morning rush hour. That's two pounds more than the current fare, which itself increased earlier this year as part of the normal January "trainflation". The new fare works out at £1.63 a mile. But that's not an outrage.
Anyone who chooses Britain's priciest train may be in a tearing hurry, or on expenses, or happy to pay a premium price to get their trip off to a flying start. Or all three. Alternatively, they may be travelling with under-16s, who go free on the Heathrow Express.
The train operator can hardly be accused of exploiting a monopoly. Travellers enjoy an abundance of choice of cheaper, slower alternatives between central London and the airport. For £10.20 you can take the Heathrow Connect from Paddington, the slower sibling of the airport's Express rail link. For a maximum of £6, the Piccadilly Line will get you to the airport eventually. Or get up early and pay just £1.50 for the long and winding N9 night bus from central London.
The British traveller is accustomed to trading time for money. For example, the UK's most expensive long-distance train ticket (95p per mile from Watford Junction to Rugby on Virgin Trains) has a ready rail alternative in the shape of London Midland, charging barely half the price in exchange for a half-hour longer trip.
Yet there is one airport link for which I can find no cheaper option save walking or hitch-hiking. As far as I can tell it is also Britain's most expensive bus ride, both per minute and per mile.
The trip from Bournemouth railway station to the town's airport takes 12 minutes to cover four miles. All yours for £5.70.
With each mile costing £1.42, the Bournemouth bus is Heathrovian in its pricing. It works out more than twice as expensive as the fare per mile charged by British Airways for a one-way Club World flight from Heathrow to Singapore. And unlike BA's business-class cabin, the Bournemouth bus I caught last weekend lacked lie-flat beds and smiling cabin crew dispensing champagne.
I was flying from the Dorset airport because it offered the cheapest journey from London to Barcelona. The traditional half-term price surge meant the cheapest fare to the Catalan capital from any of the airports serving the English capital was upwards of £150. A quick scan of alternatives revealed a deal at half the price (£78), flying from Bournemouth to Girona with Ryanair.
Even by the Irish airline's imaginative view of European geography, that could hardly be described as a London-Barcelona journey. But including an Advance train ticket from Waterloo to Bournemouth and the onward coach from Girona airport to Barcelona, I priced the trip at a flat £100 – plus, I guessed, a couple of pounds for the brief bus ride from Bournemouth's station to the airport.
Yet when I offered a fiver to the Bournemouth bus driver, he politely demanded more.
Most airports have a low-cost means of access for people prepared to trade time and effort for saving cash. In Edinburgh, for example, getting off the tram at the last-but-one stop rather than the airport itself cuts the £5 fare to just £1.50 in exchange for a 15-minute walk.
Bournemouth's airport and bus operator are free to charge whatever they wish. But if the Dorset airport wants to carve out a slice of the world's biggest and richest aviation market – south-east England – it might enhance its low-cost credentials with a cheaper means of access. Meanwhile, I look forward to your nominations for an even pricier British bus journey.
Join our new commenting forum
Join thought-provoking conversations, follow other Independent readers and see their replies