Passengers warned of delays at Heathrow Terminal 5 as security staff begin strike
Union believes action will 'cause inevitable disruption' but airport says it has plans in place to alleviate problems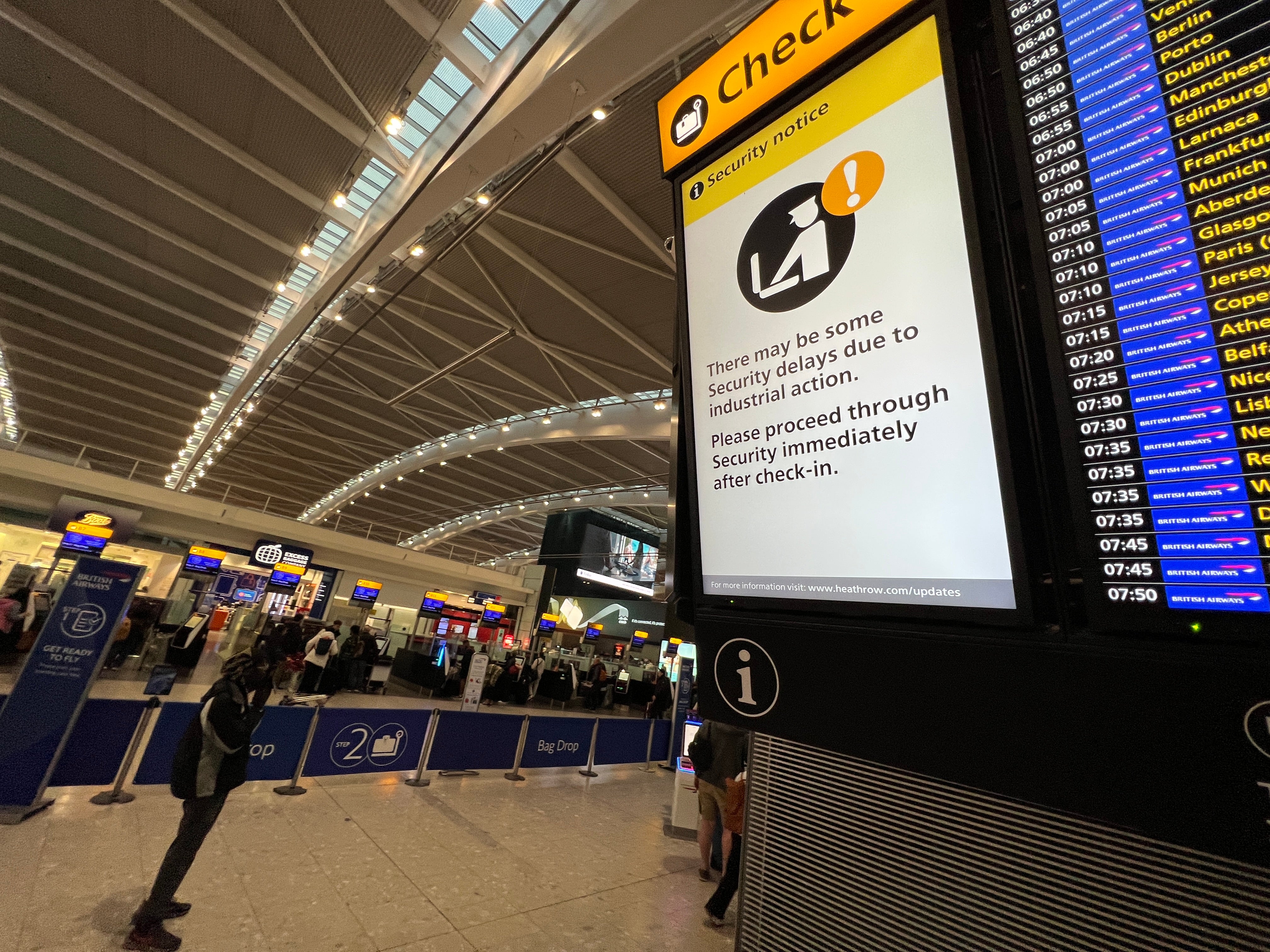 Around 1,400 security staff have walked out at Heathrow airport two days ahead of the Coronation and the bank holiday weekend,
Members of the Unite union, mainly employed at Terminal 5, are striking in support of a pay claim. Signs in the terminal warn departing passengers: "There may be some security delays due to industrial action."
The Fast Track security lanes are closed, but queues for the first wave of departures on Thursday morning were not excessive.
Overnight British Airways, the sole airline at Terminal 5, emailed departing passengers to remind them not to turn up at Heathrow too early: no earlier than two hours before European flights and three hours ahead of long-haul departures.
BA passengers are also being offering the chance to check-in hand baggage free of charge, to reduce the pressure on the security checkpoints.
The Unite union has warned that "this will cause inevitable disruption and delays at the airport". It points out that hundreds of flights were cancelled during the previous 10-day strike over Easter, after Heathrow told British Airways to axe one in 20 of its departures.
BA is believed not to have cancelled flights ahead of the latest strike.
A spokesperson for Heathrow said: "Passengers can be reassured that they will travel as normal. This is an important time for the country, and we will not let these unnecessary strikes disrupt journeys.
"We have activated our contingency plans and deployed 750 additional colleagues and the entire management team who will be on-hand in the terminals providing assistance to passengers."
Heathrow's other three terminals – 2, 3 and 4 – will not be affected, though some inflight catering may be reduced due to a shortage of security staff to check shipments going "airside".
Further strikes will take place at Heathrow Terminal 5 on 9–10 and 25–27 May. Unite's general secretary, Sharon Graham, said: "This dispute is bound to escalate with more workers being balloted and disruption set to continue throughout the summer."
At Edinburgh airport, a strike ballot among 275 airport staff who belong to the Unite union will begin on Friday. They will vote on industrial action in a dispute over pay.
Join our commenting forum
Join thought-provoking conversations, follow other Independent readers and see their replies