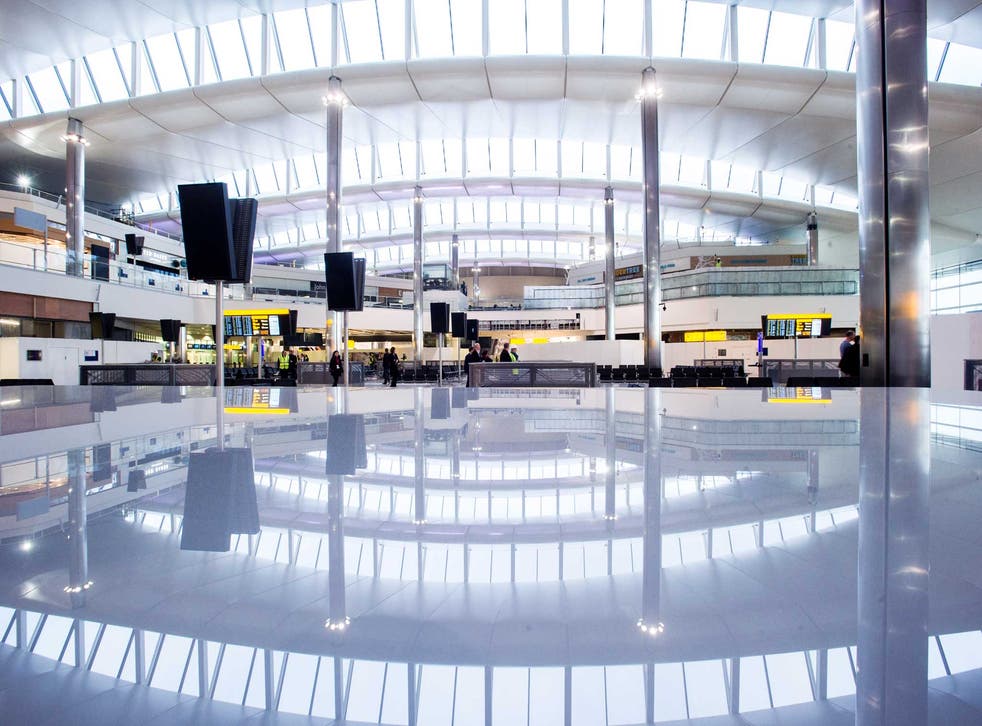 Heathrow takes off: Can a new Terminal 2 make Britain's biggest airport fit for the 21st century?
Simon Calder gets a preview of Britain's biggest building project. But will he be able to find his way back from gate A25 to real life?
Simon Calder Comments
Hugh Heinztest is my name, Athens is my destination. Well, that's what it says on my boarding pass. I have seat 22B, down the back in the middle of a row of three on the Airbus A320. Normally that would be an uncomfortable location, but this morning it is irrelevant because I do not plan to venture beyond this London Borough of Hillingdon. My assignment is to play a tiny part in helping Heathrow ensure the reborn Terminal 2 is fit for purpose when it opens on 4 June.
Could flying be about to get better? I am one of 1,000 volunteers who have signed up for the promise of a free lunch and a sneak preview of the £2.5bn project. My task is to arrive from Manchester at gate A25, make my way through the tunnel beneath an active taxi way to the Terminal 2 satellite, and find the right gate.
Along with dozens of others due to arrive from Manchester on Virgin Atlantic's Little Red service, I fall at the first hurdle. The signposting to the starting line at A25 appears to gesture us up an escalator to the shopping and dining level. We end up in a huddle and a muddle outside London's Pride – the first airport pub from the local brewery, Fuller's of Chiswick.
The family-owned firm has taken some of the most expensive retail space on the planet in the expectation that it is bound to be "beer o'clock" for some of the befuddled passengers who have just stepped off the plane from Auckland, Bangkok or Chicago – three of the routes that will be connected to Heathrow's new shining star, about to become home to the Star Alliance of more than 20 airlines. But only slowly. Britain's biggest building project will open with a whimper, not a bang.
Everything to do with the opening of Terminal 2 is seen through the prism of the shambles into which Terminal 5 descended within minutes of first contact with the travelling public in March 2008. Up to that point, British Airways' services were scattered across Terminals 1, 3 and 4. BA sought to move most of its services to the new facility overnight. But when the early shift of baggage handlers arrived, they found there was nowhere for them to park and insufficient security staff to allow them airside in reasonable order. Those who did struggle through found they were barred from the IT network that the system depended upon.
Hundreds of flights were cancelled as the operation unravelled. Just one event shows how botched it was: thousands of bags ended up being sent by truck to Milan for onward shipment to their baffled and furious owners in cities across Europe.
So the passengers who step aboard United flight 958 at Chicago O'Hare on the evening of 3 June will notice a couple of things when they arrive at Heathrow at 5.55 the next morning. First, an unnaturally high number of executives and news teams will be waiting to greet them; second, that they appear to have arrived at a ghost terminal, with almost no one arriving or departing. United will be the first of 25 airlines to migrate to Terminal 2, with the remainder spread over six months.
"Allowing three weeks between each of the airline moves allows us to learn the lessons from the first move before the second," says John Holland-Kaye, Heathrow's development director (and CEO designate).
In pictures: The reborn Terminal 2

Show all 6
The nations united under the Star Alliance banner include Singapore Airlines, South African Airways and Lufthansa – whose budget offspring, Germanwings, will also be allowed in, alongside Aer Lingus and the domestic service it runs for Virgin Atlantic, known as Little Red.
According to the architect, Luis Vidal, their passengers are in for a treat. "We want people to celebrate, to enjoy travel," he tells me. "I hope this building becomes one of the first destinations in its own right."
Even the anti-expansion pressure group, HACAN ClearSkies, applauds the new structure. Its chair, John Stewart, says: "We welcome improvements to the current airport in line with our view that we should be looking for a better rather than bigger Heathrow."
Despite Señor Vidal's good intentions, the British do not tend to feel enthralled about the modern airport experience. We are excited at the prospect of being in China or California, a tantalising 12 hours away. Yet airports are like prisons and hospitals. We don't enjoy being inside one, and want to leave as soon as possible. That's because any glamour that aviation might once have possessed has been trampled by terrorism – or, more specifically, the response to terrorists' obsession with aviation.
For the past 40 years, every passenger at Heathrow, plus the possessions they intend to take into the aircraft cabin, have been screened. Most people feel the security search is the most stressful part of their journey, and you turn up not knowing whether the queue will take an hour or a minute.
Instead of building a shopping mall with a runway attached, Senor Vidal has designed a security search system with a check-in and boarding gates attached. "I am a frequent traveller. Most of my work is taking what one sees and trying to make things easier. The spaces are conceived to reduce passenger anxiety."

However much we passengers might worry about terrorism, the security professionals are even more fearful. If you reach the new terminal by road, you will notice that the approach is annoyingly wiggly. That is deliberate, because it reduces the speed that an intending suicide bomber in a vehicle could achieve, and therefore the mayhem they could cause. The new multi-storey car park that is intended to attract premium passengers is close to Terminal 2, but not quite touching: in the event that a car bomb is detonated, passengers at check-in should be unharmed. And within the terminal, materials have been chosen to limit the damage an explosion could cause. A 21st-century temple to travel must temper idealism with realism.
On the Departures level, the nave of Vidal's cathedral to civilised aviation is a hall that brings a fairly blunt Formula 1 pit-stop technique to Heathrow: the best way to speed things up is to throw resources at the issue. So at peak times, 24 lanes of security will operate. The quicker you and I get through, the more we can spend – in money, as well as time – in the shops 'airside'.
'The Queen's Terminal', as the new structure is subtitled, has a strong British bias in its retail offering. You won't see Primark or Poundland alongside Burberry, but you will find John Lewis – whose first venture into airports opens on 4 June. Don't expect the full duvets-to-dinner-plates range: the partnership's latest venture is one-10th of the next smallest store, in Exeter.

Shopping is all very well, but the main purpose of anyone in possession of a real boarding pass is to leave Heathrow behind for somewhere more alluring. Which, at busy times, can prove a problem. You need not be an internationally respected architect to work out the design flaw with the so-called Central Area of Heathrow, ie the bit between the two runways. It is an organism that has spread outwards, with built-in culs-de-sac that are anathema to airlines wanting high-efficiency operations and passengers hoping they might get in or out sometime soon. The modern approach, to which Heathrow is slowly working, is the 'toast rack': terminals lined up perpendicular to the runway, and separated to allow aircraft free movement.
The limiting factor at Heathrow, though, is not the terminals but the runways. Squeezing a quart into a pint pot has long been part of Heathrow's ethos. Like its local rival, Gatwick, Heathrow extracts amazing productivity from heavily-constrained infrastructure. The Sussex airport is the world's busiest single-runway airport, with 93,000 passengers on a typical day, while its bigger rival handles 200,000 a day on just two runways, even with an effective 11.30pm to 4.30am curfew.
The two airports manage almost all of the time to deliver excellent service to passengers, and the aviation honours to Britain. The capital's airport system has placed London at the top of the global aviation tree – handling far more travellers than any other city, including New York, Dubai and Beijing.

Success on a shoestring, you might call it, since not a single, new, full-length runway has been built in south-east England since the war. The price of success against the odds is the inevitable abject failure to cope when one part of an extremely complex system fails. A problem that might be a minor hiccup at a less busy airport, becomes much more serious at Heathrow, often triggering widespread delays and disruption.
A year ago, British Airways flight 762 left parts of its engine cowlings on Heathrow's southern runway as it took off for Oslo. Soon after the "foreign object debris" was cleared, the Airbus made an emergency landing on the northern runway with one of its engines on fire. The airport was closed to arriving and departing traffic for just half an hour, but as a result almost 200 flights were cancelled.
If Heathrow is analogous to an overcrowded household, Terminal 2 involves rearranging the furniture rather than building a much-needed extension. Or, to use a less kind medical analogy, applying a sticking plaster when what is actually required is major surgery.
Which leads on to the big debate in UK aviation. If you have been asleep since the Jumbo age began in 1970, don't worry, the question remains exactly the same as it was when the first 747 touched down (three hours late) at Heathrow from New York: how does south-east England meet the need for extra capacity?

The possible solutions have changed little: an entirely new airport, another runway at Heathrow, or expanding one of London's other airports. The arguments have dragged on for so long that one option that was crossed off the list in 1979 is now back on the table. In that year, Gatwick was granted permission by the local authority to build a second terminal on condition that no new runway was built for 40 years. At the time, that limit seemed impossibly distant; today, Gatwick is on the Airports Commission shortlist for the capital's next new runway. Sir Howard Davies and his team are also evaluating the prospects for a brand new airport in the Thames Estuary, though some see the commission's decision not to shortlist a new hub immediately as kicking the concept into the soggy marshland of north Kent. And Heathrow has two bites at the most elusive cherry in aviation.
The owners' plan for a third runway, north of the existing two, is one of the Davies Commission's preferred options. An 11th-hour solution, 'Heathrow Hub' appears to have been dreamt up on the back of a boarding pass by a former Concorde pilot, Jock Lowe. It would see the northern runway doubled in length west to allow simultaneous landings on the bit nearest London, while planes are taking off from the Windsor end of the airstrip. An option that had appeared to many in the aviation industry as a mistimed April Fool has been studied by the experts at the Department for Transport and judged not merely coherent but worthy of being a front-runner.
Should the Davies Commission recommend one of the Heathrow options next summer, and the new Government be brave enough to accept and expedite it, the 'toast rack' approach could be, well, toast. Another terminal, north-west of the present array, would be necessary. But that won't happen until 2027 at the earliest. Meanwhile, Heathrow's development director, John Holland-Kaye, is simply looking to the end of the year. The present round of airline musical chairs should be all over by Christmas. Work will then begin on Terminals 1 and 3 – both of which will eventually be subsumed into Terminal 2.
"We will be unique among the main airports in Europe in completely rebuilding our terminals," he says. I'll be first in the queue with a fictional boarding pass when the tests begin, just so long as I can find my way back from gate A25 to real life.
Simon Calder is The Independent's travel correspondent
Register for free to continue reading
Registration is a free and easy way to support our truly independent journalism
By registering, you will also enjoy limited access to Premium articles, exclusive newsletters, commenting, and virtual events with our leading journalists
Already have an account? sign in
Join our new commenting forum
Join thought-provoking conversations, follow other Independent readers and see their replies