Hockney has all the time in the Wolds

Show all 3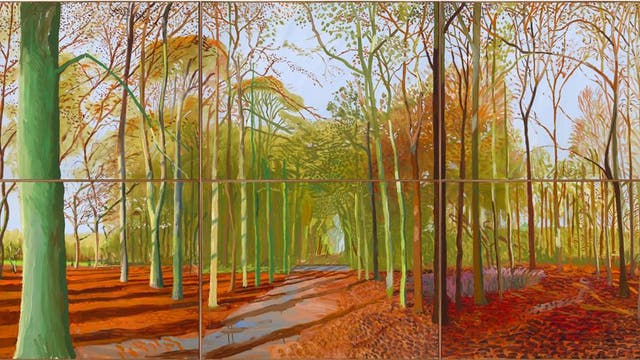 Hockney has all the time in the Wolds
The artist's epic, tranquil paintings illuminate a little-visited corner of Yorkshire, says Christopher Hirst
Christopher Hirst
Sunday 15 January 2012 01:00 Comments
A corner of England that is beautiful, mysterious, and well off the tourist map will soon come into focus.
Bookings for David Hockney: A Bigger Picture, opening at the Royal Academy in London on Saturday, have even surpassed the gallery's 2010 Van Gogh blockbuster, but the rural landscapes featured in Hockney's show are little known, even to many living close to the Yorkshire Wolds.
The triangle between the North Sea and the Vale of York is twice the size of the Isle of Wight, yet remains a secret terrain compared with the relatively bustling Dales. Ever since Bradford-born Hockney moved back from Los Angeles to Bridlington in 2004, he has been obsessed with painting these undulating chalk uplands.
"The Wolds have remained unspoilt because there's nothing to go there for," Hockney once said. At first sight, this is true. The sprawling landscapes, consisting mainly of large, wealthy farms, are sparsely populated. The website for the 79-mile Wolds Way describes it as "the quietest National Trail". Riding the narrow roads that criss-cross the Wolds, you have the sense of being on a giant roller coaster. No wonder Hockey's renditions of the area have gradually inflated from modest sketches via larger oils to epic dioramas.
I knew nothing of the Wolds until I inherited a house on their edge. Previously, it had been a place to get through on my way to somewhere else, but steadily I came to realise my good fortune. Intrigued by wonderfully weird village names – Butterwick, Wetwang, Fridaythorpe – I began to explore. In Boynton near Bridlington, I came across a delightful Georgian church containing a turkey-shaped lectern celebrating William Strickland, who introduced our Christmas treat in the 1540s. At Wharram Percy, there's Europe's best-known deserted medieval village, ruined in an economic downturn in the 16th century.
The nearest thing the Wolds has to a centre is the village of Sledmere, home of the eccentric Sykes family who brought a splash of colour, exoticism even, to East Yorkshire. A community described in Pevsner's Buildings of England as "a perfect example of an estate village", Sledmere was painted by Hockney at the start of his Wolds period. Though it seems 18th century at its most restrained, the Sykes house was completely rebuilt after a disastrous fire in 1911, in which the then owner, Sir Tatton Sykes, insisted on finishing his pudding before calling the fire brigade. Treasures range from a vast, sunny library of gloriously unreadable leather-bound books, to a startling Turkish Room tiled in iridescent blue.
Perhaps Sledmere's most unusual feature is across the road from the big house. Commissioned by Sir Mark Sykes in 1919, the war memorial is a strip cartoon in stone depicting pointy-helmeted Germans being routed by doughty members of a local corps.
The tradition of benign bohemianism is continued by the current baronet, also called Sir Tatton Sykes and his brother, the writer and photographer Christopher Simon Sykes, who once brought neighbouring Driffield to a halt when he went shopping in Boots with his chum Mick Jagger. He recently published the first volume of a two-part biography of a more recent acquaintance, David Hockney.
The other stately home of the area is described in Pevsner as "the most perfect of Jacobean architecture". Burton Agnes Hall, a family home of considerable grandeur that has scarcely changed since 1610, has a "magnificent" great hall, long gallery, and sensational gardens.
Perhaps the most striking Wolds landmark is the Rudston Monolith: its name may suggest the smooth slab in 2001: A Space Odyssey, but it is actually more impressive. At 25 feet, it is the tallest standing stone in Britain, overshadowed only by the church built a few feet away in order to filch its mysterious power. One broad side of the stone, etched with mysterious striations and hollows, faces the rising sun at the winter solstice. When I visited, a few days after Christmas, a wreath of ivy, holly and fir cones lay at its base. Christianity has not sapped all its ancient power. Julian Cope, pop star turned antiquarian, says it's "an eerie place [with] true psychedelic intensity". You have been warned.
Warter is a notably well-preserved village, though I couldn't spot the view depicted in Hockey's most gigantic work Bigger Trees Near Warter. Kilham, once the great marketplace of the Wolds, has a fine scatter of 18th-century houses around the the church and Ye Olde Star pub. But many of Hockney's subjects – arching tunnels of greenery, puddle-spattered tracks, roads threading their way up distant escarpments – could be pretty much anywhere in this rolling landscape. The one thing I have never seen in my explorations is a cigarette-puffing figure in a white cap applying brush to canvas.
'David Hockney RA: A Bigger Picture' opens at the Royal Academy on 21 January (royalacademy.org.uk).
Travel essentials
More information
David Hockney is working with the Yorkshire Tourist Board to create a trail of his painting locations (yorkshire.com/hockney).
For more on the Yorkshire Wolds Way see nationaltrail.co.uk.
Wharram Percy, near Wharram-le-Street (english-heritage.org.uk).
Sledmere House, Driffield (01377 236637; sledmerehouse.com).
Burton Agnes Hall (01262 490324; burtonagnes.com).
Yorkshire Tourist Board: yorkshire.com
Register for free to continue reading
Registration is a free and easy way to support our truly independent journalism
By registering, you will also enjoy limited access to Premium articles, exclusive newsletters, commenting, and virtual events with our leading journalists
Already have an account? sign in
Join our new commenting forum
Join thought-provoking conversations, follow other Independent readers and see their replies