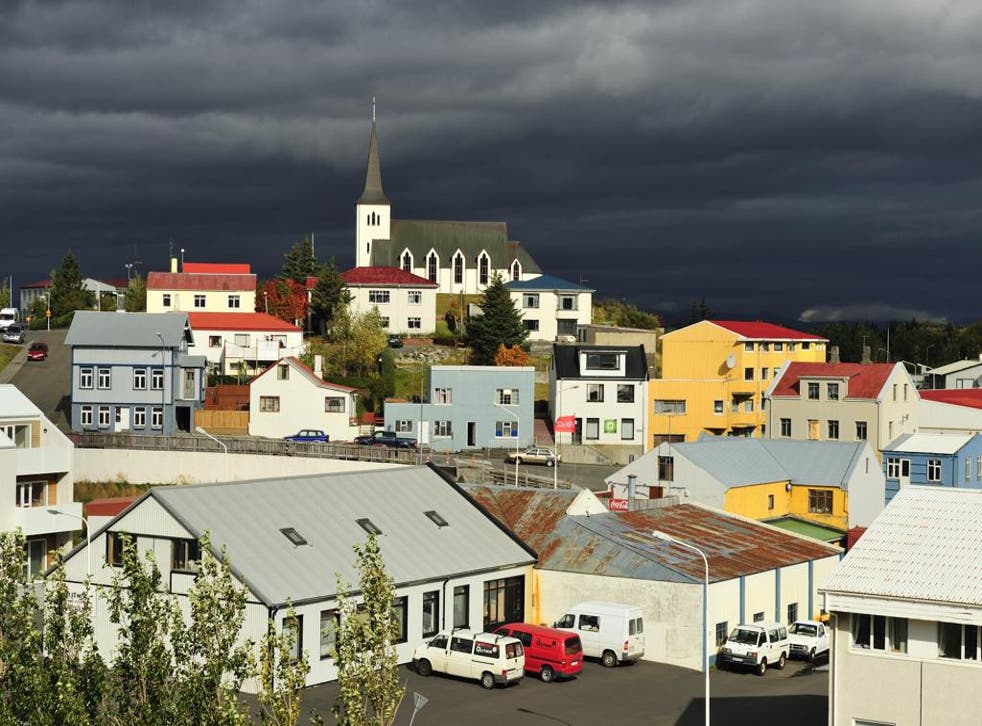 Tourists annoy Icelanders by knocking on doors requesting free place to stay
Locals say this isn't the first time tourists have expected a free ride
Julia Buckley
Thursday 27 July 2017 11:35 Comments
A week after "send nudes" was carved into a mossy hillside, Icelanders are again up in arms about the country's ever-growing tourist population.
Two French tourists went from door to door asking for a place to stay, according to residents of Bogarnes, a town in the west of the island.
Guðrún Helga Árnadóttir says she was disturbed by the travellers one evening when they came to her door looking for accommodation. She refused – saying she found the request uncomfortable.
The couple then knocked on every other door in her apartment complex, Iceland Monitor reports. When nobody let them in, they moved on to the next block. A fed-up Árnadóttir says she then intervened to explain that their behaviour was not appropriate.
"I told them that this was simply not done, they were trespassing on private property," she told Morgunblaðið – adding that the tourists didn't respond as she would have hoped, and continued to go from door to door. Árnadóttir said that they seemed to think this was "a normal way to travel".
Fifty miles west of Reykjavik, Borgarnes attracts tourists to the nearby Hafnarfjall mountain and Einkunnir Country Park. Árnadóttir says that it's not the first time she's encountered tourists expecting to shack up for the night with locals.
Tour guide and bus driver Freyja Thoroddsen Sigurðardóttir told The Independent that she's never met anyone knocking on doors, but that tourist behaviour leaves a lot to be desired in Iceland.
"One of the biggest problems now is people using our backyards as toilets, especially in rural areas," she said. "Also, we have very strict rules regarding overnight camping, and people break them repeatedly. It's like many people come here and see the country as a huge playground where no rules apply.
"This increase in visitor numbers is so fast, we're trying to keep up with the changes. We just need people to respect the country, respect the dangers and respect the locals. The majority of our guests are amazing, but the small minority makes everybody look bad."
Guide Gunnar Birgisson, who was first to noticed the "send nudes" message carved into the hill, told The Independent:
"I've heard of hikers and bikers getting hit hard by weather knocking on doors of farms to ask for shelter, and I once heard about a couple who pitched their tent in someone's barn to wait out the weather - these people are usually allowed to stay. What strikes me as unusual in this case is that they seemed to be a bit rude about it, and I find that either incredibly rude or hard to believe.
"Only a few years ago it was no problem to visit Iceland without making any accommodation plans, but now you need to arrange it weeks ahead of your arrival - the tourist industry isn't staying ahead of things here, they are learning as they go."
He added: "My advice is to bring a tent, just in case."
Register for free to continue reading
Registration is a free and easy way to support our truly independent journalism
By registering, you will also enjoy limited access to Premium articles, exclusive newsletters, commenting, and virtual events with our leading journalists
Already have an account? sign in
Join our new commenting forum
Join thought-provoking conversations, follow other Independent readers and see their replies