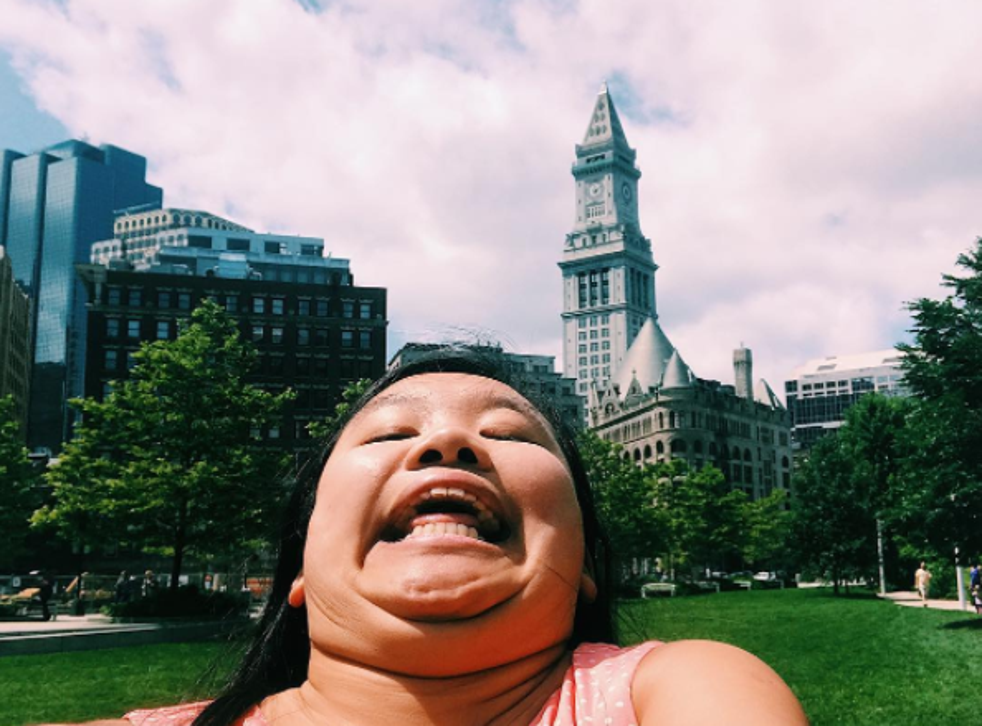 Chinning: Meet your new travel Instagram hero
Michelle Liu has 'chinned' at the Eiffel Tower, in Tiananmen Square, and with a plane full of British Airways crew
Julia Buckley
Friday 13 October 2017 17:10 Comments
Travel Instagram has a new hero.
In a world of aspiring models posing in ballgowns at the top of Machu Picchu and humble brags masquerading as art, Michelle Liu is doing things differently.
The 21-year-old from Boston has started an Instagram account in which she poses for selfies in front of landmarks around the world – while "chinning".
The move – apparently Liu's own invention – is the polar opposite of the sexy on-location selfie, as she points the camera from below, tilts her head back and grimaces to make a double chin in front of whichever iconic monument she happens to be in. Appropriately, her account is called Chinventures.
Liu told The Independent that she started chinning in photos at school, to "embrace her silliness" as a way of tackling her insecurities. Last September, she started the Instagram account. "I would say in a way it was a personal reaction of wanting to be able to entertain my friends and make them laugh, but also a way for me to encourage not caring too much about how you look all the time," she said.
She was inspired to launch the travel-focused Instagram while studying in Vienna, she told Mic, and has posted from places like Tiananmen Square, the Houses of Parliament, the Eiffel Tower and the New York Stock Exchange. She's even posed for a group "chinfie" with British Airways cabin crew. Her favourie chinning locations, however, are Copenhagen and London.
The photos are taken with a selfie stick on her iPhone – and tend to get a reaction from onlookers. "People are always initially confused and surprised," she told The Independent. "There isn't any particular place that has garnered the most or least understanding. But I would saying that chinning is more noticeable in places with large crowds, and people 'get' what I'm doing if they actually ask."
And while other Instagrammers often say that it's stressful setting up shots, Liu says that her "chinventures" actively remind her to enjoy travel. "Part of the reason I started the Instagram was because I wanted to document my experiences, and I love being able to look back now to see all of the beautiful places I have been and all the memories associated with them," she said. "It has also allowed me to push myself to find locations I would usually overlook."
Now that her studies abroad have finished, Liu is working out where to take the account next. A road trip across America? We'll be watching.
Register for free to continue reading
Registration is a free and easy way to support our truly independent journalism
By registering, you will also enjoy limited access to Premium articles, exclusive newsletters, commenting, and virtual events with our leading journalists
Already have an account? sign in
Join our new commenting forum
Join thought-provoking conversations, follow other Independent readers and see their replies