The Independent's journalism is supported by our readers. When you purchase through links on our site, we may earn commission.
Laptop ban: Confusion reigns between US and UK rules
US and UK are diverging on what is and isn't included in the controversial bans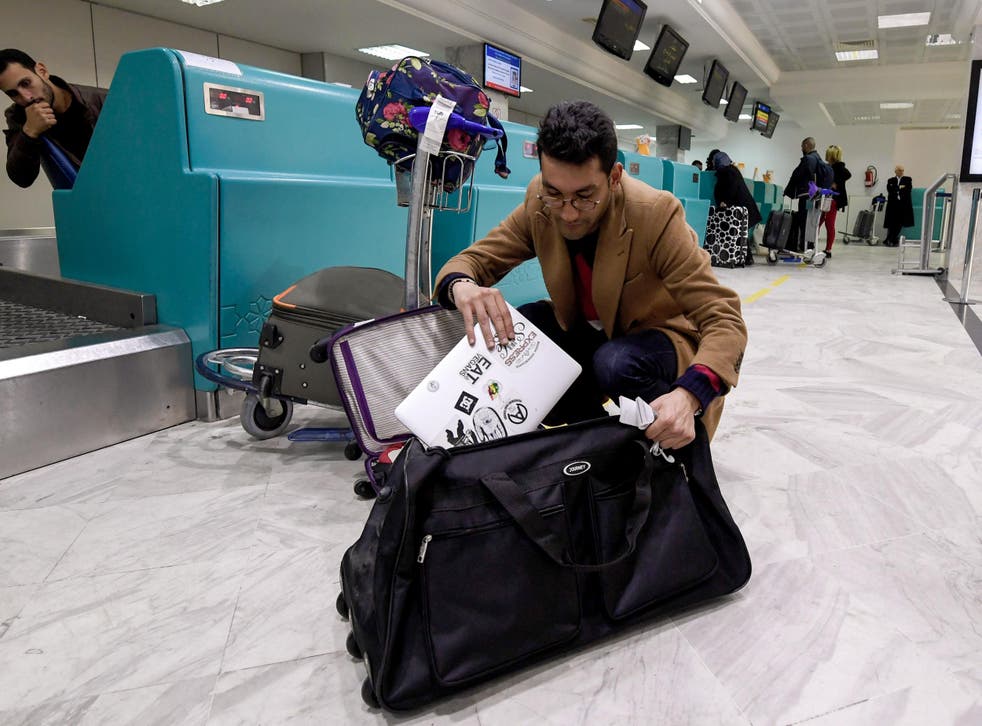 A week on from the introduction of the ban on electronic devices in the cabin of some flights, confusion about the rules is increasing. As new items are added to the banned lists, the differences in policy between the UK and US are widening.
Emirates, which is the airline most affected by the American ban, is telling passengers "extended power supply units (such as power banks) can be carried with you in the cabin".
In contrast, passengers on airlines affected by the British ban — which does not include Emirates or other Gulf airlines — are being told there is a total prohibition on such items in flight. The Department for Transport says: "Spare batteries and portable power sources can no longer be carried on board aircraft operating on affected routes in either cabin or hold baggage".
Peripheral equipment is now affected: the DfT has added keyboards and external hard drives to the list of banned devices. Australian Business Traveller is reporting that larger Bose noise-cancelling headphones are banned from US-bound flights from the affected countries.
The US was first to respond to intelligence reports of a plot to attack aircraft using high explosives concealed within consumer electronics. Its ban includes flights from the UAE, Qatar, Kuwait and Morocco. Even though the UK has seen the same intelligence, the Government does not regard flights from these countries as at risk.
No US airline is affected by the American ban, but British Airways, easyJet and other budget airlines have been hit by the UK prohibition.
The Director General of the airlines' organisation, IATA, Alexandre de Juniac, has slammed the lack of consultation with carriers and coordination by the British and American governments. Alexandre de Juniac demanded to know "How can laptops be secure in the cabin on some flights and not others, especially on flights originating at a common airport?"
That question is particularly relevant to Emirates. Although most of its flights from Dubai to the US are covered, two of them are not. Flights EK 205 and EK 209, to New York JFK and Newark respectively, touch down in Europe en route and therefore are exempt from the Department for Homeland Security ban.
The UAE authorities are baffled that their airports are regarded by Washington DC as providing inadequate security. The airports in Abu Dhabi and Dubai meet international standards. In addition, Abu Dhabi is regarded as secure enough for the US to provide full immigration and customs screening at the airport.
The Department for Homeland Security is confident with the airport's measures to protect US-bound flights, with passengers regarded as domestic travellers when they touch down in America.
Both Etihad, based in Abu Dhabi, and Qatar Airways are planning to loan laptops to business-class passengers on long-haul flights. Emirates has said it may follow suit. Among the thousands of travellers affected by the ban each day will be delegates to the International Civil Aviation Organization cyber summit in Dubai next week.
Register for free to continue reading
Registration is a free and easy way to support our truly independent journalism
By registering, you will also enjoy limited access to Premium articles, exclusive newsletters, commenting, and virtual events with our leading journalists
Already have an account? sign in
Register for free to continue reading
Registration is a free and easy way to support our truly independent journalism
By registering, you will also enjoy limited access to Premium articles, exclusive newsletters, commenting, and virtual events with our leading journalists
Already have an account? sign in
Join our new commenting forum
Join thought-provoking conversations, follow other Independent readers and see their replies