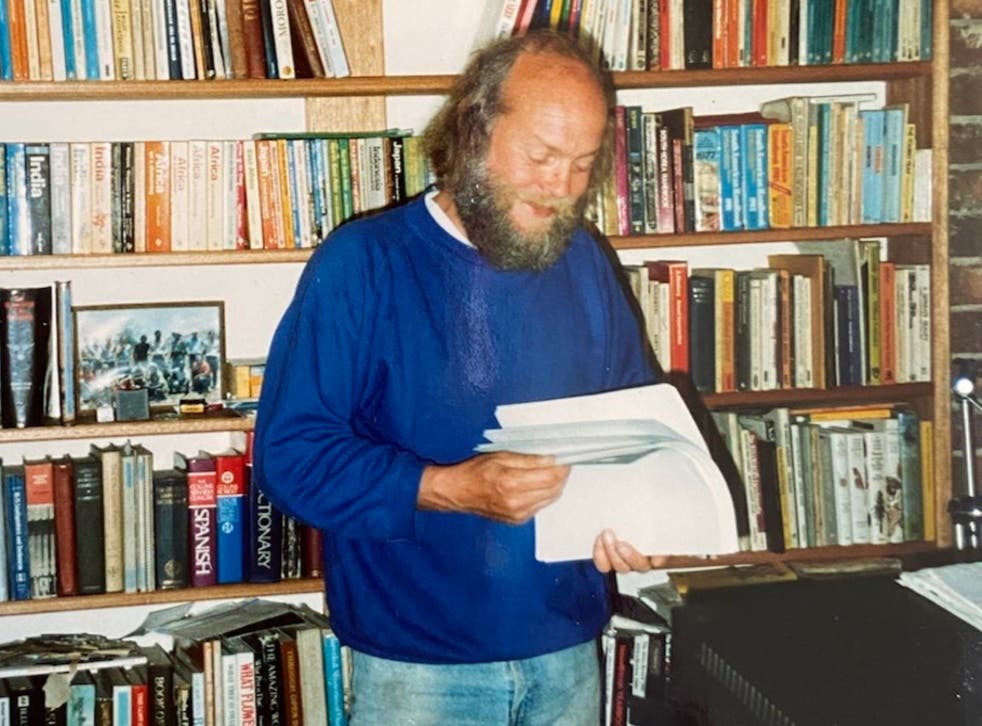 Geoff Crowther: The life of 'the patron saint of travellers in the third world'
The bearded Yorkshireman who died this month was a guidebook giant
You may not know his name, but if you are a traveller you may well have taken his advice: Geoff Crowther, who died this month aged 78, was a pioneering guidebook writer for Lonely Planet. His former colleague, Richard Everist, called him: "A true explorer and adventurer who went beyond boundaries and borders."
Geoff died exactly 50 years after what was arguably the very first backpackers' travel book was published: The Hitchhiker's Guide to Europe, which inspired a million journeys and a galactic genre of its own. The bearded Yorkshireman began his travel-writing career in Notting Hill, west London, a year later, in 1972. He started working for the alternative publishing house BIT on a guide called Overland to India and Australia. 
Authors often celebrate when a manuscript is finally finished. Geoff took it to the next level: "I spent the next 48 hours drinking wine and smoking mushrooms non-stop while we churned out a thousand copies of the new guide on the second-hand manually operated duplicating machine."
The guidebook industry was in its infancy, and experience was at a premium. So Tony and Maureen Wheeler, founders of Lonely Planet, hired Geoff.
His work helped to define the guidebook industry. He researched and wrote Lonely Planet's Africa on the cheap and South America on a shoestring – and drew many of the maps by hand.
"Always works of art," recalls Richard Everist. "Sometimes possibly part-fantasy." (In the absence of anything more official, in 1991 the Ethiopian People's Revolutionary Democratic Front relied on his cartography when driving ex-Soviet tanks into Addis Ababa to overthrow the despised government of Mengistu.)
In 1980, the Wheelers and Geoff teamed up on a new guide to India. He was to research the south while they explored the north of the country for the first comprehensive backpackers' guide to the intense beauty and humanity of India.
Tony later recalled: "Geoff moved in with us in Melbourne to put it together. Nearly all of the maps in that first edition were hand-drawn by Geoff. It was a crazy project; we felt like we were putting together an encyclopedia of India rather than a guidebook – and at times only Geoff's beer-fuelled mapping mania kept it going."
As independent travel expanded, fuelled by the surge in wide-bodied aircraft with lots of empty seats to fill, so did the demand for guidebooks.
Along the way Geoff incurred the wrath of Malawi's leader, Dr Hastings Banda, to such an extent that Lonely Planet's Africa guide was banned from the country. When stories emerged of frontier guards confiscating copies, backpackers took elaborate precautions to protect their travel "Bible". Tony Wheeler relates that he was "once shown a copy of a hardback school text History of Rhodesia which, when flipped open, revealed itself as a rebound copy of Africa on a shoestring".
Geoff acquired a personal following, and was described by the New York Times as "the patron saint of travellers in the third world".
David Else, who would go on to become another formidable guidebook author, said: "I first encountered Geoff in the early 1980s when hitchhiking through Africa with a copy of Africa on the cheap.
"Amazingly, Geoff had travelled the entire continent and written the entire book alone. Impressed, I wrote a letter to Lonely Planet with some updated information and was even more impressed got a hand-written reply from Geoff himself.
"Geoff and I kept in touch, and met up a few times in Kenya in the late 1980s – mostly after dark, and mostly in disreputable bars, thanks to Geoff's prodigious taste for the wilder side of Nairobi nightlife.
"Life turned full circle in 2003, more than 20 years after my first encounter with Geoff's landmark work, when I became the coordinating author of Africa on a shoestring, by this time co-written with a team of 20 writers.
"The days of Geoff Crowther's remarkable single-handed endeavours were long gone but they'll forever remain a part of Lonely Planet history."
Guidebook research and making money are traditionally incompatible: most authors put up with a pittance so long as it allows them to keep travelling. But for Geoff it was different. He had signed a royalties deal with Lonely Planet: as sales of the India guide soared, so did his earnings.
Rather like a pop artiste with a one-hit wonder, he had little need to continue working. But he carried on, with the cash helping to fuel his increasing appetite for alcohol and drugs.
Geoff leaves his wife, Hyung Poon and son, Ashley – who wrote a heartfelt eulogy that reveals some painful chapters in their relationship.
"You were off on what seemed like never-ending journeys across the planet," Ashley writes. "It was Mum and I fending for ourselves.
"From the little time you spent at home in Australia you were buried in writing, books, music, drugs, and alcohol. I guess it's true what they say about geniuses – they can't stop themselves."
It ends: "Today is the day you when you finally reached your destination. I will feel eternally grateful that your silence shattered my anger and replaced it with forgiveness and love. I'll take those next steps tomorrow for you into the unknown. Travel safe, old man."
Join our new commenting forum
Join thought-provoking conversations, follow other Independent readers and see their replies