Overcrowded trains: Just what is it like to travel on Britain's busiest commuter trains?
Simon Calder joins the crowds on Britain's two most heavily loaded commuter trains – where for every three people sat down, two more are standing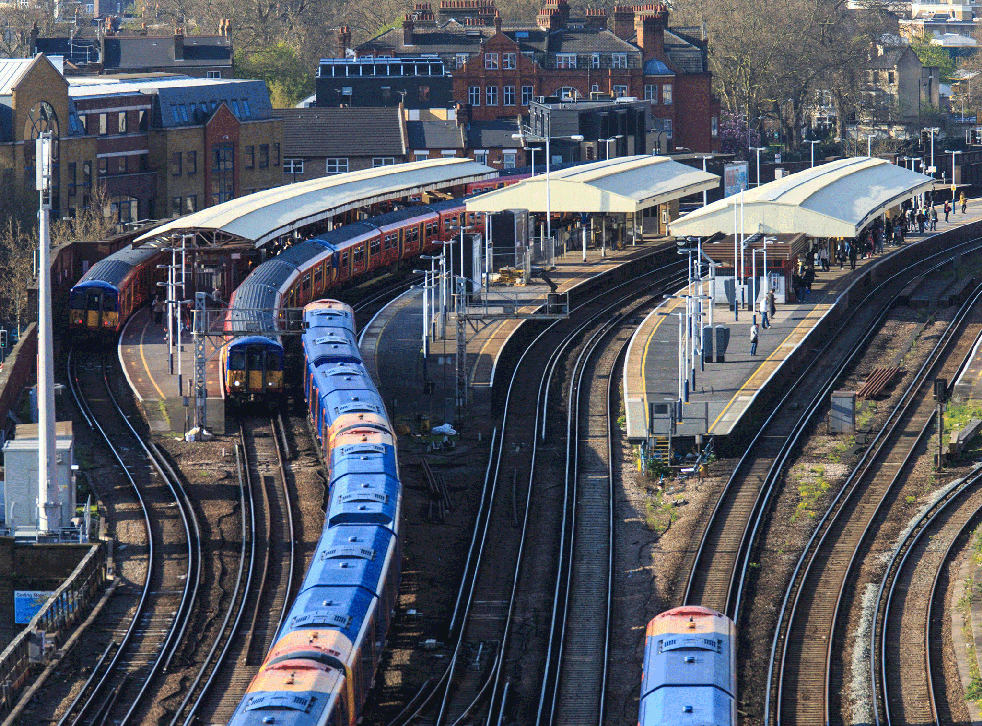 Britain's two most heavily loaded commuter trains depart each weekday morning within half-an-hour of each other from Woking in Surrey, destination London Waterloo. The 7.02am and 7.32am call at five more stations in Surrey, but really start to bulge at Surbiton in south-west London suburban station - with close to 1,200 passengers aboard trains fitted with only 738 seats.
In the latest Department for Transport snapshot of Britain's most overcrowded trains, the pair carry more passengers than any others in the UK. A random count last autumn showed the 7.02 with 1,169 and the 7.32 with 11 more occupants. For every three passengers with seats, two more are standing.
Some of those 1,180 passengers on the later train will have paid over £3,000 for an annual season ticket between Woking and Waterloo - itself the busiest station in Europe.
To test the trains, I travelled on the 7.02 from Woking to Surbiton, where I left the train, waited half-an-hour and talked to commuters then elbowed my way on to the train that had left half-an-hour later - Britain's busiest.
At Woking, barely a handful of passengers filled the 12 carriages. Most commuters are heading for London, and there are plenty of faster alternatives (with free wi-fi, too). A member of South West Trains staff who did not wish to be identified, warned: "By the time it gets to Walton it's packed, and by Surbiton it's impossible."
Between West Byfleet and Weybridge the M25 passed overhead and the first of many faster trains overtook the 7.02. There were still plenty of empty seats in the middle of the train, with experienced commuters packing the seats at the front for a faster getaway at Waterloo. At Hersham, passengers had arranged themselves in an orderly fashion along the whole length of the platform, apart from the commuters who sprinted through the gates half-a-minute before the train left. There was still room to open a copy of The Independent or gaze out of the window at the mist rising from the meadows.
By Esher, where the station adjoins Sandown Park Racecourse, commuters competed for the last few seats while a sign warned "Non-folding cycles are not carried on this service".
According to the manager of the hyperactive Caffe Nero concession between platforms 1 and 2 at Surbiton station, the four cheerful staff are busy "from six till 10 every morning," dispensing £1.50 espressos.
On board the most overloaded train into London, City worker Celia Boyle had enjoyed a seat from her station Walton-on-Thames: "I was quick," she said. Trains from Surrey have become progressively more crowded, she said, because of the cost of housing in London: "More and more people are buying property further out."
The Department for Transport holds out little hope for improvement. "The train is at maximum length," the DfT said in a statement. "These services are already formed of 12 cars - the longest possible train on this route - as are the services immediately before and after. Further increases in capacity would require infrastructure upgrades and investment.
"South West Trains is continuing to increase capacity across the network where possible, including introducing new carriages on the suburban network."
The DfT's "snapshot" shows two First Transpennine trains between Preston and Lancashire as the most densely packed; they are formed of only four coaches. A pair of suburban services into London Paddington and another pair northbound from East Croydon to central London are also overcrowded, but more carriages would alleviate the problem. In contrast, the two morning trains from Woking to Waterloo each carry more than three fully loaded British Airways 747s, and cannot be extended.
Martin Abrams, Public Transport Campaigner, Campaign for Better Transport said: "Overcrowding is becoming unbearable for rail users across the UK. Almost a quarter of passengers are now forced to stand on the busiest commuter routes and people will be asking, why the quality of their service and passenger experience is declining when fares have increased so steeply over the last five years?"
The train paused, unwontedly, outside New Malden while waiting for clearance on to the fast line. It sped through the station that handles more trains than any other in Britain, Clapham Junction, then stopped again outside Waterloo. But thanks to schedule padding - adding extra minutes in case of delays - it arrived right on time.
On the crowded platform, Celia Boyle said she could see only one way to reduce the crush: "Work from home."
Register for free to continue reading
Registration is a free and easy way to support our truly independent journalism
By registering, you will also enjoy limited access to Premium articles, exclusive newsletters, commenting, and virtual events with our leading journalists
Already have an account? sign in
Register for free to continue reading
Registration is a free and easy way to support our truly independent journalism
By registering, you will also enjoy limited access to Premium articles, exclusive newsletters, commenting, and virtual events with our leading journalists
Already have an account? sign in
Join our new commenting forum
Join thought-provoking conversations, follow other Independent readers and see their replies