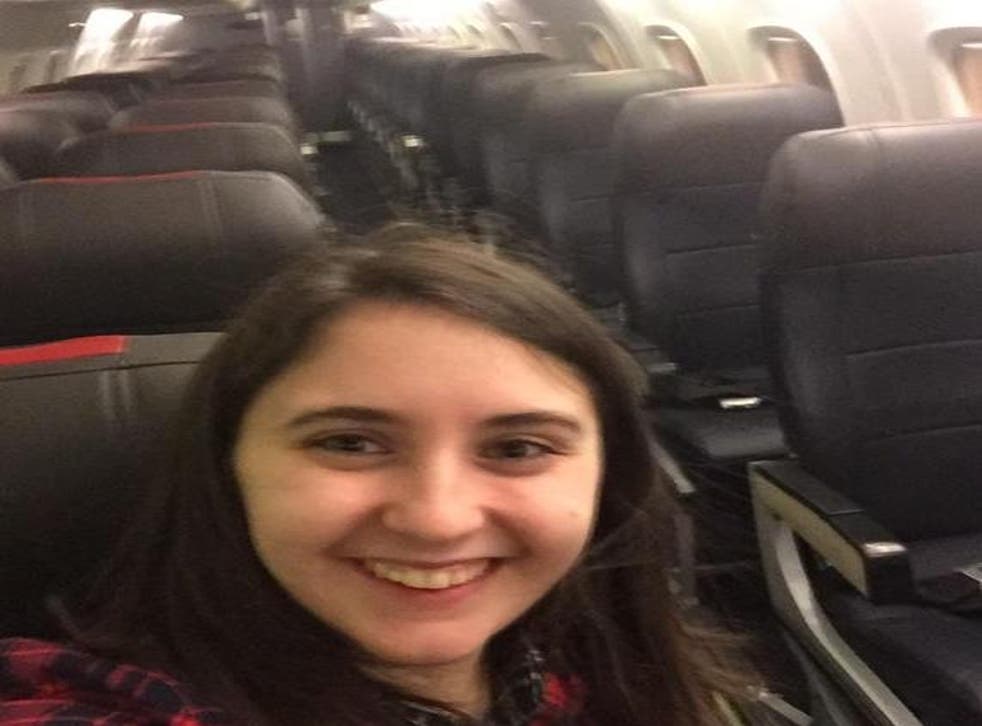 Passenger gets private jet experience with entire plane to herself after booking error
One lucky traveller discovered she was the only passenger on board
Helen Coffey
Thursday 04 January 2018 12:57 Comments
A woman experienced the life of an A-lister for free when her flight was cancelled and she was accidentally rebooked onto a plane reserved for transporting airline crew.
Identified only as Beth, the woman posted a selfie of the empty aircraft and uploaded it to Reddit on Tuesday 2 January with the caption: "I got a whole plane to myself when I was accidentally booked on a flight just meant for moving crew."
Beth was due to fly from Rochester, New York to Ronald Reagan International Airport in Washington, D.C., at around 5pm when the flight was cancelled.
She said: "When my flight was cancelled about eight hours earlier a confused agent gave me and half the passengers a seat for the plane in the pic before another agent realized everyone could go on an earlier flight.
"They made an announcement on the speaker but I'd already left to go back to my parent's house nearby to wait for the next few hours. I was never contacted about the flight change."
She didn't realise she'd be getting the private jet experience until she arrived back at the airport for the 1am flight.
"I realized something was wrong when I was the only one in the waiting area 45 minutes before take off," Beth wrote on Reddit.
"One of the airport agents came over while I was waiting and asked if that was the flight I was waiting for then said, 'I knew this would happen.'"
There were just three other people on board – two in the cockpit and one member of cabin crew.
Pilot films A380 take-off from Heathrow
As the flight was only an hour long, Beth said she mainly used the time to sleep and didn't ask for any food or drink.
"It was a short flight so I didn't ask for anything," she said. "Maybe I would've gotten special treatment if I tried."
The plane was too small for first-class, with just a row of two seats down one side and a row of single seats down the other.
The crew weren't too happy about the situation according to Beth: "It seems the airline forced them to take me because of a mistake made by their ticketing agent. They didn't seem thrilled about it.
"Both captains and the flight attendant said they've never seen this happen before."
According to Beth the flight attendant still did the safety demonstration, albeit at "double the speed of the sound recording giving instructions," and did offer refreshments.
Register for free to continue reading
Registration is a free and easy way to support our truly independent journalism
By registering, you will also enjoy limited access to Premium articles, exclusive newsletters, commenting, and virtual events with our leading journalists
Already have an account? sign in
Join our new commenting forum
Join thought-provoking conversations, follow other Independent readers and see their replies