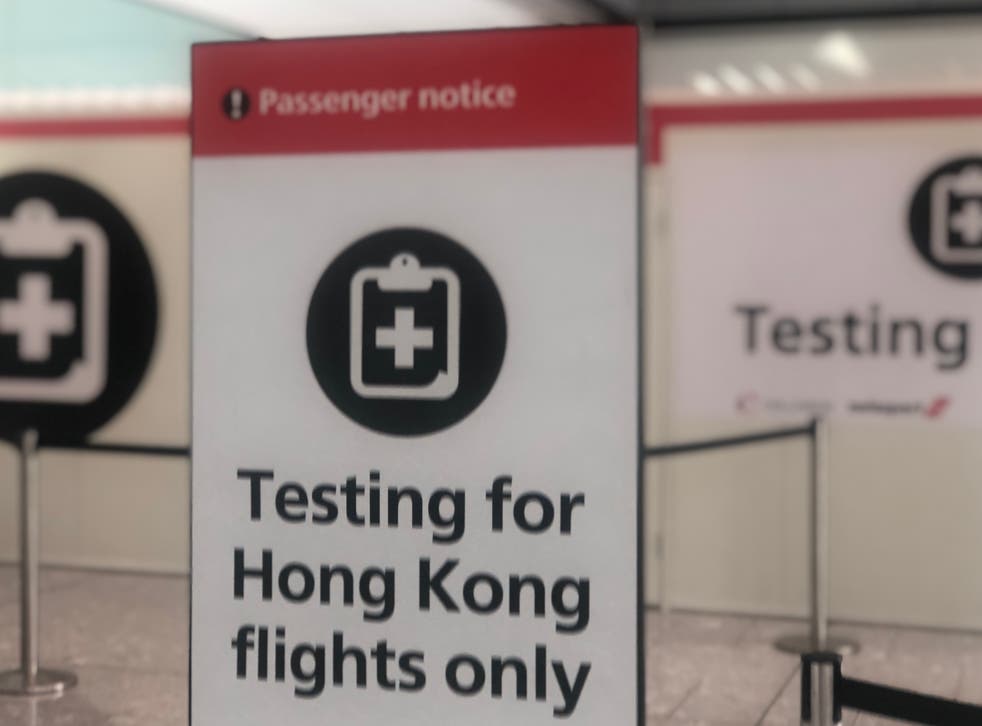 I need a Covid test to travel – how do I book one?
As Covid travel rules proliferate, the essential questions and answers
Simon Calder
Travel Correspondent
Saturday 14 November 2020 08:56 Comments
A growing number of countries are requiring negative Covid-19 test results from incoming travellers.
Spain is the latest country to demand pre-travel testing from visitors; starting on 23 November, the most popular nation for British holidaymakers will make a PCR test taken in the 72 hours prior to arrival a prerequisite for entry.
The government's Global Travel Taskforce is set to announce "test-to-release" for arrivals to the UK, allowing the two-week quarantine to be halved for destinations not on the travel corridors list if they test negative.
But there is widespread confusion and concern about what tests are required, how long they take, and why they may appear to cost much more than those in other countries.
Here are the key questions and answers.
What Covid-19 tests are there?
Tests for coronavirus look for either the presence of the virus in the body right now, or for a previous response to the virus by your immune system. When more is known about Covid-19, in particular on immunity, an antibody test showing that you have previously been infected may be relevant.
But for now, all the pre-departure testing requirements focus on the present rather than the past.
What is a Covid-19 PCR test
The gold standard, and the standard NHS test, is the PCR (polymerase chain reaction) test, in which matter from the back of the throat or the top of the nostrils is swabbed. It is also known as an RNA, genetic, molecular, viral detection or swab test, though these terms can be applied to non-PCR tests.
This sample is then processed to try to detect genetic material in the virus called RNA, which is evidence of the presence of Covid-19. It is a complex and time-consuming process conducted in laboratories, where a solution known as a reagent is added to the sample and the reaction is carried out in a series of alternating temperature steps using a thermal cycler. The idea is to create billions of copies of the RNA to make them detectable.
The "science" part alone typically takes 12 hours, and since samples must be transported to the lab and painstakingly processed, getting a result can take much longer.
What is a LAMP test for coronavirus?
"LAMP" (loop-mediated isothermal amplification) tests use similar swabs, but do not require that expensive and time-devouring thermal cycler. They can be processed on site – which is why Heathrow airport, in conjunction with Swissport and Collinson, has chosen the technique for its testing centres in Terminal 2 and Terminal 5.
The drawback: it is not as accurate as PCR. While proponents say that false positives can be largely eliminated with a second LAMP test, what host countries are concerned about are false negatives – ie travellers turning up who are carrying coronavirus even though they have tested negative.
So PCR tests are the norm. They have been used throughout the coronavirus pandemic by the Channel Island of Jersey, which has been providing them free for arrivals.
Brexit briefing: How long until the end of the transition period?
When do I have to get the test?
That all depends where you are going. Each country stipulates its own timeframe, usually in the number of hours that are allowed to elapse between the time of the test and your departure to, or arrival at, the destination.
Typically, you are expected to turn up with a negative PCR test taken within 72 hours of arrival – as required, among others, by Spain and Barbados. Given the length of a flight to the Caribbean and the airport palaver, that reduces the window for Barbados to around 60 hours before departure.
Can I get a test through the NHS?
No. Tests provided free for the public who are concerned that they may be infected must not be used for the purposes of travel. Conversely, if you fear you may have contracted coronavirus, you should seek an NHS test rather than one that is offered to travellers who are presumed to be negative.
So how do I find one?
If family or friends can recommend a contact, then go for that. You could ask a long-established travel health provider, such as the Fleet Street Clinic in central London, Nomad (with locations in London, Bristol, Cardiff and Manchester) and Masta (which has a presence in dozens of pharmacies).
In addition, there are many other established private health care providers who have set up professional Covid-19 testing programmes. During the research for this article, The Independent has gained insights from Midland Health in Birmingham as well as CityDoc, Doctap, Harley Street Health Centre and London General Practice in the capital.
An established, doctor-led practice is likely to be both more professional and more expensive than a new venture that is leading on price. They use the highest grade of medical test available with the best possible accuracy ratings.
They are also aware of the certification the destination requires. The best analogy I have is with passport photographs. Each country has its own stipulation for size and other variables. A professional testing organisation, like a passport photo specialist, will have clear ideas of what is required.
Some countries insist on tests conducted by a lab approved by Ukas, the UK's national accreditation body.
It's also worth checking reviews: if a provider is consistently returning results late, customers are likely to vent online.
What does the test involve?
Many people find the swab procedure uncomfortable and unpleasant, though it is over swiftly. The throat swab can make you want to gag, while the nasal swab feels intrusive and alarming. All of which, believe it or not, is desirable. If a health professional conducts the swab, they are highly likely to target material that may contain RNA.
Self-testing kits are available – but there is concern that untrained individuals or their partners may resile from the deep probing that is required.
Nomad has an interesting variant on self-testing, in which a medical professional makes a video call to talk the subject through the test. Doctap has another, through a network of pharmacies that dispense its test kits: the patient can pay an extra £15 to have a healthcare professional take the swab test for them.
How much will it cost?
More than you would like, but as it opens up travel opportunities, tens of thousands of people believe it to be worthwhile.
Going along to a clinic and getting a result within, say, 48 hours, is likely to cost £150-£200 or more. Clinics offer a suite of options, with some bundling in certification and a letter from a doctor confirming your fitness to travel.
Self-test kits posted or sent by courier to your home or picked up from a pharmacy are cheaper – typically £125-£150 – but come with a number of potential drawbacks. First, the chance of failing to conduct the test; next, the time expended on the delivery process cuts into the timeframe allowed.
A clinic is also likely to have close relations with its chosen laboratory, which can help when time is of the essence.
Do any countries offer it on arrival?
While pre-departure testing has merit, some countries are content with a test on arrival – and may even provide it free. From the traveller's perspective, this is generally an easier prospect – so long as the test proves negative.
The Foreign Office advice for your destination should include such information.
Dubai offers PCR swab tests on arrival for passengers from the UK and Germany. "If you take a test at the airport, you must remain in your hotel or residence until you receive the test result," says Emirates.
Those travelling to Italy can opt to take a free test on arrival instead of getting one beforehand. Travellers will have to self-isolate at their hotel until they get their result (about 24 hours). Some airports offer rapid testing, with results available in an hour – passengers will be expected to wait at the airport until their result is ready.
Smaller airports may not offer testing facilities; arrivals must arrange to be tested elsewhere within 48 hours of entering Italy.
What if I don't get the result in time?
You run the risk of being denied boarding the flight to your destination, and possibly losing the cost of the trip. Before committing, it is therefore important to talk to the clinic about the timescale and what provisions are in place to deliver the results in good time.
Some offer a "money-back guarantee" – but only for the cost of the test. Getting a refund for a £150 test is little consolation if you have just lost a £1,000 holiday.
But at a time when lab resources in the UK are working at full stretch, and – in many – NHS tests have to take priority, travellers will have to accept an element of risk on timing for as long as the PCR test remains the required standard. The risk is uninsurable.
Marine sanctuary three times the size of the UK created in the Atlantic
I have friends in Italy who pay only €20 for a test and get results within an hour - why do tests take so long and cost so much in the UK?
They are almost certainly getting a different kind of test with a lower success rate. The costs of using a laboratory are high, with the price of reagent rising sharply worldwide. Extending staffing to meet deadlines is also expensive.
When I booked my trip a test wasn't necessary. Can I get my holiday company or travel insurer to pay for it?
No. It is always the traveller's responsibility to meet whatever stipulations the destination puts in place.
The UK government has promised 'test and release' to halve quarantine. What testing will be required?
This much-delayed proposal from the Global Travel Taskforce will require private testing. The idea will be that after five or more days of self-isolation, arrivals to the UK will be able to be tested for coronavirus and, if negative, reenter the community.
When will tests get cheaper and less onerous?
From the travel industry's perspective, that is the billion-dollar question. A wide range of less intrusive, complex and expensive technologies are available, generally involving saliva or pinprick blood tests.
The test used for mass testing in Liverpool is known as "lateral flow". This is a swab test that gives results in less than an hour.
Some proponents claim that these alternatives are almost as reliable as PCR tests. Tourism-dependent nations may lower the bar in order to stimulate business and accept less rigorous tests.
Ideally, a quick airport-based test prior to departure will deliver some confidence and pick up most cases; United Airlines is trialling exactly that idea on New York-London flights this month.
The managing director of one leading private clinic told The Independent: "We predict that over time, some airlines and destinations might move towards rapid antigen testing, similar to what is being trialled in Liverpool."
But while the world waits for international agreement on a test-and-travel protocol, the traveller faces high costs and hassle in order to see at least some of the world.
Register for free to continue reading
Registration is a free and easy way to support our truly independent journalism
By registering, you will also enjoy limited access to Premium articles, exclusive newsletters, commenting, and virtual events with our leading journalists
Already have an account? sign in
Join our new commenting forum
Join thought-provoking conversations, follow other Independent readers and see their replies