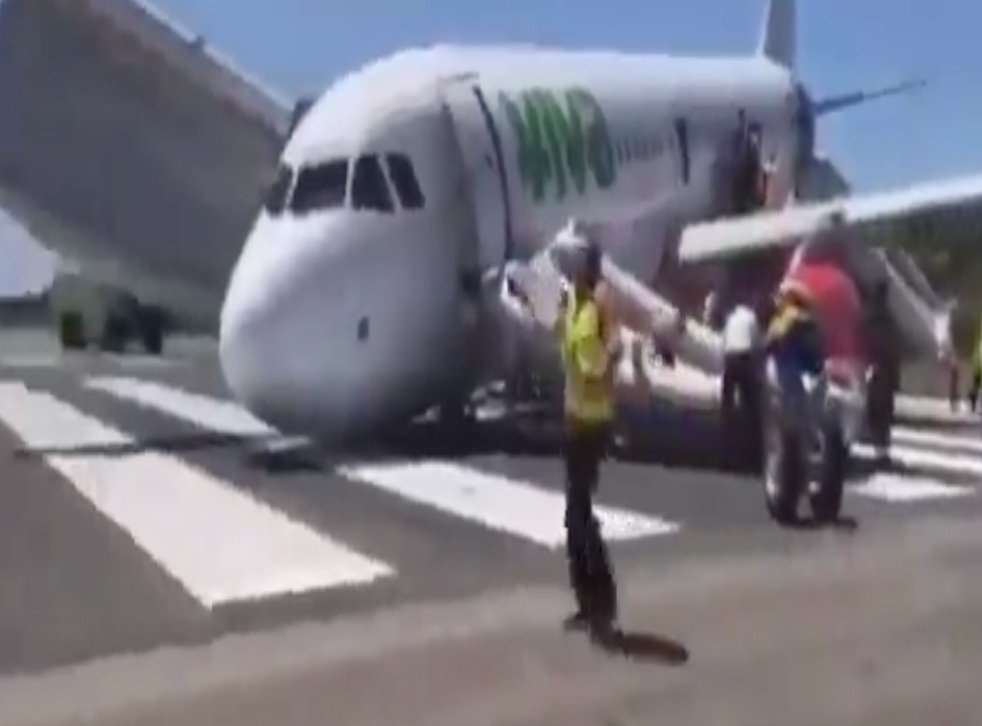 Plane's front landing gear collapses before takeoff in Mexico
Images show the plane's nose resting on the runway
A plane carrying 127 people had to evacuate on the runway when the landing gear collapsed right before take-off.
The incident occurred on Viva Aerobus flight VIV 4343, which was due to fly between Puerto Vallarta and Monterrey in Mexico on 18 March.
As the Airbus A320 jet was lining up to takeoff from Puerto Vallarta airport, on Mexico's Pacific coast, the plane's nose landing gear collapsed.
Images from the incident shared on social media show the plane nose-down on the tarmac.
In a statement, the Mexican airline said that all 127 passengers and flight crew were unhurt and safely disembarked the aircraft.
Read more:
Video from the incident shows passengers exiting the aircraft onto the runway via the emergency inflatable slides.
Viva Aerobus said it was finding alternative transport to Monterrey for the affected passengers, adding that its engineering teams would look into the aircraft.
It also reaffirmed its "commitment to safety on each of our flights".
Register for free to continue reading
Registration is a free and easy way to support our truly independent journalism
By registering, you will also enjoy limited access to Premium articles, exclusive newsletters, commenting, and virtual events with our leading journalists
Already have an account? sign in
Register for free to continue reading
Registration is a free and easy way to support our truly independent journalism
By registering, you will also enjoy limited access to Premium articles, exclusive newsletters, commenting, and virtual events with our leading journalists
Already have an account? sign in
Join our new commenting forum
Join thought-provoking conversations, follow other Independent readers and see their replies