The Independent's journalism is supported by our readers. When you purchase through links on our site, we may earn commission.
How bad are private jets for the environment?
With the climate conversation becoming ever more impassioned, we look at the impact of flying in style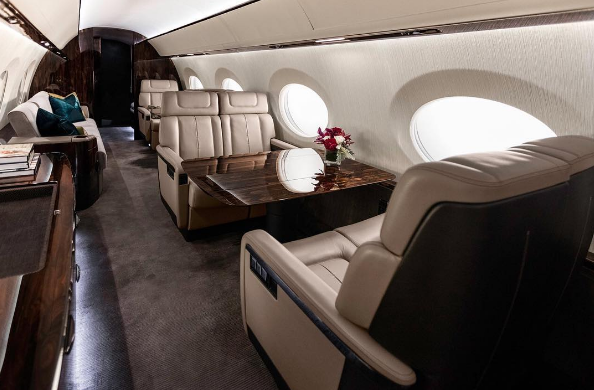 With the conversation around climate change hotting up in recent months, more attention than ever is being paid to the way we travel.
Prince Harry and Meghan Markle have come under fire for taking four trips by private jet in 11 days – with celebrities quick to step forward and defend the royal couple – while teenage activist Greta Thunberg's decision to reach America via yacht to reduce her carbon footprint has drawn praise and censure from those on both sides of the debate.
But is travelling by private jet really as bad as we think it is in terms of impacting on the environment? And if so, why? Here's everything you need to know.
Is travelling by private jet bad for the environment?
The reason travelling by private jet isn't considered particularly green is because, although the amount of fuel burnt and therefore CO2 emitted is a lot lower than a commercial jet, generally speaking there will be far fewer people on board. Private flights are therefore considerably less efficient, and the personal carbon footprint of passengers who choose to travel this way is much higher.
Greta Thunberg inspires climate activists everywhere: In pictures
Show all 12
Some estimates say private jets produce 10 times the amount of carbon per passenger, although calculations clearly vary depending on the make and model of aircraft being compared, the length of journey and the number of passengers per flight.
According to the US Energy Information Administration, jet fuel produces 9.57kg of CO2 per gallon burnt. Let's take an example flight – a Boeing 737, one of the world's most popular commercial jets, will burn somewhere in the region of 750 gallons an hour. Over the course of a three-hour flight, it will therefore burn 2,250 gallons of fuel, producing 21,533kg of CO2. Depending on the model, the plane can hold around 200 passengers, making the amount of CO2 produced per passenger around 108kg if we assume a fairly full flight.
Take the same idea, but imagine we're going by private jet. The Cessna Citation XLS is one of the most popular models on the market. It burns around 210 gallons of fuel per hour, producing around 6,030kg of CO2 in a three-hour flight. Typically the jet is configured to seat between six and eight passengers; if there were seven on board, the average amount of CO2 per person would be 860kg.
It's obviously not an exact science, and in many cases private jets will not be flying at capacity – unlike commercial flights there's not the same incentive to up the load factor – but even so, this rough calculation shows that flying by private jet is more than eight times less efficient if calculated per passenger.
Despite this, the private aviation industry has blossomed in recent years, and has some of the best tax breaks going. In Europe, businesses and individuals can avoid paying VAT on imported private jets by routing purchases through the Isle of Man, cutting tax bills by £790m for imports of at least 200 aircraft into the EU since 2011, according to The Economist.
In the US, Donald Trump's tax reform means individuals and companies can write off 100 per cent of the cost of a new or used private jet against their federal taxes.
These reforms have helped drive the cost of flying by private jet down, enabling more jet-sharing websites and apps to pop up and increasingly attracting people who would have previously booked a business or first-class seat on a commercial flight.
Is it the worst mode of transport for carbon emissions?
It's not the worst for emissions – as we saw from the example, the overall emissions from flying on a private jet are lower than those produced by a commercial jet – but it doesn't do well on the efficiency equation, which compares how far one passenger can be moved with a gallon of fuel by dividing the energy needed by the passenger capacity.
Is there any way to make flying by private jet greener?
As passengers become more climate aware, some private jet companies are attempting to step up to the plate.
Victor, a private jet charter company, recently announced plans to "define a new sustainable future for private aviation".
The company partnered with leading industry environmental projects to launch a carbon reduction programme called "beyond offset" that guarantees to offset passengers' carbon footprint on every flight by no less than 200 per cent – there is no opt out. The idea is for the net effect to go beyond carbon neutral and become carbon negative.
Offsetting means calculating emissions per flight and then purchasing equivalent "credits" from projects that prevent or remove the emissions of an equivalent amount of greenhouse gases elsewhere.
Support free-thinking journalism and attend Independent events
What's the greenest way to fly?
Unfortunately for comfort-seekers, travelling economy class is undoubtedly the most efficient way to fly. Smaller seats and less leg room mean more passengers are packed in – therefore the CO2 per passenger equation is lower. Flying with airlines that have a high load factor – as many bums on seats as possible per flight – also increases efficiency.
What the least damaging mode of transport?
This isn't as simple a calculation as you might think. It's not just about the amount of carbon a journey produces, but the efficiency (number of passengers) and also what we are responsible for – if the journey is something that would happen anyway, passengers are only responsible for the extra fuel that's burnt due to their added weight.
For example, hitchhiking is one of the most efficient ways of travelling – the car would have been driven all that way regardless – as is going by cargo ship. This can seem controversial as the shipping industry produces a huge amount of carbon, but again, the passenger is not responsible as the journey would take place whether they were there or not. Purchasing a place onboard isn't creating the necessity and market for the journey, the way it does with booking flights. If no-one opted to travel on the ship, it would still make the trip. And clearly, walking and cycling are about as low as you can get on the emissions scale.
Join our commenting forum
Join thought-provoking conversations, follow other Independent readers and see their replies