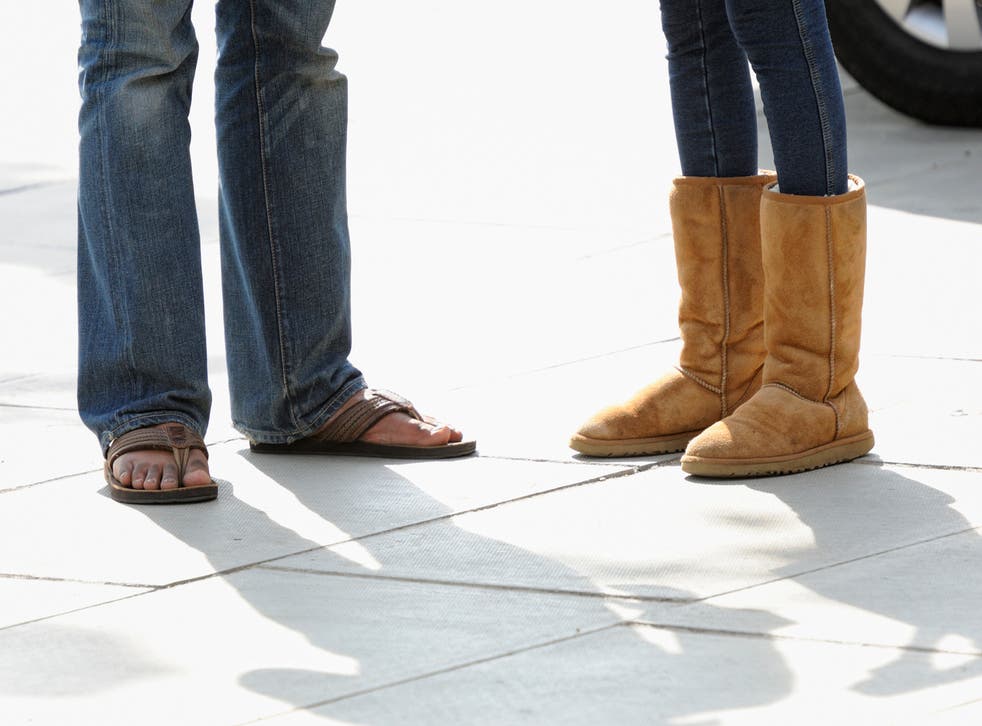 Why airlines shouldn't have dress codes for first-class airport lounges
The Man Who Pays His Way: Should airlines make a fuss about what passengers wear?
Simon Calder
Travel Correspondent
Friday 15 December 2017 15:00 Comments
Outside a beachside bar on the island of Jersey, I met a friendly chap wearing a T-shirt the same colour as easyJet's signature shade of orange. The message, though, was not one you would expect to see on a budget flight. As he sipped his beer, his attire instructed: "Cover me in chocolate and throw me to the lesbians."
A little earlier, on a Great Western Railway train to Exeter, I encountered another amicable gentleman who also had a beer in his hand and an interesting T-shirt slogan: "For my next trick, I will need a volunteer and a condom."
Each of us has our own calibration of offence, and what constitutes acceptable apparel. Neither message, in my opinion, passes the 'eight-year-old test': would you be comfortable explaining the meaning to a bright young child? Nor does the hen party T-shirt slogan "Bitches on Tour", which caused a group of women to be thrown off a Jet2 flight from East Midlands to Palma this summer.
These garments, though, are at the extreme end of the spectrum – and easily remedied by wearing the T-shirt inside out during the journey until you get to the nightclub. (I know I do.) On any train, bus or plane, you will encounter a colourful range of attire. Not all of it may coincide with your personal taste, but who cares?
Evidently, some premium passengers on Qantas.
This week, Joanne Catherall from Sheffield stumbled up another hurdle that stands between the traveller and the destination: the fashion police.
Ms Catherall is a vocalist in Yorkshire's finest electropop combo, Human League. The band are on tour in Australia, and on Thursday they were flying from Melbourne to Sydney. Her status (as a frequent flyer, rather than a pop star) entitled her to use the Qantas business class lounge. But although she passed the ticket, identity and security checks, she failed to satisfy the style rules.
Ugg boots, it seems, are not deemed acceptable footwear for the inner sanctum of calm and tranquility that constitutes the Australian airline's lounge.
These sheepskin slip-ons are Australian icons on a par with the koala, the kangaroo and Kylie Minogue.
But provenance is no guarantee of acceptability when it comes to the high standards of the Melbourne lounge. Ms Catherall didn't quite have the Uggs pulled from under her feet, but she was told that if she wanted to cross the threshold she would need to buy some more shoes. Qantas staff evidently invoked the second verse of "Don't you want me", the 1981 Human League hit: "It's me who put you where you are now/And I can put you back down too."
Do other airlines have such strict rules on lounge access? "We don't impose a dress code," a British Airways spokeswoman told me on Friday. "Except today," she added sternly, "when everyone has to wear a Christmas jumper."
In United Airlines lounges, "barking, growling or biting" is banned. (That rule is specifically for service animals, but I imagine it applies equally to humans.)
Qantas explains its policy thus: "We've always had smart-casual dress standards for our lounges, which are similar for those in place for most clubs and restaurants." So attire regarded as "too casual or inappropriate" is out, and Ugg boots are specifically banned. The "just this once?" plea won't work, either: "Over the past couple of years we have had clear feedback from lounge members that they wanted these existing guidelines to be applied more rigorously," the airline says.
Who are these high-flyers who demand strict enforcement of some rather silly rules? The average Qantas business-class passenger should be celebrating the global access that Australia's airline provides, the diversity of fellow passengers and even the variety of their footwear. And Qantas should not indulge intolerance.
Register for free to continue reading
Registration is a free and easy way to support our truly independent journalism
By registering, you will also enjoy limited access to Premium articles, exclusive newsletters, commenting, and virtual events with our leading journalists
Already have an account? sign in
Join our new commenting forum
Join thought-provoking conversations, follow other Independent readers and see their replies