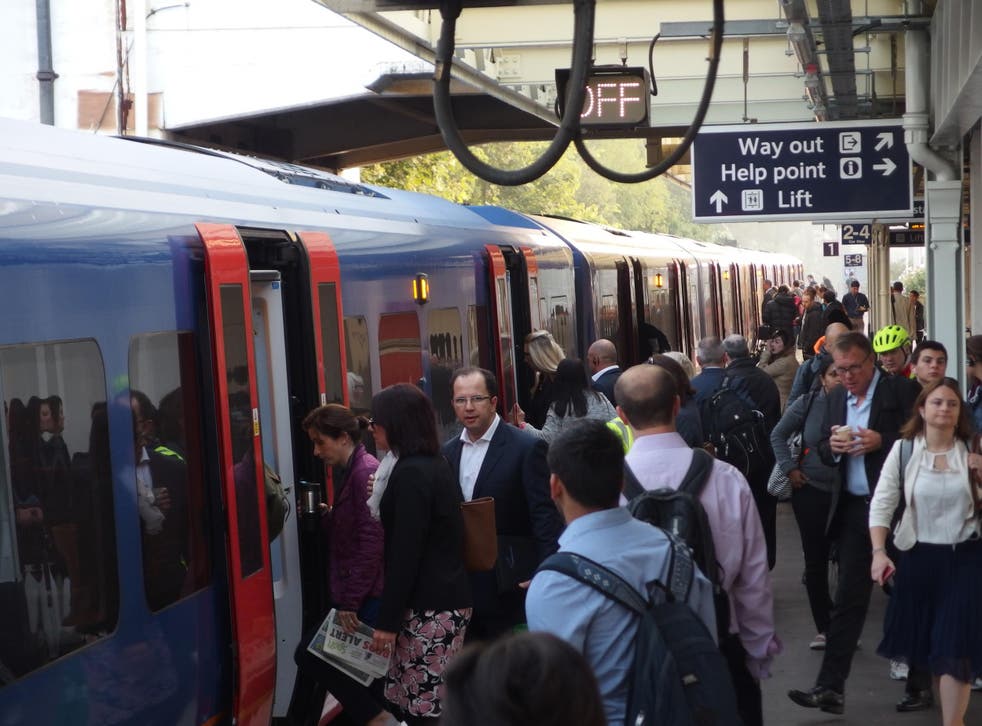 How to make commuters happier: put up train fares
Every year that passes without reform, life for rail passengers will worsen
Simon Calder
Tuesday 15 August 2017 19:30 Comments
Normally hardly anyone notices when the 5.40am stopping train to Guildford leaves London Waterloo. Today they did, though: a low-speed collision with an engineering vehicle derailed the service.
Together with a points failure at Vauxhall (the first station outside Waterloo), it wrecked the travel plans of around 200,000 passengers who were intending to use Britain's busiest station. And the fiasco made it even tougher for the train operators and the Government to bury bad news: that increases in regulated rail fares will outpace wage rises next year.
The privilege of making the one-hour journey (on a good day) from Winchester to Waterloo will break the £5,000-a-year barrier from January. And, as long-suffering commuters will tell you, that doesn't even guarantee a seat. How dare the train firms put prices up even faster than wages?
Because the Department for Transport, which actually prescribes what train companies must charge for about half the tickets they sell, has a thankless annual task. It must balance the interests of passengers with those of the majority of the population who never or very rarely take a train, yet contribute through taxes almost one-third of keeping Britain's railways moving.
The DfT must try to match an inadequate supply of seats with rising demand, particular among commuters to London. And yet this Government, like its predecessors, regards the obvious solution as politically suicidal: use pricing to smooth demand by raising some fares sharply and cutting others. So make do and mend remains the order of the day.
Those engineering works at Waterloo will extend platforms 1 to 10 to allow them to take longer trains, boosting capacity. A welcome step for improving the lot of the long-suffering commuter, but avoiding the real issue: fares for overcrowded trains need to increase much faster than inflation, with price cuts to tempt travellers onto less busy services.
While commuters were queuing up to provide "vox pops" expressing outrage at paying too much for overcrowded trains, I heard no one stating the inconvenient truth that those two complaints are mutually exclusive. The growth in demand suggests that season tickets are too cheap.
If commuters really were paying too much, the trains would be half empty – as many peak-hour long-distance services are. They leave Paddington, Euston and King's Cross with spare capacity because of the absurd "cliff-edge" fares that steer rational travellers to the first available off-peak trains – which are then ludicrously crowded.
Anyone who wants to avoid the hordes aboard the 7pm from London to Manchester, the first evening off-peak train on this key route, must effectively pay four times as much to travel on the 6.40pm.
Off-peak return fares and conditions need to be thrown off the cliff to allow prices to reflect demand.
An overhaul of season-ticket fares would see commuters who insist on arriving in London between 8am and 9am paying significantly more for a premium season ticket, while those who can be more flexible would get a better deal than now in return for travelling to the capital earlier or later.
Yes, it would make an uncomfortable choice for many passengers: "Must I really lose sleep and arrive in London an hour earlier than necessary?" But it would make journeys more comfortable for everyone.
All these "baked-in" pre-privatisation arrangements which cap fares were intended to protect the passenger. Today, they are no longer fit for purpose and are damaging the interests of travellers.
One day, a Government will reveal this truth and, I believe, win grudging acceptance. Until then, every year that passes without reform will see demand for key trains exceed supply even more sharply and life for rail passengers whether on the 7pm from Euston to Manchester or the 5.40am from Waterloo to Guildford will get worse.
Register for free to continue reading
Registration is a free and easy way to support our truly independent journalism
By registering, you will also enjoy limited access to Premium articles, exclusive newsletters, commenting, and virtual events with our leading journalists
Already have an account? sign in
Join our new commenting forum
Join thought-provoking conversations, follow other Independent readers and see their replies