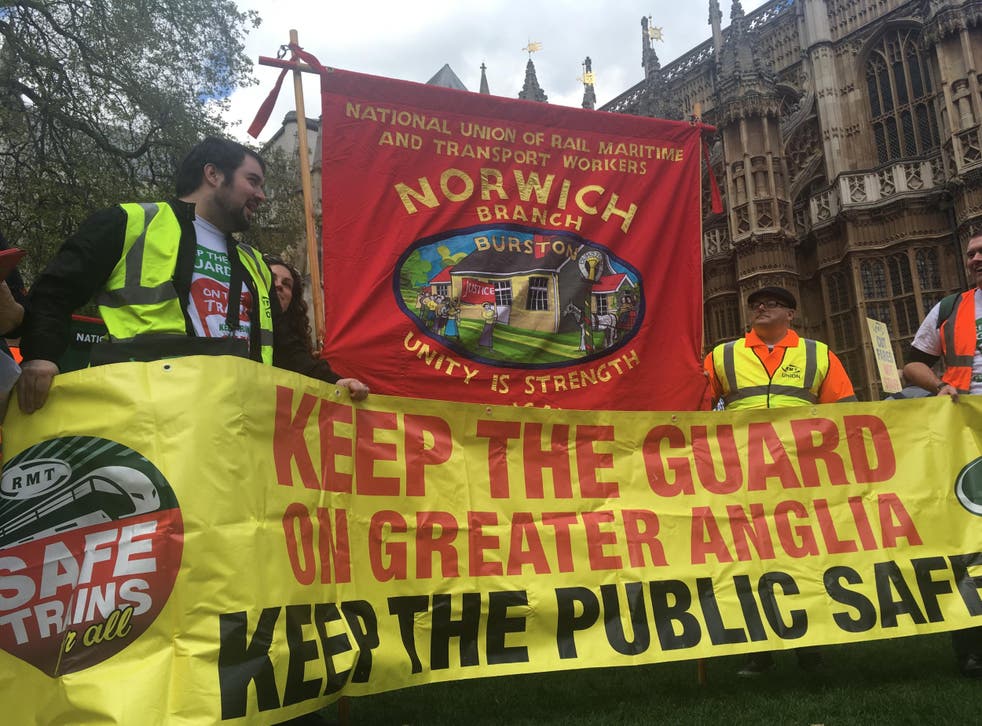 Rail strikes to cause travel chaos for five days in May
'It's clear that the hidden hand of government is stopping the employers from making deals with us,' says Mick Cash, RMT general secretary
Rail passengers across England face more disruption in May as rail workers strike in the long-running dispute about the role of guards.
The RMT union has announced members working for Arriva Rail North, Greater Anglia and South Western Railway will all strike for 24 hours on Wednesday 9 May.
In addition, staff on South Western Railway plan a series of one-day strikes on 11, 14, 16 and 18 May.
The RMT General Secretary, Mick Cash, told The Independent: "It's clear that the hidden hand of government is stopping the employers from making deals with us.
"Yet again the intransigence of private rail companies operating in England over the key issue of the guard guarantee means that we have no option but to announce further strike action in the separate disputes on Arriva Rail North, Greater Anglia and South Western Railway.
"It's about time Chris Grayling stopped playing politics with passenger safety and started taking the issue seriously."
Disputes about the role of guards began on Southern Railway two years ago. The first strike took place on 26 April 2016, and there have been many further strikes organised by the RMT union since then.
One Southern passenger, Rosalind Childs from East Croydon, said: "I don't think they need guards.
"The Underground don't have guards, Thameslink don't have guards. It runs OK.
"Stop the strikes, think of the customers. We pay enough money."
Paul Plummer, chief executive of the Rail Delivery Group, said: "No one wins from RMT disputes that attempt to disrupt the lives of people trying to get to work, get their children to school or to run their local business.
"Train companies are working to find a way through these disputes so that we can get on with the business of delivering our long-term plan for the railway, playing our part to support Britain's economy."
Register for free to continue reading
Registration is a free and easy way to support our truly independent journalism
By registering, you will also enjoy limited access to Premium articles, exclusive newsletters, commenting, and virtual events with our leading journalists
Already have an account? sign in
Register for free to continue reading
Registration is a free and easy way to support our truly independent journalism
By registering, you will also enjoy limited access to Premium articles, exclusive newsletters, commenting, and virtual events with our leading journalists
Already have an account? sign in
Join our new commenting forum
Join thought-provoking conversations, follow other Independent readers and see their replies