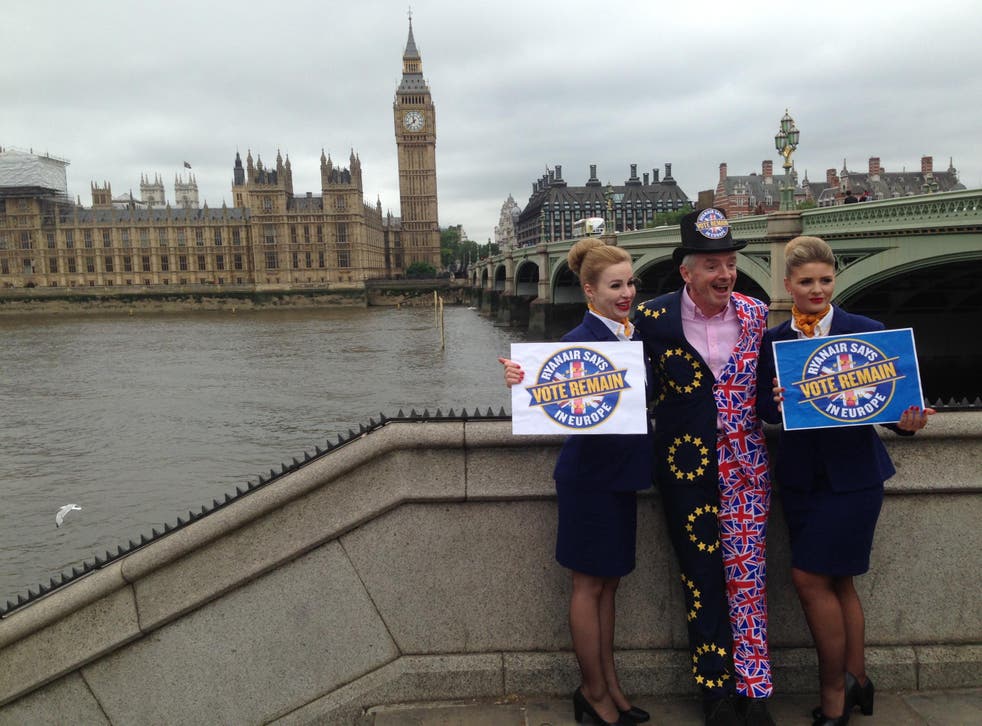 Ryanair threatens to cancel flights between UK and EU after Brexit
'We will start moving aircraft away from September 2018,' says Michael O'Leary
Fourteen months from now, Ryanair planes could start shifting from UK airports to the Continent ahead of Brexit: that is the warning from the boss of Europe's biggest budget airline.
Ryanair's chief executive, Michael O'Leary, told the European Parliament's Transport and Tourism Committee that, unless an aviation deal between Britain and the EU is signed soon, UK travellers will find their holiday flights are disappearing.
"The deadline for the airlines is September-October 2018. We will start cancelling flights from six months before Brexit," he said.
For British travellers, and arguably the European population as a whole, "open skies" has been one of the great success stories of the EU. For 25 years, any EU airline has been able to fly between any two points in Europe — allowing easyJet and Ryanair to become aviation giants, vastly expanding choice for travellers and cutting fares.
But more than a year on from the "Leave" vote, no-one knows how the skies will look after Brexit.
The committee invited aviation leaders — from airlines, airports, and the planemaker Airbus — to Brussels to give their views on what could and should happen. Mr O'Leary was the most forthright, and pessimistic.
"The UK, if it doesn't change policy, is heading for a hard Brexit. There will be a disruption to flights from April 2019 onwards for that summer.
"By September 2018 when your average British voter is sitting down to work out where he is going on his holidays in 2019, the two options he will have are to drive to Scotland or get a ferry to Ireland.
"I think Brexit is going to be one of the greatest suicide notes in history. It's a shambles."
Flights from post-Brexit Britain will start going on sale in nine months, but no-one knows whether the planes will actually take off.
On routes between the UK and all the major European countries, the national carriers have only a small fraction of the market. Airlines from Britain, along with Ryanair of Ireland, dominate.
Spain, Greece and Portugal are happy for British visitors to fly in on any aircraft, because of the boost to their tourism industries. But other countries may seek restrictions on the number of flights UK airlines can operate.
"The French and the Germans, when they have the opportunity to stick one into the British, they like nothing better," said Mr O'Leary.
The Ryanair boss slammed the UK government, saying "They haven't a bulls notion what they're doing". And he mocked what he said was a senior Government minister's enthusiasm for an aviation treaty with Pakistan: "I'm not sure if British people would want to go on holiday in Karachi."
Mr O'Leary campaigned fervently for a "Remain" vote, and urged the Government to have a change of mind: "The sensible outcome here is to ignore the plebiscite of 12 months ago, stay in Europe and continue to benefit from open skies."
But Willie Walsh, chief executive of BA's parent company, IAG, said he was confident a deal would be struck between Britain and the EU: "The UK has always supported an open, liberal deregulated aviation market.
"With policy support it ought to be relatively straightforward to agree a deal on aviation that will be ready when the UK leaves the EU."
At the end of the session, the chair, Karima Delli, told the gathering: "Today's conclusion is that we are not able to reach conclusions."
The second round of Brexit talks are due to be held in Brussels next week.
Register for free to continue reading
Registration is a free and easy way to support our truly independent journalism
By registering, you will also enjoy limited access to Premium articles, exclusive newsletters, commenting, and virtual events with our leading journalists
Already have an account? sign in
Register for free to continue reading
Registration is a free and easy way to support our truly independent journalism
By registering, you will also enjoy limited access to Premium articles, exclusive newsletters, commenting, and virtual events with our leading journalists
Already have an account? sign in
Join our new commenting forum
Join thought-provoking conversations, follow other Independent readers and see their replies