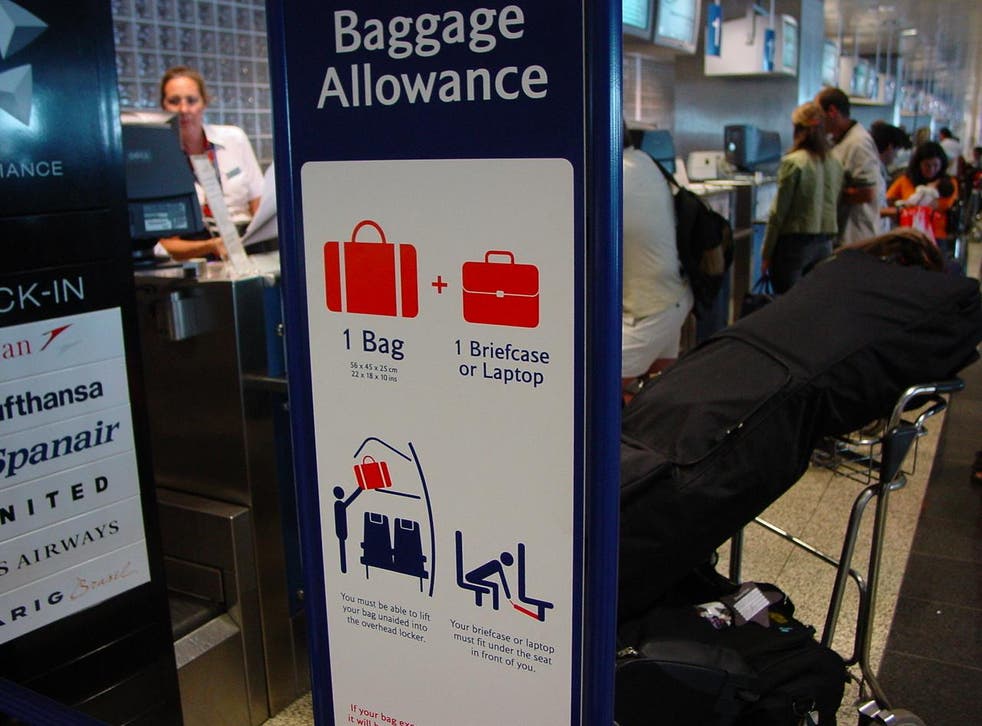 Ryanair warns new planes will have more seats but no extra baggage space
Airlines cashing in on passengers who want to guarantee they keep their hand luggage
Simon Calder
Travel Correspondent
Wednesday 26 July 2017 10:38 Comments
Cramming eight more people on the same-sized planes, but with room for only "one or two more" extra cabin bags: that's the prospect from Ryanair, as budget airlines put the squeeze on hand luggage.
In spring 2019 the Irish budget airline will start taking delivery of its new Boeing 737 MAX aircraft, which will reduced fuel consumption by one-sixth. Ryanair claims the savings will be passed on via lower fares.
These planes are no bigger than the current 737-800 jets, which currently make up the entire Ryanair fleet. Yet they will hold 197 passengers, instead of the 189 at present, thanks to a slightly different configuration and the use of slimline seats. The airline says they will offer the same 31-inch seat-pitch as the current fleet. But Neil Sorahan, the airline's chief financial officer, told The Independent that space for cabin baggage would not increase in proportion, saying only: "You might get one or two more on."
Mr Sorahan, who has previously said that Ryanair is "too nice" to passengers in its relaxed attitude to cabin baggage. He now complains that "people are bringing the kitchen sink" and says that airport staff may enforce the rules more zealously.
He said only one in six Ryanair passengers checks in a bag, down from around a quarter. Luggage charges have risen steadily since they were first introduced a decade ago.
The revelations come at a time when more British holidaymakers are flying abroad than ever. Load factors (the proportion of seats that are occupied) are in the high 90s or at 100 per cent on many flights.
With even British Airways charging extra for checking in bags on short-haul flights, passengers are understandably tempted to take as much as you can into the cabin.
Airlines are now taking action, including trying to extract more cash from hard-pressed passengers.
World news in pictures

Show all 50
Ryanair warns: "Only the first 90 wheelie bags are guaranteed to go in the overheads. If you want to be certain your bag goes in the overhead you should add Priority Boarding", which adds £5 per person each way.
Jet2 is telling passengers "we may need to ask you to put your hand luggage in the hold – if you want to be certain, add 'guaranteed cabin luggage'," a courtesy that costs an extra £2.59.
In contrast, British Airways sends texts to passengers on some busy flights offering the chance to check in cabin baggage for free.
Low-cost airlines such as WestJet of Canada and Vueling of Spain sometimes offer the chance to check in cabin bags without charge at the airport.
Register for free to continue reading
Registration is a free and easy way to support our truly independent journalism
By registering, you will also enjoy limited access to Premium articles, exclusive newsletters, commenting, and virtual events with our leading journalists
Already have an account? sign in
Join our new commenting forum
Join thought-provoking conversations, follow other Independent readers and see their replies