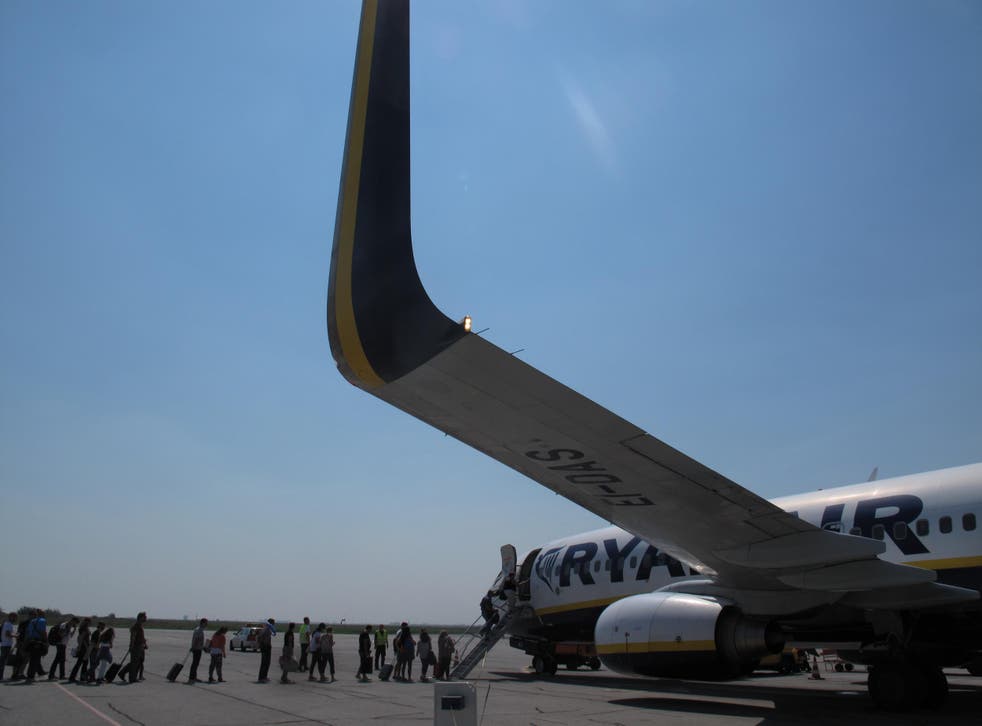 Ryanair: 30,000 more passengers grounded in next three days
Stansted is the worst-hit airport, with Manchester also seeing multiple cancellations
Ryanair has revealed it will cancel 164 flights over the next three days, potentially affecting 30,000 passengers.
The Irish airline has already cancelled more than 160 flights over the weekend as a result of what it calls messing up "in the planning of pilot holidays".
By far the worst affected airport is Stansted, its leading base. On Monday alone, 22 Boeing 737 flights to and from the Essex airport have been cancelled, including links to Barcelona, Budapest, Oslo and Prague.
Six domestic flights to and from Stansted have been cancelled: four serving Edinburgh, and two serving Glasgow.
Other UK airports are less badly affected. Manchester has cancellations to Dublin, Hamburg and Krakow, with the corresponding return flights also grounded.
Dublin flights to and from Gatwick and Bristol are cancelled, as well as Birmingham-Madrid.
On Tuesday, the number of Stansted cancellations falls to 18, but casualties include some relatively long flights: to and from Riga in Latvia, plus services to Rome and Bari. Faro in southern Portugal loses its links with Luton and Manchester.
Stansted's worst day since the cancellations began is Wednesday, when 26 flights are axed, including services to Ancona, Basel, Cologne, Madrid, Strasbourg and Toulouse.
Ryanair's marketing director, Kenny Jacobs, said: "Cancellation notices for flights cancelled up to and including Wednesday 20 September have been sent to affected customers and posted on the Ryanair.com website.
"We will continue to send regular updates and post flight information on our website, with the next set of cancellations to be issued on Monday. We apologise sincerely to all affected customers for these cancellations."
Among passengers, there were many complaints that the notifications were non-existent or wrong. David Bawden tweeted: "Got email to say my Tuesday @Ryanair flight cancelled. Changed plans. Flight now not shown on list of cancellations. What??"
Julia Cutts, a passenger booked on the cancelled Ancona to Stansted flight on Wednesday, said she did not get an email notification of the cancellation but instead discovered it when she tried to check in. She told The Independent: "Then, when attempting to obtain a refund using the 'change flight/refund' tabs, the initial page says flight is indeed cancelled but further into the refund process the system says it cannot process a refund as the flight is not cancelled.
"Clearly the system cannot cope with issues."
Ms Cutts has now rebooked from the city of Bologna, 145 miles from Ancona, via Cologne on Eurowings.
For passengers whose flights are cancelled and who opt to fly later, European passengers' rights are clear. Ryanair must provide meals and accommodation as appropriate, together with cash compensation of €250 (£220m) or €400 for journeys of 1,000 miles or more.
Boeing, Boeing gone: some of the worst-hit Ryanair routes
Analysis by The Independent of the next three days of grounded Ryanair flights, together with the weekend experience, shows that certain routes have seen cancellations on more than one day between 16 and 20 September. This may indicate some increased likelihood of future flights on the same route being axed.
From Stansted, services to Barcelona, Budapest, Dinard, Madrid, Pisa and Porto have been grounded more than once. Domestic services to Edinburgh and Glasgow also look vulnerable.
From all other UK airports, the main casualty is the route to Dublin, with multiple cancellations from Bristol and Manchester. In addition Birmingham has seen several Spanish links cancelled and Manchester-Faro has been grounded twice.
The only cancellation at Luton is Wednesday's flight to Faro and back. Sunday's Newcastle-Wroclaw service was also axed.
No services between the UK and the Canary Islands have been cancelled so far, but that is no guarantee that Tenerife, Fuerteventura and Lanzarote will not feature when the next swathe of grounded flights is revealed on Monday.
Register for free to continue reading
Registration is a free and easy way to support our truly independent journalism
By registering, you will also enjoy limited access to Premium articles, exclusive newsletters, commenting, and virtual events with our leading journalists
Already have an account? sign in
Register for free to continue reading
Registration is a free and easy way to support our truly independent journalism
By registering, you will also enjoy limited access to Premium articles, exclusive newsletters, commenting, and virtual events with our leading journalists
Already have an account? sign in
Join our new commenting forum
Join thought-provoking conversations, follow other Independent readers and see their replies