Ryanair boss Michael O'Leary writes to pilots offering bonuses if they stay with airline
Chief executive offers loyalty bonus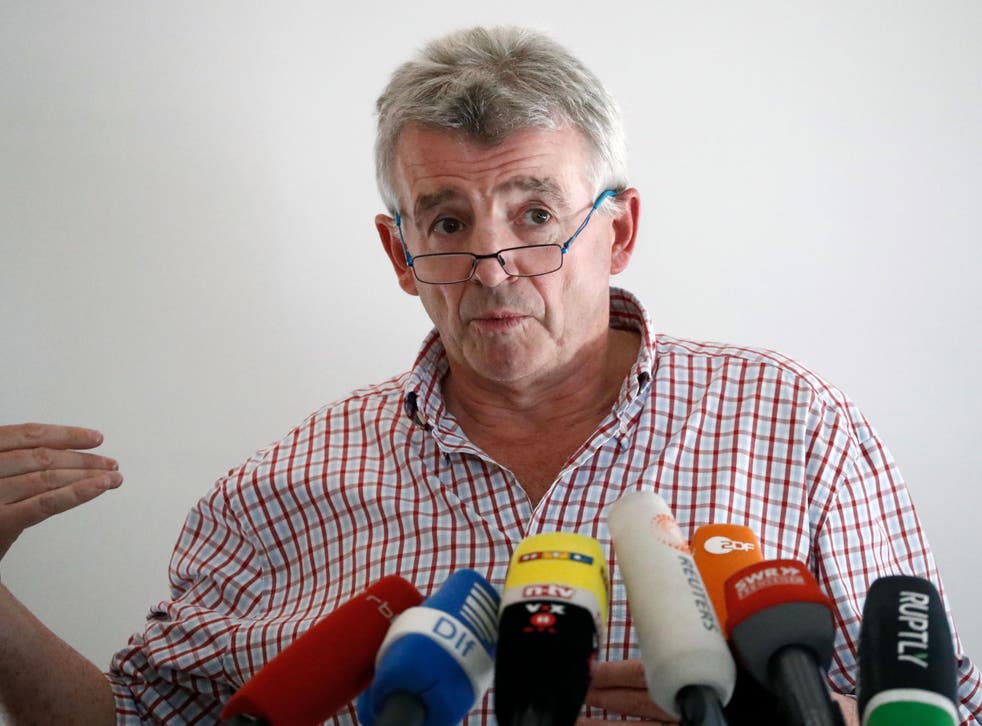 In the latest twist in the Ryanair pilots' saga, the airline's boss has written to flight crew to offer them a loyalty bonus — while warning about job prospects in what he calls "a very insecure industry".
Last month the Irish airline cancelled 20,000 flights, disrupting the travel plans of around three-quarters of a million people. Domestic links from Stansted to Edinburgh and Glasgow, and between Gatwick and Belfast International, were among those cut.
The airline said the cancellations were necessary to address problems with pilots' rosters.
There have been rumours of flight crew leaving Ryanair for other airlines, in particular Norwegian and Jet2.
In a three-page letter headed "A note to all Ryanair pilots", Michael O'Leary apologises for "the rostering management failure we have suffered over recent weeks".
The chief executive reveals that the senior management team had been given reports about pilot cover which were untrue.
He promises "a 12 month loyalty/productivity bonus of up to €12,000" for captains, with half as much for first officers, "subject only to reasonable and achievable performance or targets being met".
"This we hope will dissuade people leaving to join less financially secure airlines and damaging their careers," he writes.
"We are a very secure employer — in a very insecure industry."
Monarch Airlines collapsed in the early hours of Monday morning, blaming the effects of terrorism in North Africa for the prospect of making a loss of £100m for the year.
Other airlines pounced for Monarch's Airbus-trained pilots as soon as the collapse was announced; easyJet, whose HQ is just across from Monarch in Luton, is aggressively recruiting them, and Virgin Atlantic has also been pitching for flight crew. Meanwhile Emirates is running road shows at Stansted and Luton airports for pilots, a move seen as seeking to lure Ryanair crew to Dubai.
Mr O'Leary makes its clear who he regards as the enemy in terms of pilot recruitment: "If you have any evidence of competitor 737 operators (such as Norwegian and Jet2) at your base paying more that [sic] Ryanair then provide it to us and we will meet it and beat it.
"If you have, or are considering, joining one of these less financially secure or Brexit-challenged airlines, I urge you to stay with Ryanair for a brighter future for you and you family," he writes.
The letter also addresses remarks Mr O'Leary made last month in which he said pilots were "full of their own self-importance" and said: "I would challenge any pilot to explain how this is a difficult job or how it is they are overworked."
The chief executive says those comments had been "misreported", and that in any event they were "specifically directed at pilots of competitor airlines".
One pilot said of the letter: "This reeks of desperation." Brian Struttoe, the general secretary of the British Airline Pilots' Association (BALPA), said: "Our feedback from Ryanair pilots who have seen Michael O'Leary's letter suggests that he still doesn't get it. Pilots from bases all over the U.K have told us that they don't want half-hearted excuses to shut them up.
"They tell us that they want genuine respect."
At the end of the letter, a graphic is headed "Norwegian in financial trouble," with a graph showing the share price down by 21 per cent in the year to date.
The Norwegian airline yesterday reported positive figures for September, with passenger numbers up 14 per cent and the load factor almost 90 per cent. It says it is very robust financially.
Register for free to continue reading
Registration is a free and easy way to support our truly independent journalism
By registering, you will also enjoy limited access to Premium articles, exclusive newsletters, commenting, and virtual events with our leading journalists
Already have an account? sign in
Register for free to continue reading
Registration is a free and easy way to support our truly independent journalism
By registering, you will also enjoy limited access to Premium articles, exclusive newsletters, commenting, and virtual events with our leading journalists
Already have an account? sign in
Join our new commenting forum
Join thought-provoking conversations, follow other Independent readers and see their replies